Palmer Monicon L – Passive monitor controller
After the simple Monicon (and the similar Monicon W except for the colour) now we have the Monicon L, which is larger in size with more functions, but of the same quality.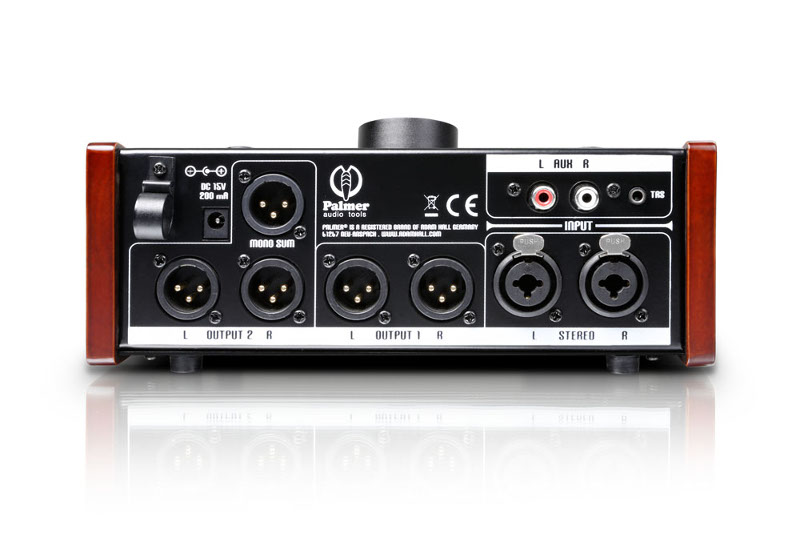 Most of we instrumentalists usually concentrate on those elements which help us produce certain sounds (instruments, amplifiers, effects, etc…) but if we have a studio (whether at home or not) we should take the same care in selecting other devices, which although not participating in the recording line, may be of great importance for reproduction and monitoring. If you are a person who records and mixes on a computer and if there are no other sources of signals in your studio you can connect the audio interface directly to the monitors.
But in general it is much easier, faster and exact to control the real volume with a rotary remote control instead of using a mouse cursor. Thus a passive monitor controller is a highly recommendable device since it avoids us having to reconnect to a mixing board which we may not have – and in fact we can view the device at a single channel mixer board.
Monicon L
The previous Monicon is much simpler and smaller: Placed in a 164 x 62 x 85 mm casing and weighing 750 g, its rear panel incorporates a pair of female balanced combined input XLR/jacks as well as an input stereo mini-jack and a pair of female balanced XLR output jacks and a stereo output 3.5 mm mini-jack and on its upper inclined panel a large rotary volume control of approx 38 mm in diameter and two push buttons labelled Mono and Mute.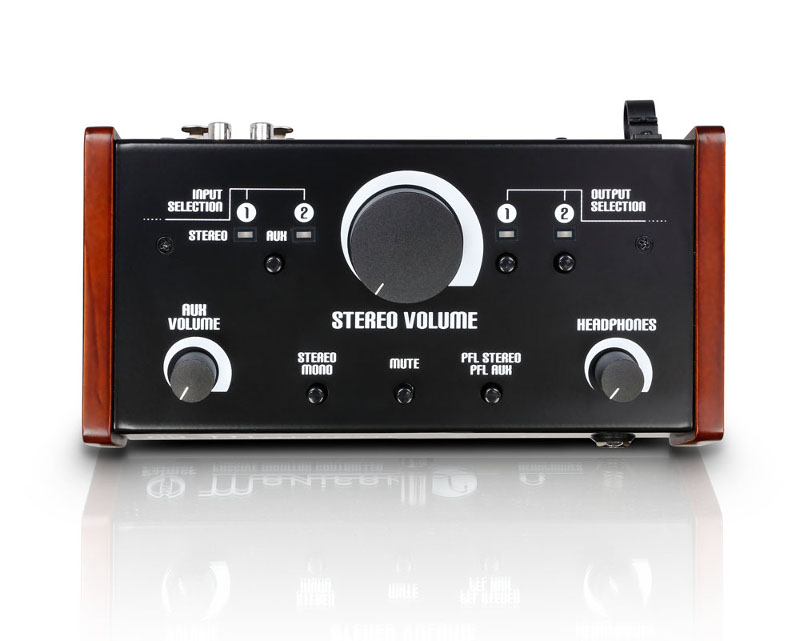 The new Monicon L is equipped with a greater number of connections and controls and thus also requires a larger sized casing (218 x 77 x 100 mm) and weighs (980 g), and made of the same materials: a robust metal carcase finished in black with lettering in white with four rubber feet and elegant (side) wooden handles, apparently of mahogany.
On the rear panel we find two balanced XLR balanced combined inputs labelled as stereo which in this case incorporated bocks, a couple RCA inputs (which a very popular with DJs) and also a stereo 3.5 mm input mini-jack, all denominated 'auxiliary', and with five female balanced XLR, which constitute output pairs 1 and 2, and an output labelled 'mono sum'. There is also a female type barrel connector for a transformer (included) with and interior positive of 15V and 200mA.
On the upper inclined panel there are two rows of controls: to the upper left there is a push button which selects input stereo/auxiliary with two indicator LEDs, in the middle is the large 38 mm in diameter stereo volume control and to the left two buttons which correspond to outputs 1 and 2 with their corresponding LEDs; at the bottom left is a volume control for the auxiliary input, the stereo/mono switch, mute switch, the PLF switch (which allows you to listen directly to input stereo or auxiliary sources regardless of the position of the corresponding volume controls) and finally a volume control for headphones. To the right of the front panel is the 6.35 mm output jack for headphones. It is important to repeat that the monitors controller is passive so the power source only supplies power to the headphones and the LEDs.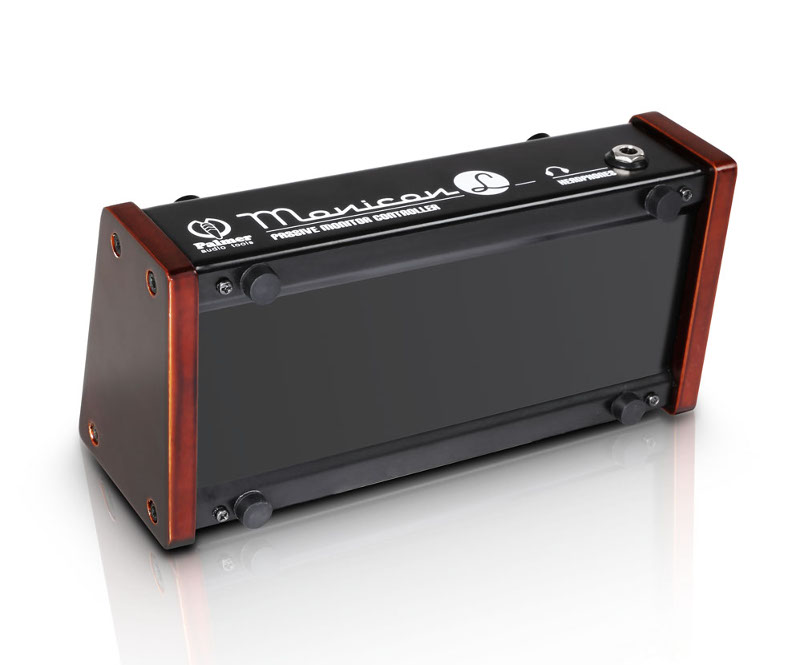 For Use
The main characteristic is that here we are dealing with a passive device, which as far as sound is concerned translates device free of distortion. The large 'stereo' potentiometer is extremely touch sensitive and progressive, providing constant resistance to turning and the most frequent working zone between -25dBs and -10dBs, the span is wide enough to offer a good sense of control, since this 15dB covers an arch of almost 90º.
Far from complicating work, the large number of inputs, controls and outputs of Monicon L simplifies it: we can alternate between two sources of signals (stereo/auxiliary) and separately regulate their volumes, we can alternate between two pairs of monitors (e.g. principal and close field), listen to them simultaneously or listen to a mixture of mono without the need for rewiring or we can mute all the outputs and can listen to the direct signal to any of the inputs through one of the headphones which have their own volume control. With regard for the auxiliary input, in the manual Palmer in principle does not recommend the parallel use of mini-jack and RCA inputs to avoid interference.
All of which would be irrelevant if the sound in the outputs was not in accordance with the inputs, but this is not the case. We have grown accustomed to the high quality of Palmer products and Monicon L is no exception. There is no perceptible distortion nor colour of sound.
Conclusion
With Monicon L, Palmer has launched onto the market a new passive monitor controller with much more complete performance. Its construction is very good and the use of the controls is simple and secure. As far as connectivity is concerned you have everything you could possibly need everyday in your studio. Sound quality is excellent and flexibility is enormous. Its price is perfect given everything it offers and the high standard of what is offered, we can definitely confirm that the price-quality ratio is even better: The only reason for us not giving it a 10, is that Palmer could at any time surprise us with something better and/or more perfect.
Palmer Monicon L
PRICE: 160€
TYPE: Passive Controller of Monitors
FUNCTIONS: Monitoring by means of two pair of stereo baffles, mixes mono or headphones, silenced
CONTROLS: Stereo/auxiliary input selector with LEDs, stereo volume, output selector 1 with LED, output selector 2 with LED, auxiliary volume, stereo/mono selector, selector for MUTE, selector PFL stereo/auxiliary, headphone volume
CONNECTIONS: Combo balanced XLR/jack I and D stereo inputs, auxiliary inputs RCA I and D and stereo mini-jack, outputs 1 XLR I and D, outputs 2 XLR I and D, XLR mono outputs, plug for power transformer, output stereo jack stereo headphones FEED: Power transformer 15V 200mA (included)
WEIGHT: 980 gr.
DIMENSIONS: 218 (wide) x 77 (high) x 100 mm. (depth)
Pros
+ simple
+ lifelong service
+ quiet
+ clean and elegant
Contras
– We have had no complaints
________________________________________
Source: Guitarrista Magazine, May 2016
Author: Paco Garrido
More information about Palmer Monicon L at:
http://www.palmer-germany.com/pro/es/MONICON-L-Controlador-de-monitor-pasivo-PMONICONL.htm