Moving towards the Climate Goal – Sustainability Report Q1/Q2 2021
Over the years, the Adam Hall Group has grown and developed into a globally active manufacturer of professional event technology solutions. As proud as we are of our headquarters, offices and showrooms in Europe, North America and Asia, and our regular participation in national and international trade fairs and industry events, we are also extremely aware of our responsibility to the environment. Our climate promise forms the overarching "framework agreement" with the environment: by 2030, we want to reduce our CO2 emissions by more than half, and by 2050, we want to be completely climate-neutral. Big goals for the future are important, but the first steps are crucial.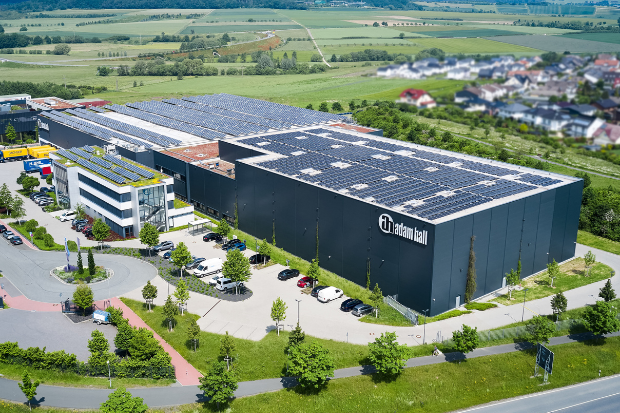 We have already been using a 6,500 m2 photovoltaic system of solar panels on the roof of our company headquarters for several years. We use our own local heating supply, and switched to certified green energy from Greenpeace Energy in 2021. In 2020, the Adam Hall Group was one of the first companies in the event technology industry in Germany to be awarded Green Globe Certification.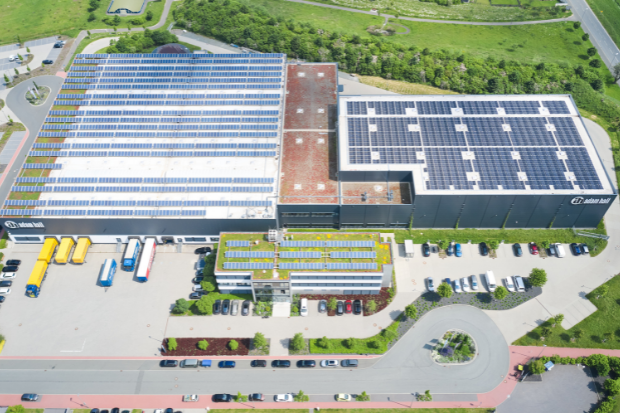 "When we were certified by Green Globe last year, it triggered two things for me: pride in what has been achieved so far, and motivation to do more and to make our company more sustainable,"
explains Alexander Pietschmann, CEO of the Adam Hall Group.
Since receiving Green Globe Award certification, we have been learning new things every day via the exchange with various sustainability initiatives such as Sustainable Event Solutions or the Green Music Initiative. Jacob Bilabel, founder of the Green Music Initiative, works with his team on solutions that help reduce the CO2 emissions and the environmental impact of the festival and entertainment industry. The Initiative's work comprises the development, initiation and implementation of reduction strategies for the entire industry.
Moreover, the work on the ecological footprint of the Adam Hall Group is also continuing on site in Neu-Anspach. By expanding the photovoltaic system of solar panels again in spring 2021, we aim to reduce our CO2 emissions even further. We photographed and filmed the expansion of the system, and documented the end result with a photo gallery and a video.
Here is an initial overview of the project:
The PV system currently generates around 350,000 kWh of electricity per year
With an expansion of an additional 3,500 m2, an additional 200,000 kWh should be generated each year
We cover 100% of our electricity needs with renewable energy, saving around 300 tonnes of CO2 per year
While the electricity from the existing photovoltaic system is fed into the power grid, the green electricity from the 3,500 m2 installed between March and May 2021 will be used for internal energy consumption in the company buildings. If we use less electricity than we produce, the surplus is fed into the electricity grid.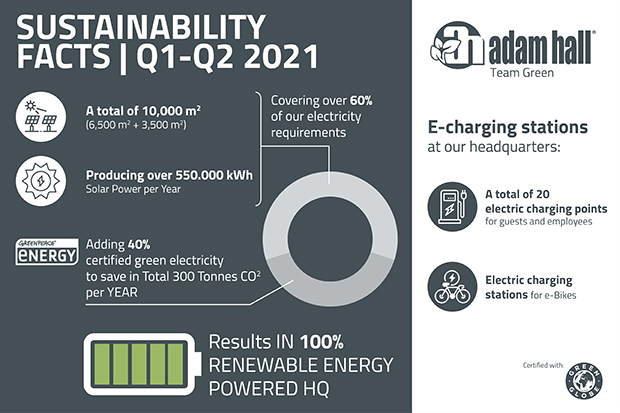 "The expansion of photovoltaics is undoubtedly a major project for us, but we are also trying, on a small scale, to influence our energy consumption – via via support programmes for e-bikes, free access to electric car charging stations for employees, customers and visitors, our 'Team Green', and much more," says Alexander Pietschmann.
In May 2021, in addition to two existing e-charging stations, nine further e-charging stations – each with two charging points – were installed in front of the main building in Neu-Anspach in order to provide colleagues with even more free charging options while working in the office. You can find out more about e-mobility at the Adam Hall Group in the blog article Sustainable, mobile, electric – Alexander Pietschmann in an interview with The Good Place.
With regard to future developments in the area of sustainability, Alexander Pietschmann says:
"Wir ruhen uns definitiv nicht auf dem Erreichten aus, sondern werden auch in Zukunft auf allen Ebenen überprüfen, wo wir etwas verändern bzw. optimieren können, um "We are definitely not resting on our laurels, but will continue to review where we can change or optimise to become more sustainable in all areas. Above all, the entire supply chain will be a major task. However, we must not forget that the coronavirus pandemic is a huge challenge for the event industry, but also an opportunity to change the way we do things."
Further information:
greenglobe.com
adamhall.com
adamhall.com/sustainability
event.tech
#AdamHallGroup #EventTech #ExperienceEventTechnology #Sustainability