EMINENCE – PATRIOT and LEGEND – Test Report by Gitarre & Bass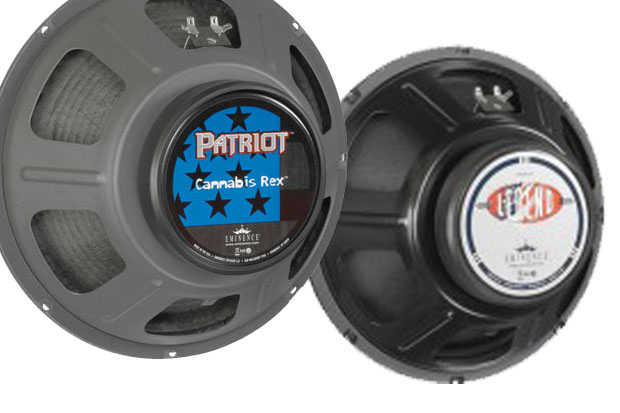 AMP STATION
As previously announced, in this issue we will take a look at the Eminence Patriot and Legend series. In contrast to the more British sounding Red Coat series (see the previous issue), the company describes the Legend and Patriot models as a typically American sound statement. As a rule, these speakers sound warmer and darker than the Red Coats. The focus is on the low mids and a milder treble range.
red, white & blues The manufacturer describes the Red, White & Blues as a "classic American rock" speaker. With 120 watts and an efficiency of 101 dB, it is one of the strongest candidates in the group tested. It sounds surprisingly dark with a strong emphasis on the low mids. The treble is very reserved and mellow. A direct comparison with the Heritage Celestion G12M shows how pronounced these characteristics are. It is necessary to add a little presence and treble to prevent the sound from becoming too dark.
The dynamics are extremely stable. The speaker's strong suite is clearly fat, distorted rock sounds with plenty of drive and bass. With more filigree or somewhat quieter styles of playing, the sound is not quite so good. At lower volumes, it is lacking in overtones and the breadth which, for example, are essential for a good blues tone. Thus it is better able to bring its strengths into play with single-coil guitars, whereby it can tame harsh or exceedingly bright-sounding amps to the point where playing through them becomes fun again. It makes a good combination, for example, with very aggressive and bright-sounding Marshall JCM 800 or 900 series amps. Here it develops tremendous drive, sufficient bass, and a very pleasant treble that makes such amplifiers appear in an entirely different light.
On the whole, is well suited to admirers of riff-based rock who are in search of punch, low-mids, and juicy solo sounds. The street price is around € 89. This, too, makes it very appealing.
cannabis rex The very name of this speaker betrays what makes it special. It comes with a so-called hemp cone, making it a direct competitor with the famous Tone Tubby speaker, which also has a membrane made of woven hemp. The Cannabis Rex clearly came out on top in this comparison. It sounds much gutsier and more dynamic than Tone Tubby's Hemp Cone Alnico. Moreover, it seemed to have a somewhat more linear and balanced frequency response curve than its competitor.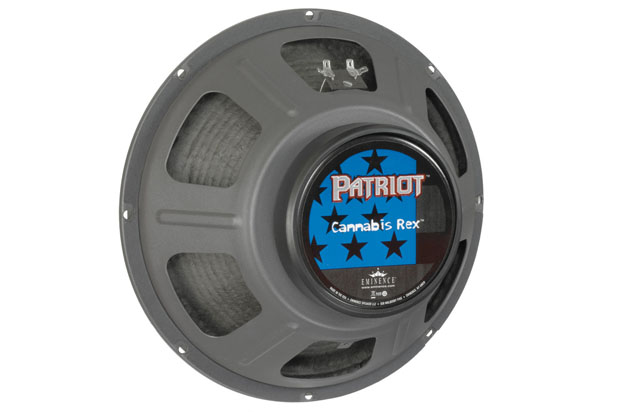 Its treble is not quite so dark and the mids are more transparent and open. This speaker positively surprised me in every respect, because it is incredibly versatile. It sounds fantastic for jazz, fusion, blues or rock. It has a power rating of just 50 watts, but this was scarcely noticeable in the test, in which it sounded nearly every bit as stable as the Red, White & Blues or the Swamp Thang. I especially liked the "smoky" high end, which sounds smooth, but very crisp. The lip-smacking highs are extremely full-bodied: almost as if someone turned on a harmonizer. While the manufacturer recommends this speaker above all for jazz and country, I also liked it a lot for blues and rock sounds. I was able to create perfect versions of my beloved "cello" or "violin" tones à la Jeff Beck or Bonamassa.
In a Fender Blackface Deluxe Reverb, the Cannabis Rex also turned out to be an ideal Jensen replacement. A Fender amp sounds wonderfully warm and rich in midrange with this speaker, but without sacrificing its typical tone characteristics. Thus it would be an interesting recommendation above all for Fender's somewhat brighter sounding reissue amps. Retail price: € 89 The combination of the Cannabis Rex and the Celestion G12M Greenback was very appealing, because it resulted in ideal synergetic effects. The Celestion provides the British highs while the Cannabis Rex supplies the tonal depth and the dark midrange, thus making for a very three-dimensional overall result. Bravo!
swamp thang Run for your life, it's the "swamp thing"! Possibly inspired by a 1950s B-movie horror film. It is apparent from the very first tone why this speaker bears this distinctive name. It is Eminence's successful statement in terms of hard rock to heavy metal with a whopping power rating of 150W (97 dB). It may even possibly be the best speaker I have ever encountered for these genres. Its drive and stability are unrivalled. The frequency spectrum is chosen so that one always obtains good results from clean to high-gain. However, its strengths don't really come into play until it gets really loud. But after all, that is what it was made for. In every category, the characterisation "fat" is right on the money. It presents thick, stable bass, distinctive mids and absolutely impressive highs that never get too harsh or too brash. I was already familiar with these speakers from the outstanding sounding "Club-Cab" cabinet produced by the Netherlands' Paul Lenders. The Swamp Thang appears to be the ideal solution if you want to imitate a Marshall 4×12 full stack front with a small 1×12 or 2×12 configuration. You find yourself glancing involuntarily over your shoulder with each note or chord, just in order to make sure that there is really just a single 12″ speaker in the little Marshall reference cabinet. It succeeds at meaty riffs as well as at high-gain solos à la Metallica or Steve Lukather.
For this genre, it is also superior to a similarly stable Electrovoice 12L, because the Swamp Thang sounds rawer, more rock-infused, and thus more fitting. So if you play through a rack with a three-channel preamp stage and want to perform high-gain classics with plenty of drive and contour, you should definitely test this speaker. Apparently an ideal solution if you're simply no longer in the mood to lug around a 4×12 cabinet. With a street price of around € 89, it is also very affordable. And be careful: "lt might get loud!"
legend 1258 If you listen to the various Eminence series in comparison with one another, it seems like the Legend series may be the forbearers of the Red Coat and Patriot models. They combine characteristics that also turn up with the specially shaped Red Coat and Patriot speakers, but which don't seem so especially destined for specific musical genres. The 1258 is a pure vintage low-budget speaker (approx. € 59) with a stable 75W power rating, which is probably interesting primarily for Jensen fans. It sounds open and thoroughly American, with crisp mids and marvellously pretty highs.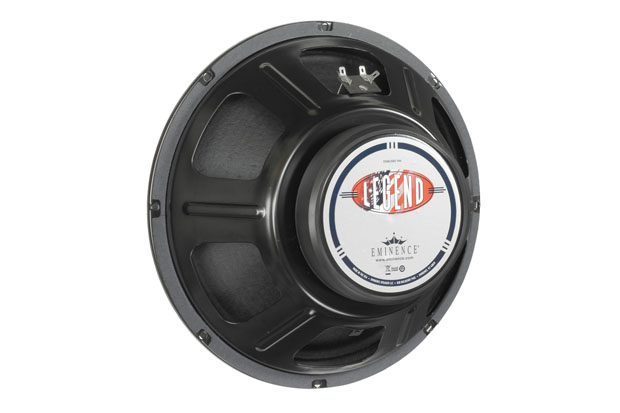 On the bass end it is restrained and taut. In the test, it sounded very impressive with tweed combos, which need an adequate means of developing their crisp attack and raw rock-n-roll personality. It sounds bright (but not harsh), open and transparent. The basic sound is woody and smoky, exactly the way one imagines a Fender vintage tone. It's too bad that I haven't received the Weber 12F150 yet. A direct comparison would surely be very interesting. A 15″ version of this speaker is installed in the Victoria 25115 Tweed Combo which I tested. This speaker proved to be a really outstanding match for that amp too.
Driven by a Marshall 18W or a JTM45, its tonal spectrum is even a little reminiscent of the Celestion G12M. Above all, the bass sounds similarly clear and rock-infused. With a Telecaster, it develops a raw twang that could be very appealing to rock-oriented country players. On the whole, its tonal spectrum comes close to old Jensen ceramic speakers, whereby it delivers a little more power and stability.
legend 1218 While this speaker also belongs to the Legend series, it evidence a much different spectrum than the 1258. It has stronger mids, very supple highs, a little more bass than its brother. It is at its best when used with distorted amps, whereby it develops a lovely, Dumble-flavoured tone. Purest blues. You can get singing solo lines even at low volumes, which pleased me especially with a Les Paul or ES-335. One is reminded of solos by the Eagles, Steely Dan or Lee Ritenour.
A certain resemblance to the Heritage Celestion 65 is obvious. However, the 1218 sounds a little milder and less rock-infused. This is an outstanding solution for owners of small combos who want to get across blues or fusion with singing solos. The 1218 does have a power rating of 150W and thus offers enough drive and stability to keep it from ever sounding muddy or washed out. What's more, at a street price of around € 55, this speaker is a genuine bargain.
On the whole, the Legend series has been unfairly relegated to the shadows. On the relevant forums for guitarists, the sonorous names of the Red Coat and Patriot series receive much more attention. For me, however, the Legends were genuinely interesting discoveries, because "inexpensive" doesn't always have to mean "worse". In the next issue, we will deal with a few candidates from Weber…
All information about the products can be found here: http://www.adamhall.com/en/Eminence_Guitar_Speaker.htm
Source: Gitarre & Bass Magazine, Germany, June 2011