German event technology powerhouse builds on record of innovation
WHEN IT ANNOUNCED its 2016 Design Awards, the prestigious International Forum (iF) singled out the LD Systems CURV 500 line array for its combination of "mobility, sound perfection, and user friendliness." Other authorities agreed, leaving the product with a stack of honors also including the German Design Award, the Red Dot Award, and PSN Europe's award for most innovative speaker concept. For the Adam Hall Group, parent company of LD Systems, the hit that was the CURV 500 brought together many of its defining elements: sharp innovation, an eye for aesthetics, and a knack for translating customer wish lists into purposebuilt products. Since starting out in 1975 as a specialist in hardware for flight cases, still one of its divisions, Adam Hall has evolved into a prolific manufacturer and distributor of event technology solutions.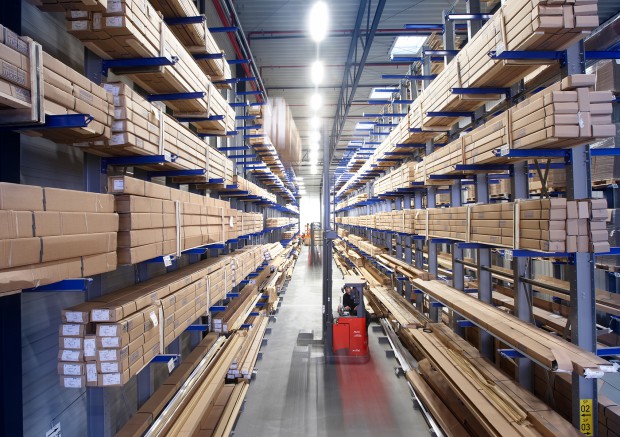 Spanning the pro audio, LED lighting, and stage equipment categories, its selection runs from microphones and wireless systems to mixers, amplifiers, speaker systems, stands, cables, moving lights, and more. All told, the company manufactures or distributes more than 30 brands and ships more than 7,000 products from its warehouse in Germany to distribution partners, dealers, and installation companies around the world.
"Every innovation begins with an initial idea," says Alexander Pietschmann, CEO and managing director of Adam Hall GmbH. "And it's a long way from there to the finished product or process. At the Adam Hall Group, we implement ideas in several small and forwardlooking steps.
We customize our products, creating strong brands with distinctive characteristics— and we are in continual conversation with our customers. It's their needs, their imagination, and their passion that shape the Adam Hall Group."
Established in 1975 by namesake founder Adam Hall in the U.K., the company moved to Germany in 1980 under British musician David Kirby. Now executive chairman of Adam Hall GmbH, Kirby has been joined at the company's helm by Pietschmann and COO Markus Jahnel, both a part of the Adam Hall family since their early years. Jahnel first joined the Adam Hall sales team in 1989 and went on to make many contributions to its product range. Pietschmann's father, professional musician Tilo, worked in field sales for Adam Hall since the company's beginnings. The younger Pietschmann officially came aboard in 2006 and immersed himself in R&D, product management, and marketing before rising to CEO.
Now based in NeuAnspach, near Frankfurt, the Adam Hall Group has forged original brands ranging from its LD Systems pro audio line to its Palmer guitar effects and Cameo professional lighting gear. Its original purpose as a maker of flight case hardware has never diminished either: On the contrary, Adam Hall is now the European market leader in that field. Diverse as they are, what some of the group's most notable products have in common is their basis in some simple yet categoryenhancing concept—like the one that yielded the multiawardwinning LD Systems CURV 500, billed as the world's first portable line array. "The motto was: what works in large halls, stadiums, and at openair events should also work on a small scale," says Pietschmann. One of the group's newer brands, the Gravity stands line introduced in 2015, shows how the same kind of thinking can be applied to something as seemingly basic as instrument and microphone stands. Besides highend materials and impeccable finishing, the Gravity line introduced proprietary "Grings," flexible color-coded bands offering an intuitive way to organize and personalize stage components that might otherwise end up in an undifferentiated jumble. Inhouse research has even led to a breakthrough in the flight case category: a software platform called FliteCAD. Unveiled at the 2016 Prolight + Sound show, the system offers userfriendly tools and 3D imagery for constructing cases to any specifications.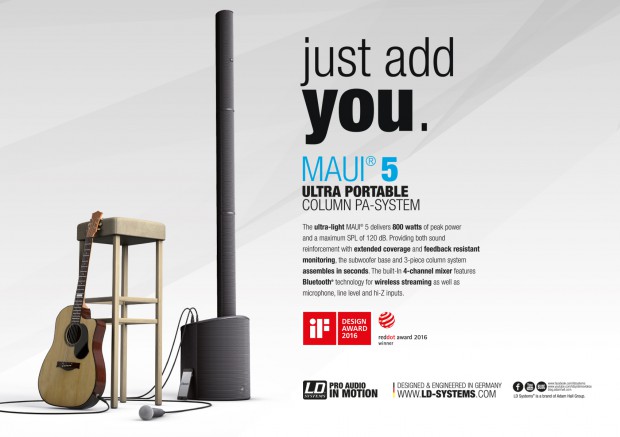 "Innovations exist everywhere—you just GLOBAL COMPANY PROFILES ADAM HALL GROUP German event technology powerhouse builds on record of innovation have to look for them," says Pietschmann. "The daily challenge of finding solutions to problems has blossomed into a lively culture of innovation within the Adam Hall Group. This shines whenever holistic, userfriendly processes, products, and system solutions are required. Equally important, we value the 'customer as driver' approach to production, where customer feedback is part of a continuous product development loop.
"Traditionally, Adam Hall's core markets have been concentrated in Germany and surrounding European countries, where economic conditions have varied but generally held up over recent years. "The Eurozone's economy continues to exhibit resilience," says Pietschmann, "suggesting that some concerns of an immediate Brexitinduced shock to growth were overblown." Meanwhile, however, the company has broadened its scope into fartherflung markets. Besides maintaining sales offices in a dozen locations around Europe, it now has locations in Singapore, its base in the AsiaPacific region, and in South America. Its distribution network essentially spans the globe, extending to North America, Russia, South Africa, Australia, New Zealand, and points throughout Asia: India, Thailand, Korea, and the Philippines among them. "Internationally speaking, we are still in our rampup period as we continue to expand beyond Europe," Pietschmann says, "but we are pleased with the pace of our growth and success internationally to date."
As Pietschmann adds, however, addressing a global market can be as much about a mindset as a geographic presence. As digital tools and instant communication accelerate how customers choose and buy their products, he suggests, it becomes imperative to use those tools—but also to maintain the human links that connect customers with their chosen brands. On that note, Adam Hall plans to open a "customer experience and innovation center" in 2018 as a new forum for interacting with its market. The company also takes part in dozens of industry trade fairs around the globe. "The way businesses conduct sales and marketing has changed radically just within the last decade," says Pietschmann. "No doubt having an established strong brand means you've won half the battle, but the more the world continues to connect digitally, the more we value the power of making and maintaining authentic personal relationships. This has been one of our key cornerstones since day one in 1975, and even in the fury of the digital evolution, we are happy to know it's the human touch that will always stay on trend."