Cameo and Gravity at Batschkapp in Frankfurt
On their current tour, German synthpop band And One featured a stunning Cameo® light show for their concert at the packed Batschkapp venue in Frankfurt. Gravity® stands provided stability on the stage. Musicians and audience alike were impressed by the bespoke lighting concept, implemented by the Wolfsburg company BELI Veranstaltungstechnik to create exactly the right visual framework for the show.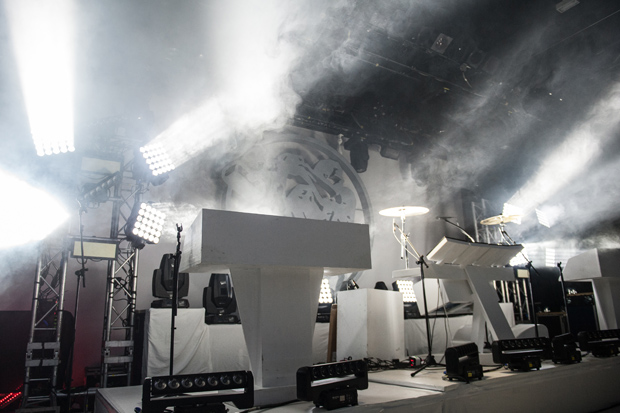 As seasoned professionals in their field, it goes without saying that BELI relies only on professional equipment. For this reason, they chose Cameo® and Gravity®, two brands from the comprehensive portfolio of the Adam Hall Group, which provides event technology solutions for business customers worldwide.
For the lighting design, products from the AURO® series were used, whose technical and qualitative specifications have been developed to create sophisticated and impressive lighting effects in the professional sector: Their outstanding features include RDM-capability, 16-bit resolution, single pixel control, selectable dimmer curves and even a temperature-controlled fan.
BELI Veranstaltungstechnik favoured the Cameo® AURO® Matrix 500, with its 5 x 5 arrangement of 25 powerful 15-watt quad LEDs, and the Cameo® Auro® Bar 100, which also facilitates the creation of superb colour nuances in the RGBW spectrum, thanks to its row of seven 15-watt quad LEDs. Two high-speed, three-phase motors provide both units with infinite pan and tilt movements.
"For a concert like this, it is important that the equipment meets your expectations from the outset," says Marian Kowalewicz, BELI event technician. Therefore they used products from Cameo®, which work perfectly, and also form part of the touring gear for the band And One.
Gravity® Premium Stands
The stage setup for the And One concert also featured microphone stands from the brand Gravity®. The elegant look and feel of the premium brand Gravity® perfectly suited the band's performance. Due to their interchangeable marking rings, the stands could be customised (in this instance with black rings) to blend in with the harmonious black-and -white stage look of And One.
Batschkapp
This is the name of a cultural centre in Frankfurt am Main, which has devoted itself to the genre of alternative music. The name comes from the Hessian slang for 'flat cap'. The club was founded in 1976 to establish an "autonomous underground counter-culture". Because of its long history and its significance as a concert hall for such famous artists as Nirvana, Lenny Kravitz, Die Toten Hosen and R.E.M. "Batschkapp" is a rock club whose notoriety extends far beyond the region.
Further information:
www.cameolight.com
www.gravitystands.com
www.beli-online.de