LD Systems Roadbuddy 10 – Test report from delamar.de
A format that could win many friends. Read the test and learn why the LD Systems Roadbuddy 10 portable PA system with wireless microphone, Bluetooth reception and more is suitable for many solo artists, speakers, DJ's etc.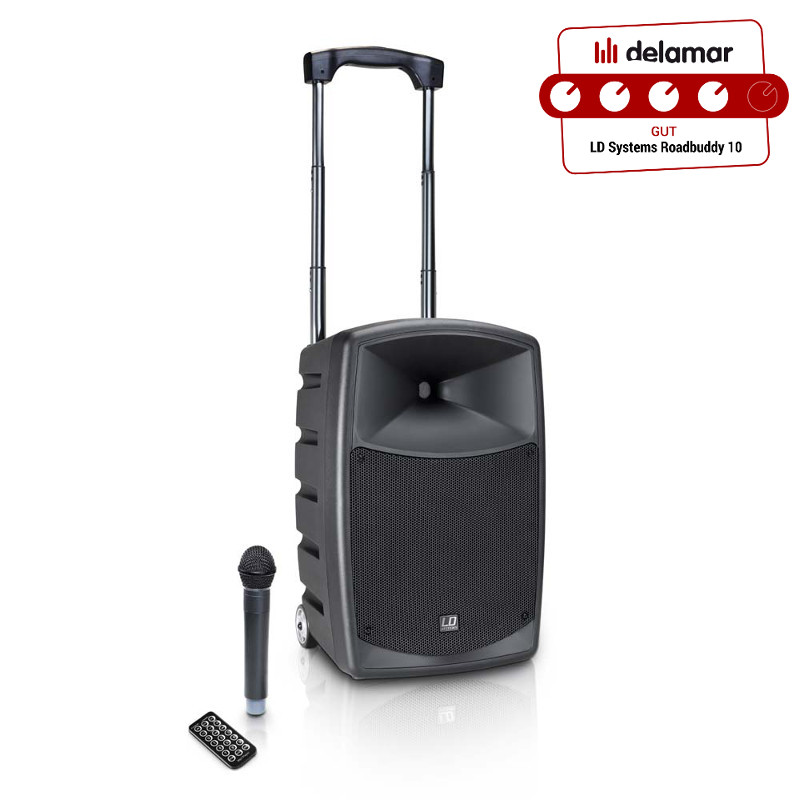 What is it?
The LD Systems Roadbuddy 10 is a compact PA system with a rolling-case design, which can also be tripod-mounted thanks to a 35 mm thread. It provides peak power of 480 watts. This unit will appeal to mobile DJs, street musicians and solo artists. It is intended for use at outdoor celebrations, beach parties, sports events and whilst travelling. The built-in rechargeable battery should last for up to eight hours, according to the manufacturer.
There is a built-in mixer for the processing of various signal sources – USB stick, SD card or Bluetooth for digital as well as XLR/jack (Mic/Line) and RCA/mini-jack (Line). There is also a 16-channel UHF radio receiver operating in the registration-free frequency range from 863 – 865 MHz. This is compatible with the radio microphone supplied with the product variant "LDRBUD10", or with the headset and belt-pack (transmitter attaches to your belt) in the variant "LDRBUD10HS". We tested the former.
The portable sound system is available to buy from German high-street retailers for €599.00 (incl. VAT).
Test report LD Systems Roadbuddy 10. Construction
The unit is roadworthy, the case looks impressive and the rollers function perfectly. The handle can be retracted just as far as on normal rolling luggage, and locked. The LD Systems Roadbuddy 10 can be comfortably pulled behind you, or if need be, carried over short distances, thanks to its reasonable 16.5 g weight.
Connections
The XLR sockets are lockable (so the cables are not pulled out accidentally). The buttons for music operation via USB etc. have a well-defined response. Excellent: Rubber caps are available for the phono and BNC sockets, to prevent long term ingress of dust etc. if these sockets are not used. Only the rotary control knobs could have been a little tighter.
The "glove compartment"
On the top you will find a storage compartment which opens with a gentle push. Here there is space for everything that you may need on the road – the supplied wireless microphone, the Bluetooth remote control, the UHF antenna and the mains cable. Instead of the cable you could also store a second hand transmitter microphone for duets, dialogues etc. Indeed, a second UHF radio receiver can even be installed in the LD Systems Roadbuddy 10.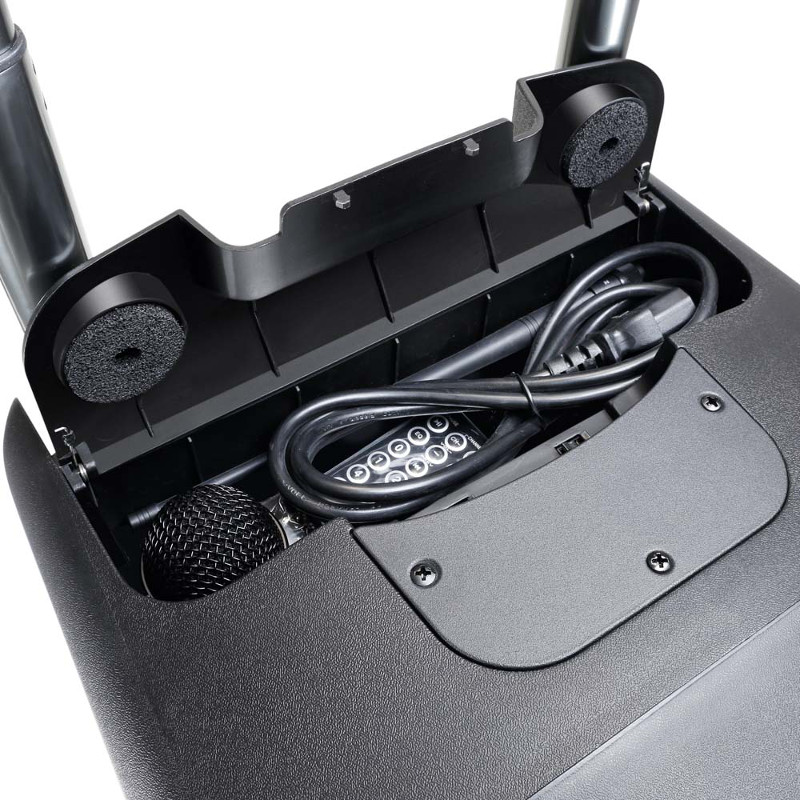 Mixer section
There are four channels available:
– Radio reception (UHF, ISM band)
– Media player OR (Line via phono/3.5 mm)
– Mic/Line via XLR/6.3 mm
– Mic/Line via XLR/6.3 mm.
After adjusting the channel volumes, a wide ranging 2-band EQ is available to facilitate extensive sound adjustment. The EQ sounds good and is easy to use. In the test I could make all of the source material sound pleasant.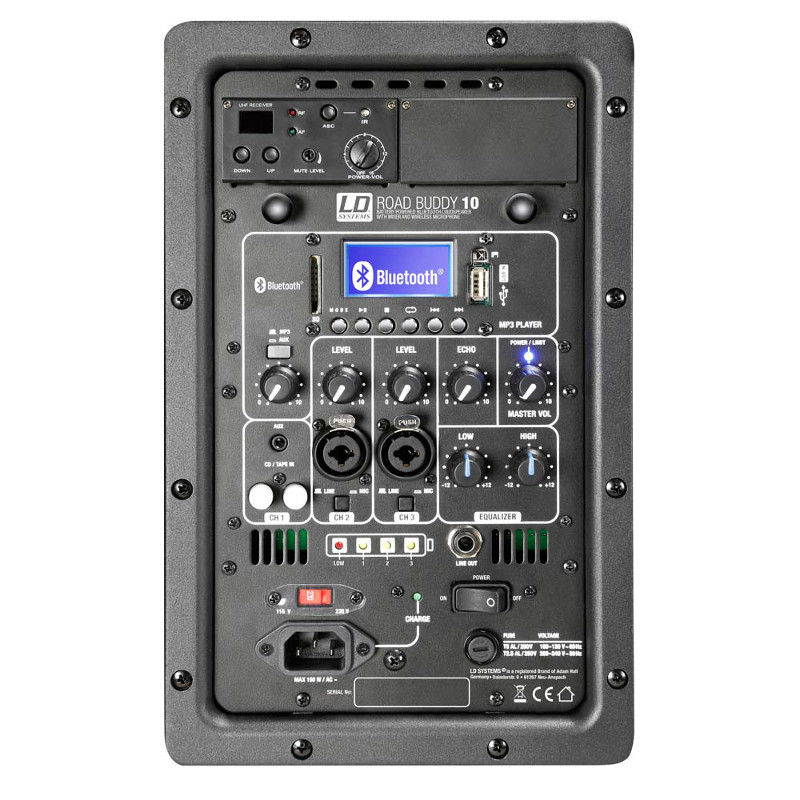 You will also find a rather rudimentary echo effect (delay time etc. cannot be adjusted), and a limiter at the end of the signal chain protects against overloading and damaging the hardware. Finally, there is a line output (large jack, mono) for recording. Altogether, there are plenty of mixing options available for its intended applications. Of course, it is not intended for band use. Incidentally, guitarists or bassists may want to opt for the above-mentioned product variant, LD Systems Roadbuddy 10 LDRBUD10HS, as this comes with a pocket transmitter with high-impedance input.
Playback & players
In addition to the analogue inputs via the above-mentioned sockets, the following inputs for digital sources are also available:
– USB stick (file formats MP3, WMA, WAV)
– SD card (file formats MP3, WMA, WAV)
– Bluetooth-enabled devices (smartphone etc.)
Handy for the playback of your own productions or MP3s, or for sounds on demand during lectures or presentations etc. My USB stick was initially not recognised. After re-formatting to FAT32, it worked and I was able to play the WAV files stored on it without a problem. The multilingual manual does not provide any information on this. It could also be laid-out more clearly by dividing it into separate chapters for each language.
MP3 Player etc.
Audio files from USB, SD card or Bluetooth can be controlled using the built-in player's controls and display. The section labelled "MP3 PLAYER" is just below the radio receiver slots in the picture. Here you can:
– switch between pieces of music
– play music in a loop
– adjust the volume separately
– select different EQ curves (in addition to the 2-Band EQ on the mixer).
All of this is controllable by the supplied remote control. In addition, the numbered buttons enable selection of a specific track. What more could you want? Perhaps the option to move within a track or to navigate to subfolders on the USB stick or SD card. Personally, I can do without both of these.
Setting up the radio link
Radio signals can be received in the registration-free range from 863 – 865 MHz (UHF radio). Connect the supplied antenna to the LD Systems Roadbuddy 10 and insert the batteries in the supplied radio microphone. Now just turn the rotary knob to switch on the receiver and adjust the volume. Microphone transmission over the ether was immediately successful.
Wireless microphone sound quality
The microphone is a dynamic cardioid type (sound is not picked up from the side or the rear). Thanks to the matt, rubberised grip area it sits nicely in the hand, and at 275 grams it is pleasantly light. With a pair of quality AA batteries it will work for up to 10 hours. The sound quality is good – in conjunction with the portable PA, good speech intelligibility was evident. The microphone responded insusceptibly enough to sibilants and plosives (heavy breaths as in "p" and "b") for my taste and for this price category. You really have to get up close to it before it starts to get unruly.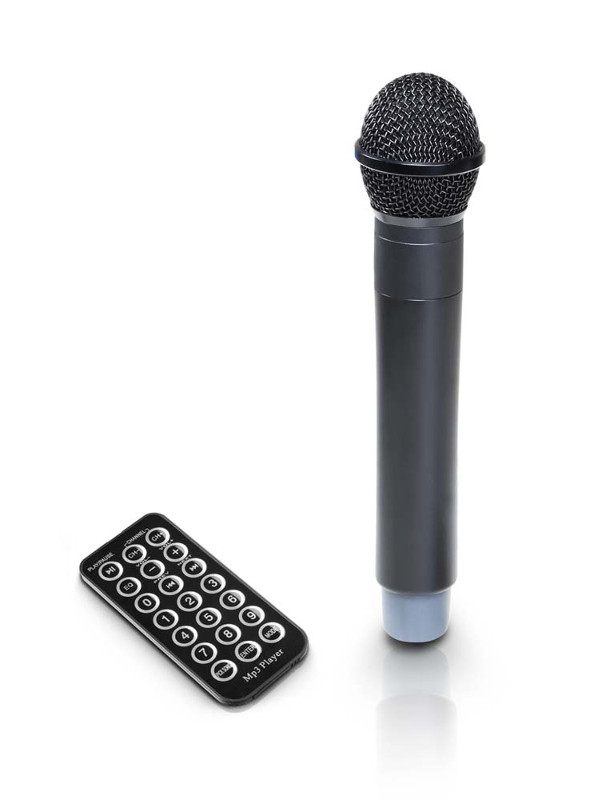 Range & interference
The maximum range in this test was about 20 metres with several walls inbetween, before reception was interrupted. In an open area a greater distance would be possible. You couldn't ask for more at this price. Unfortunately there was some occasional yet significant interference, due to mobile devices in the vicinity. This is a fundamental risk in the registration-free ISM band frequency range. Urban regions in particular can be so sensitive, that use of the radio microphone is out of the question.
LD Systems Roadbuddy 10. Sound
Sound-wise, I was extremely impressed by the LD Systems Roadbuddy 10. The built-in 10 inch woofers deliver clear, transparent highs, attractively detailed mids and powerful bass. The performance of today's small active PA loudspeakers is incredible. The performance is very respectable for a compact portable PA system. Even before significant distortion became audible, I didn't want to wind up the neighbours any more, because that was already party volume for a small to medium-sized room. This little beauty will also make its presence felt outdoors.
Pros
+ impressive sound quality
+ ample power for smaller events
+ extremely portable thanks to its trolley design
+ good-sounding, handy and lightweight wireless microphone
+ versatile inputs: Bluetooth, USB, SD
+ 4 socket types for analogue
+ media player remote control
Cons
– interference from radio data networks in the wireless microphone signal
LD Systems Roadbuddy 10 test report conclusion
The LD Systems Roadbuddy 10 is a successful portable PA system for solo artists, street musicians, mobile DJs, aerobics instructors or fitness gurus etc. The sound of the unit is impressive for its price and size. Nevertheless, there is still enough power available to project to the back row of a small to medium-sized audience (roughly 100 people).
The great-sounding, lightweight, handy wireless microphone also made a positive impression. Furthermore, you have great flexibility with regard to your choice of sound sources – Bluetooth for smartphones, USB and SD cards for quality sound files as well as a maximum of three channels for analogue line or microphone signals using all common types of connector. It is a pity that during my test, interference from WLAN and mobile Internet networks became clearly apparent and more frequent when using the wireless microphone. This is a fundamental risk in the registration-free ISM frequency band. I would opt for a wired microphone in this instance. All in all, this is an extremely versatile, practical and powerful sounding portable PA system through which speakers, musicians, salespersons, sports commentators, etc. can address their audience, completely untethered. Therefore, the LD Systems Roadbuddy 10 receives a good four out of five points in our test report.
For whom?
Solo musicians, DJs, street musicians, sports commentators, aerobics, dance and fitness instructors, speakers and many more.
Important features
– Battery-powered portable PA system
– Woofer: 10″ ferrite
– Tweeter: 1″
– Amplifier: 120 W RMS, Class-D power amplifier
– Frequency response: 55 – 18,000 Hz
– max SPL: 115 dB SPL
– Radio reception in registration and charge-free ISM band (863 – 865 MHz)
– Radio microphone included
– Mixer with delay & Limiter
– Inputs: 2 x Mic/Line (XLR/6.3 mm); Line (phono/3.5 mm)
– Media player for music via Bluetooth, USB-stick or SD-Card
– Delay & 2-band EQ for Mixer
– Battery with up to 8 hours of operating time
– Integrated rollers & trolley
– Tripod flange (36 mm)
– Dimensions: 415 x 525 x 328 mm
– Weight: 16.5 kg
___________________________________
Source: Delamar.de, April 2016, Germany: http://www.delamar.de/test/ld-systems-roadbuddy-10-testbericht/
Author: Felix Baarß
Click here to learn more about the LD Systems Roadbuddy 10:
http://www.ld-systems.com/en/series/road-series/road-buddy-10-battery-powered-bluetooth-speaker-with-mixer-and-wireless-microphone/