Palmer Monicon – monitor controller put to the test
Compact, functional, very robust and does the job ‒ we've tested the small and practical Palmer Monicon monitor controller …

Regulating the volume on monitors or loudspeakers in a studio – whether via computer, mixer or audio interface – is no easy task and not really practical. In such situations, it is more practical, convenient and productive to use a special appliance for this task instead of a mixer or other virtual aid.
The Palmer Monicon is an attractive, low-priced option for anyone looking for a monitor controller to improve their tessitura during mix sessions with DAW software. The list price of €75 may seem unbeatable but we've actually seen it much cheaper, for less than €60 in fact. So let's see what it has to offer …
Palmer Monicon, good-looking and plenty of extras in its hand.
We couldn't have put it better ourselves; this small appliance really does fit into every hand – granted it's not the best place to use it from. The Palmer Monicon boasts a sizeable volume knob (3.8 cm) and two more practical functions for studio work in its tiny metal housing. It simply needs to be placed between the audio interface of the PC or Mac and the monitors and the volume can be adjusted easily and precisely.
The rear panel contains inputs and outputs for 3.5-mm mini jacks as well as XLR/jack combined ports. Configurations are possible for both home and professional use. Regrettably, there are no RCA jacks for further connection options, but we don't feel they are as important as the inputs/outputs that the device does have. And you can always buy cheap adaptors.
The connections are fastened with two screws, which is obviously a must for good design. And, contrary to how it looks on the official photos – but not the official video – the inputs can be automatically secured with safety clips so that nothing will come loose.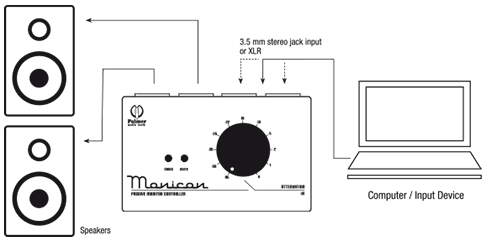 The MDF sides with their varnished mahogany finish and the robust housing give the Palmer Monicon mini-console a slightly retro look. It reminds us of a certain German desktop synthesizer, and no one would dare question the design and quality of that. A control panel made of black steel with a high-end screen print ensures that no questions arise when using the device or connecting it. It also looks good and has a minimalist design. But now let's move on to the sound.
Palmer Monicon in practice: The sound
Firstly, it must be remembered that the Monicon is a passive audio appliance, i.e. its switch concept must be able to regulate the volume, weaken the signal and carry out other important functions, which we will discuss in more detail in the following. As the sound stays the same, an external power supply is superfluous.
The large button has the function of weakening the signals between -85 and 0 dB. It is soft and precise. We'd like to point out again that the Palmer Monicon cannot amplify the signal, it can only offer a gradual, non-liner reduction. This means that there is a difference of 25 dB between the two consecutive minimum levels, while the two maximum levels differ by 1 dB. This is very important for a precise regulation. To put it another way: the adjustment knob has a lower effect at higher volumes.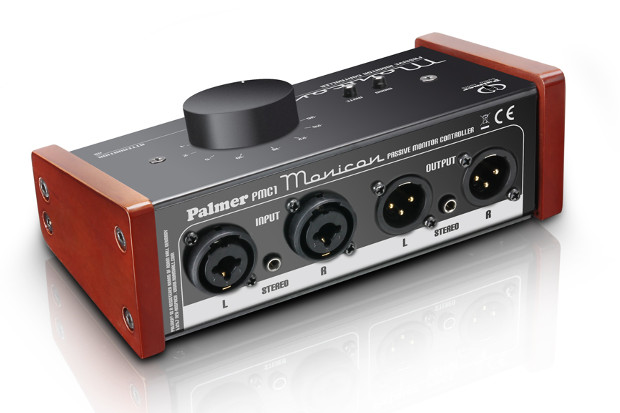 The audio output can be muted with the MUTE button, which is particularly useful if, for example, you have to take a phone call and need to turn the sound off for a little while. The sound is free of feedback or interference, which of course should be the case with intermediary devices for soundtracks.
In our view, the MONO switch is the most outstanding feature of the Palmer Monicon. We don't have to repeat the importance of mono-compatibility for productions (there is further information about that in our database), but we will just say that this appliance makes it very quick and easy to arrange. Activating this switching circuit combines the left and right channels into a MONO signal, meaning that accidental cancellation during phasing coherence can be noticed.
Best of the miniatures
Monitor controllers with numerous functions not offered by Monicon are available on the market – but they cost seven to ten times more. There is also no switch for different pairs of speakers, nor is there a DIM controller or signal measurer. But we're only too happy to forgive this device for these lacking functions because it offers a good range of extras, a high-end design and all at an extremely customer-friendly price. It also works flawlessly and we couldn't find any reason not to buy it. It's a winner in every respect in the low-price segment and, despite its small size, is very easy to use.
Technical data of the Palmer Monicon
– Passive monitor controller
– two inputs for XLR/jacks and 3.5-mm mini jacks
– symmetrical XLR ports
– maximum decibels: 20 dBu (input), 20 dB (output)
– input impedance 10 kΩ (symmetrical), 5 kΩ
– output impedance: 600 Ω
– frequency range: 10 Hz to 40 kHz (*)
– distortion: 0.001% (*)
– weakening: 85 dB; 112 dB (weakening and 'mute')
– dimensions and weight: 16.4 x 8.5 x 6.2 cm; 750 Gramm
(*) Manufacturer's measurements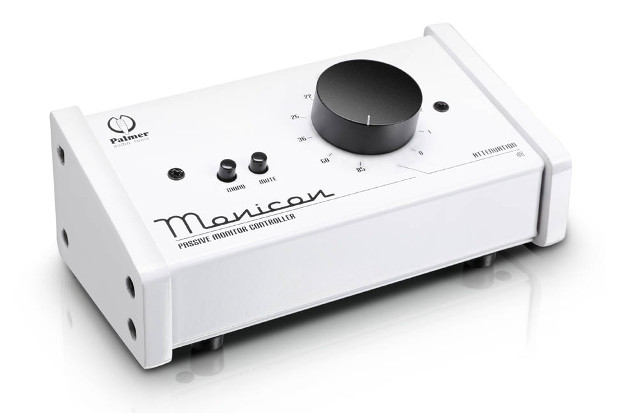 CONSTRUCTION: 90%
SOUND: 92%
USER-FRIENDLINESS AND VERSATILITY: 90%
VALUE FOR MONEY: 95%
FINAL RESULT: 92 %
Advantages
+ robust construction, good materials and functional design
+ direct and transparent operation, without affecting audio quality
+ highly flexible connectivity. XLR-combo ports are good quality
Disadvantages
– No RCA ports, but these are not absolutely necessary and adaptors can be used
– no further features that you'd normally find with other controllers (alternative speaker pairs, DIM controller …), which is quite regrettable at this price
______________________________________
Source: futuremusic.es, Spain, September 2015: http://www.futuremusic-es.com/palmer-monicon-controlador-de-monitores-a-prueba/
Here you can find more information about the root effects series from Palmer:
http://www.palmer-germany.com/pro/en/MONICON-Passive-Monitor-Controller-PMONICON.htm
http://www.palmer-germany.com/pro/en/MONICON-W-Passive-Monitor-Controller-white-Limited-Edition-PMONICONW.htm