ln the mix – Interview with Cenzo Townshend by Dan Gumble
Mixer and audio engineer, Cenzo Townshend, speaks to Dan Gumble about gear, working with some of the biggest names in music and the importance of a healthy MI retail environment.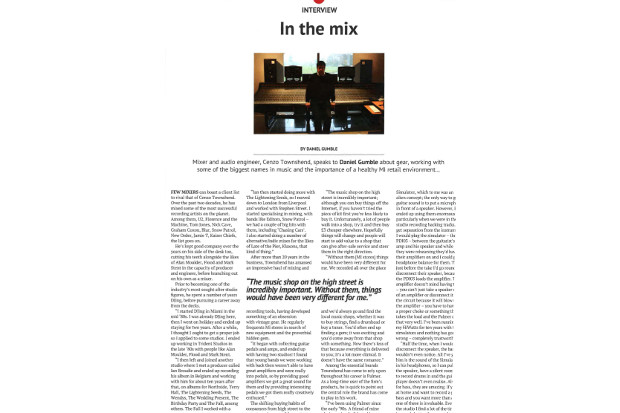 Few mixers can boast a client list to rival that of Cenzo Townshend. Over the past two decades, he has mixed some of the most successful recording artists on the planet. Among them, U2, Florence and the Machine, Tom Tones, Nick Cave, Graham Coxon, Blur, Snow Patrol, New Order, Jamie T, Kaiser Chiefs, the list goes an. He's kept good company over the years on his side of the desk too, cutting his teeth alongside the likes of Alan Moulder, Flood and Mark Stent in the capacity of producer and engineer, before branching out on his own as a mixer.
Prior to becoming one of the industry's most sought after studio figures, he spent a number of years DJing, before pursuing a career away from the decks.
"I started DJing in Miami in the mid '80s. I was already DJing here, then I went on holiday and ended up staying for two years. After a while, I thought I ought to get a proper job so I applied to some studios. I ended up working in Trident Studios in the late '80s with people like Alan Moulder, Flood and Mark Stent.
I then left and joined another studio where I met a producer called Ian Braudie and ended up recording his album in Belgium and working with him for about ten years after that, on albums for Northside, Terry Hall, The Lightening Seeds, The Wendys, The Wedding Present, The Birthday Party and The Fall, among others. The Fall I worked with a lot afterwards and The Wedding Present.
Ian then Started doing more with The Lightening Seeds, so I moved down to London from Liverpool and worked with Stephen Street. I started specialising in mixing, with bands like Editors, Snow Patrol – we had a couple of big hits with them, including 'Chasing Cars'. I also started doing a number of alternative/indie mixes for the likes of Late of the Pier, Klaxons, that kind of thing."
After more than 20 years in the business, Townshend has amassed an impressive haul of mixing andr ecording tools, having developed something of an obsession with vintage gear. He regularly frequents MI stores in search of new equipment and the proverbial hidden gem.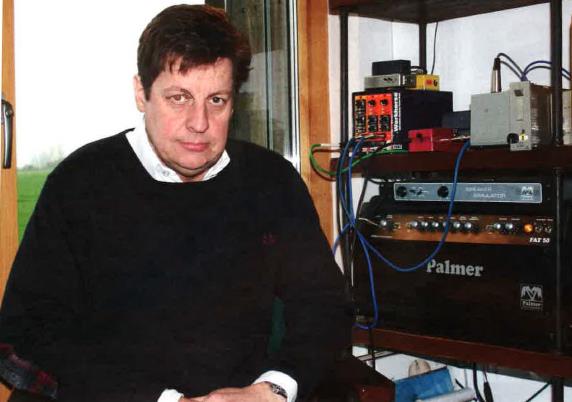 "It began with collecting guitar pedals and amps, and ended up with having two studios! I found that young bands we were working with back then weren't able to have great amplifiers and were really into pedals, so by providing good amplifiers we got a great sound for them and by providing interesting pedals we got them really creatively enthused."
The shifting buying habits of consumers from high street to the web since the turn of the century aren't lost on Townshed.
"The music shop on the high street is incredibly important; although you can buy things off the Internet, if you haven't tried the piece of kit first you're less likely to buy it. Unfortunately, a lot of people walk into a shop, try it and then buy £3 cheaper elsewhere. Hopefully things will change and people will start to add value to a shop that can give after-sale service and steer them in the right direction.
Without them [MI stores] things would have been very different for me. We recorded all over the place and we'd always go and find the local music shops, whether it was to buy strings, find a drumhead or buy a tuner. You'd often end up finding a gem; it was exciting and you'd come away from that shop with something. Now there's less of that because everything is delivered to you; it's a Iot more clinical. It doesn't have the same romance."
Among the essential brands Townshend has come to rely upon throughout his career is Palmer. As a lang-time user ofthe firm's products, he is quick to point out
the central role the brand has come to play in his work. "I've been using Palmer since the early '90s. A friend of mine who's guitar builder told me to try out this thing called a speaker simulator, which to me was an alien concept; the only way to get a guitar sound is to put a microphone in front of a speaker.



However I ended up using them enormously particularly when we were in the studio recording backing tracks. To get separation from the instruments I would plug the simulator – the PDI03 – between the guitarist's amp and his speaker and while they were rehearsing they'd have their amplifiers on and i could get a headphone balance for them. Then just before the take I'd go round and disconnect their speaker, because the PDI03 loads the amplifier.
The amplifier doesn't mind having that – you can't just take a speaker out of an amplifier or disconnect it from the circuit – you have to have a proper choke or something that takes the load and the Palmer did that very well. I've been running my HiWatts for ten years with these simulators and nothing has gone wrong – Completely trustworthy.
"Half the time, when I would disconnect the speaker, the bands wouldn't even notice. All I've given him is the sound of the simulator in his headphones, so I can pull the speaker, have a silent room to record drums in and the guitar plaxer doesn't even realise. Also for bass, they are amazing. If you're at home and want to record a good bass and you want more than a DI, one of these is invaluable. Even in the studio I find a lot of the time it sounds better than a speaker, as you don't get any of the artifacts of the speaker crapping out, or if you want a clean bass sound without any distortion it's amazing. It's almost almost became a trademark for me.
Another thing they've got is the Fat 50 amplifier. It's like an old vintage amp that's built like a brick shithouse. It's got an incredible reverb and I use it a lot just for that. Through a simulator I'll send stuff from Pro Tools to it; vocals, guitars, anything. I can either overdrive it for the guitars or just use it for the reverb – it's clean, and obviously it's valve so it introduces third harmonic distortion. I was amazed at how good it was."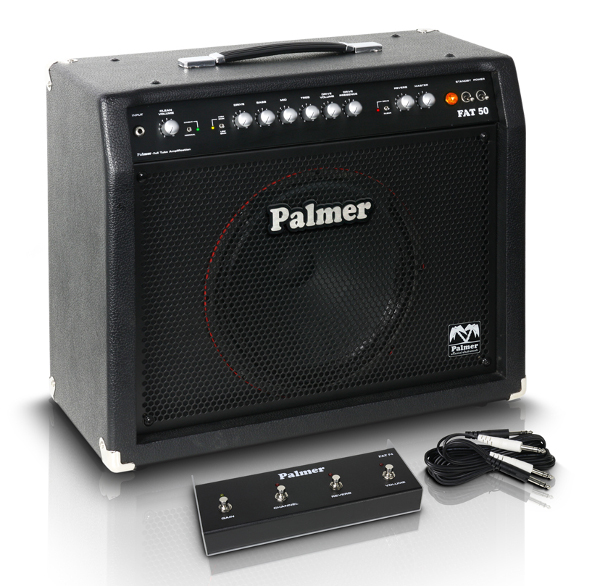 Townshed was recently introduced to the firm's Headphone Amplifier; another product with which he was previously unfamiliar but has since become a key part of his set-up "We were sent it to evaluate it was amazing, although it shouldn't be amazing really, because with these bits of kit that you buy with a headphone output, generally it's a fairly cheap amplifier that's involved – it's as small as possible and creates as little heat as possible, whereas if you've got a bespoke headphone amplifier externally you have a lot more room and generally it sounds ten times better.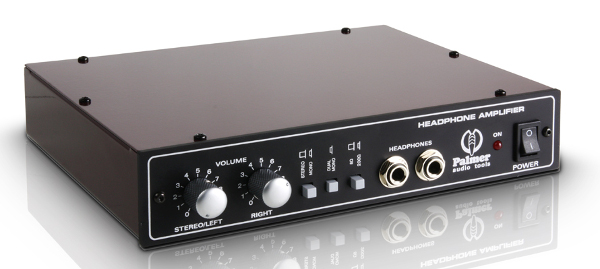 I had no idea as to the difference it can make; it really is quite an eye-opener. It's not harsh and it can go incredibly loud without distorting or hurting your ears. I'd recommend it to anyone. "They have another thing called Line Driver that enables us to send guitar signals through lang distances without any loss. It's a line drive booster."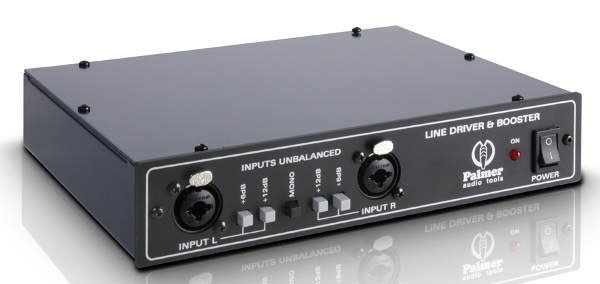 […]
Source: MiPro Magazine, January 2015: http://www.mi-pro.co.uk/
Author: Dan Gumble
Here you can find all information concerning the mentioned Palmer Products:
http://www.palmer-germany.com/mi/en/Speaker-Simulators.htm
http://www.palmer-germany.com/mi/en/Products/FAT-Series/FAT-50-Tube-Guitar-Combo-50-W-PFAT50.htm
http://www.palmer-germany.com/pro/en/Headphone-Amplifiers.htm
http://www.palmer-germany.com/pro/en/PLDB-02-Line-Driver-and-Booster-PLDB02.htm