Palmer PDI 03 JB Bonamassa Special – product review by Gitarre & Bass – including audio demo files!
Nobody can deny that Joe Bonamassa is a master of his instrument and its sound. So it's only natural that any manufacturer feels flattered if JB chooses to use one of its products. A small but important element of his live equipment comes from the German company Palmer.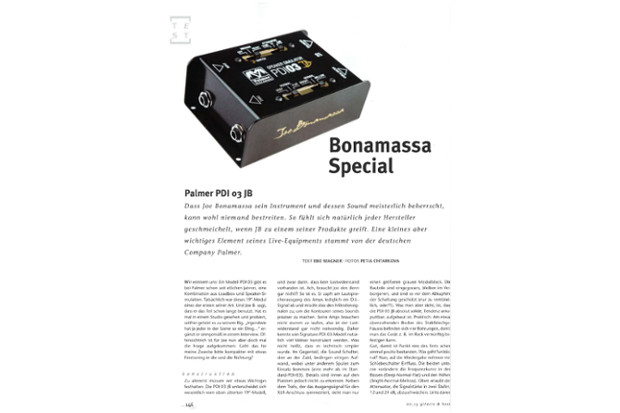 Let's remember: The PDI 03 model has been available from Palmer for many years, and is a combination of load box and speaker simulator. In fact, this 19″ model was the first of its kind. And Joe B. says that he's been using it for a while now. He saw it in a studio and gave it a try; since then it's been part of his rig. "Somehow everyone in the scene has one …" he added in an interview. But obviously Joe has also asked himself at one point: Could I get something a little more compact, with a little fine-tuning here and there?
Construction
First of all we need to note something important. The PDI 03 JB is considerably different to the aforementioned 19″ model, in that there is no load resistance. Oh, Joe doesn't need that? No, he doesn't. He just taps the DI signal from the speaker output of the amp, and mixes this with the microphone signal to make the contours of his sound more precise. His amps don't have to be muted, so there is no need for load  resistance. That's why his signature PDI 03 model could be made much smaller.
However, this doesn't mean that it is simpler from a technical point of view. On the contrary, the three sound switches require some effort, though coils, amongst other things, are used (one more than the standard PDI 03). However, details aren't obvious inside on the circuit boards. Apart from the transformer, which balances the output signal for the XLR connection, you only see a large grey module block. The components are moulded, remain hidden and are protected from circuit replication (which makes sense, right?!).
But what you can see is that the PDI 03 JB is built absolutely solidly, and is almost indestructible. Practical: The somewhat protruding base of the steel sheet casing has four drilled holes, which means that the device can, for example, be well-attached to the rack. Right, with that, it passes part one of the test.
How does it work? Four sliding switches influence playback. The two lower ones change the frequency curve in the bass (Deep/Normal/Flat) and the treble (Bright/Normal/Mellow) ranges. At the top the attenuator lets the signal strength be reduced in two steps: 12 and 24 dB. Finally, on the left, we see the real "treat" on this DI box: The JB switch. It lifts up the middle, which is not all that simple to do with a passive circuit, as is the case here, in part because of the phasing difficulties.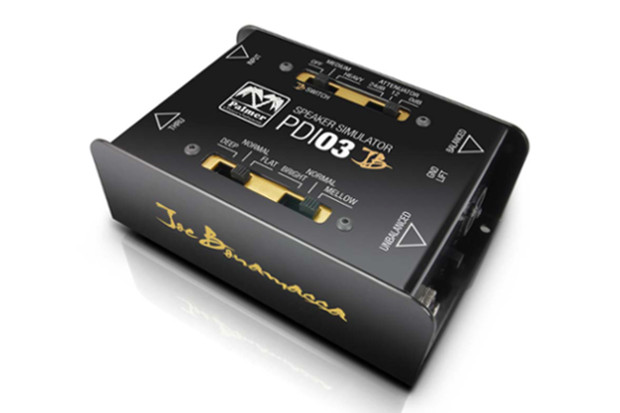 In Practice
It is very difficult to create a high-quality DI signal when a tube amplifier is operated without a speaker. As we know, amps and speakers interact, and what happens physically can be easily replicated. But the PDI 03 JB "just" needs to do the response correction, which conveniently matches the playback over the microphone. This task is much easier to manage. Especially as a DI box only taps the signal "parasitically", without significantly influencing the performance of the amp. In short, it is simply a question of the speaker simulation sound quality.
Happily, the response from our test candidates was clear: The basic character of the sound quality is completely balanced, and corresponds closely with what one could expect from a "neutral" close-miking arrangement (please note that microphones create different "sounds" depending on their position in front of the speaker, meaning that the microphone as a reference point does not offer any real objective value). What's more, however the PDI 03 JB is adjusted, there is never any unpleasant sharpness in the high frequencies. This creates what I tend to term as refined playback.
The sound switches deliver practical options in sensible gradations. This creates more fill/punch in the bass or a leaner foundation much faster than if you cranked up the mixer EQ first. The same applies to the treble switch, which can give the tone a much stronger presence (Bright), or make it softer, without losing its fundamental transparency.
The JB switch also ticks boxes by achieving something unique compared to similar devices, namely that it has a broad and intense emphasis / increase in the centre range, which adds plenty of warmth and volume. When switched on in Medium mode, the tone shaping is clearly perceptible. The Heavy position doesn't add that much more, or rather its efficiency depends more on the amp being used.
In conclusion a note: In an interview posted on YouTube, "Joe Bonamassa Palmer interview long version", the blues master talks about his opinion of his PDI 03, and how he uses it.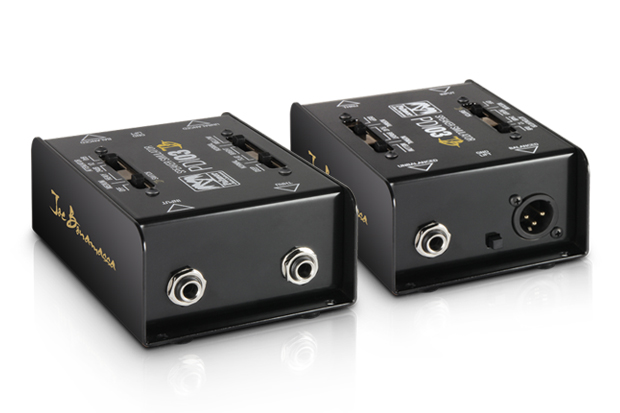 Alternatives
There are currently no directly comparable alternatives available truly similar in terms of performance. However it's worth mentioning that Palmer itself has other, simpler products of this type. It also has lots more practical equipment for studios and guitars. If there's a pinch somewhere in the signal path, then you should check if there isn't already a solution available. If everything is in order, then the products perform at a consistently high quality (we have already trialled many of them. If you're interested, simply use the article search feature on our website to find them).
Summary
Amp DI boxes with speaker simulation: Most units of this type have relatively limited features. In contrast, the new PDI 03 JB from Palmer is based on a technically refined concept and draws out correspondingly high-quality results. Very good workmanship, top signal quality and practicality: Taking all this into account, the price-performance ratio is quite good.
Plus
+ sound, variability
+ features, concept
+ workmanship, component quality
Overview
Manufacturer: Palmer
Model: PDI 03 JB
Product type: passive DI box with speaker simulation
Made in: Germany
Casing: Steel sheet, holes in the base for fixed installation
Sockets: input, thru, unbalanced, balanced (XLR)
Switch: JB switch (Off/Medium/Heavy), attenuator (0/12/24 dB), sound SW (Deep/Normal/Flat), sound SW (Bright/Normal/Mellow), ground lift
Weight: approx. o,8o kg
Size: approx. 140 x 50 x 95 WHD/mm
______________________________________________
Source: Gitarre & Bass, February 2015, Germany:
http://www.gitarrebass.musikmachen.de/
Author: Ebo Wagner
You can find all the details about the PDI03 JB here:
http://www.palmer-germany.com/mi/en/PDI-03-JB-Joe-Bonamassa-Signature-Model-Guitar-Speaker-Simulator-DI-PDI03JB.htm