Palmer Pedalbay 60 – Pedalist – Product Review by Soundcheck
Few guitarists will make do with only one pedal. And what's better than a comprehensive pedal range when on stage? However, they should be quick to set up and disassemble.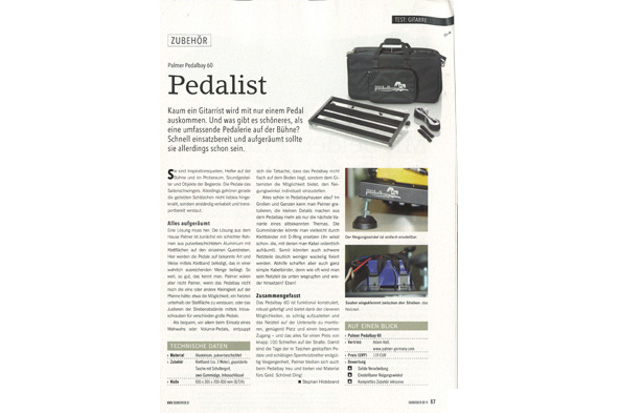 They are sources of inspiration, helpers on stage and in the rehearsal room, sound enhancers and objects of desire: pedals for the string player. However, these beloved darlings should not be carelessly slammed on the ground, but should be properly wired and stowed for transport.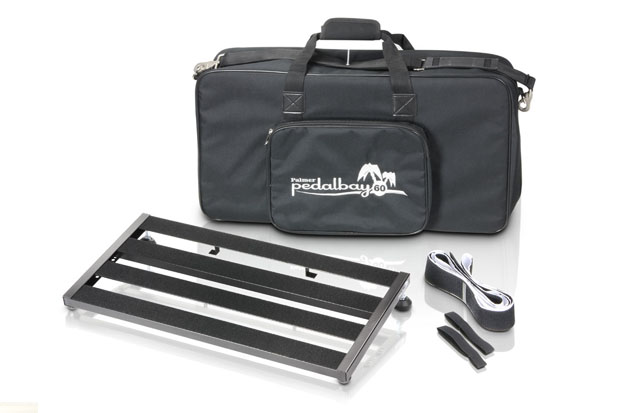 All tidied up
We need a solution: the solution from Palmer is a plain powder-coated aluminium frame with Velcro surfaces on the individual cross braces. Here, the pedals are attached using Velcro tape in the familiar manner; a sufficient quantity is provided for this purpose. So far, so good, nothing new there. But, Palmer would not be Palmer, if the Pedalbay did not have one or more extra features up its sleeve: such as the possibility to store a power supply below the board, or adjusting the distances between cross braces by means of hexagon socket screws for different pedals.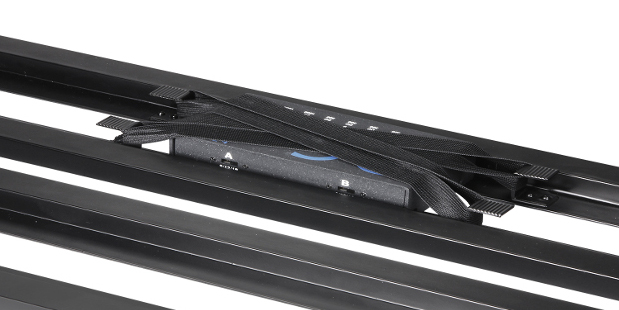 The fact that the Pedalbay does not sit flat on the floor turns out to be quite convenient, especially when using a Wahwah or volume pedal, and this offers guitarists the possibility to individually adjust the tilt angle. So, is everything beautiful in Pedalbay City? On the whole you could congratulate Palmer; the small details make the Pedalbay more than just the next variation on a well known topic. You could always replace the rubber bands maybe with Velcro straps with D-ring (you know, the ones which you use to tidy up cables). Thus, heavy power supplies could be secured more steadily. But simple cable ties can also come in handy. How often are you going to get down on the floor and fiddle around with your power supply? Precisely!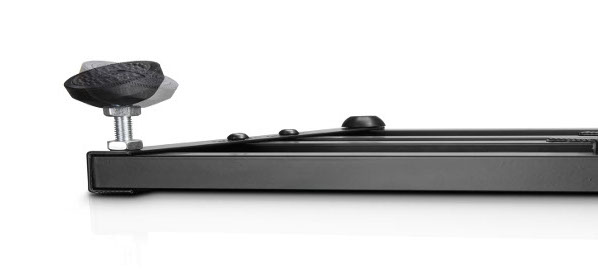 In a nutshell
The Pedalbay 60 has a functional design, is robust and offers sufficient space and easy access – thanks to the clever ways in which you can set it up at a tilted angle and mount the PSU on the bottom, and all for the price of just under 100 loops on the road. Gone are the days of pedals stuffed in bags and shabby plywood boards. With the Pedalbay, Palmer remain true to themselves and offer a lot for the money. What a beautiful thing!
Complete product information is available here:
http://www.palmer-germany.com/mi/en/Products/Pedalboards-and-Accessories/PEDALBAY-60-Lightweight-variable-Pedalboard-with-Protective-Softcase-60cm-PPEDALBAY60.htm
Source: Soundcheck 09 / 14
http://www.soundcheck.de/
Author: Stephan Hildebrand