The Palmer Fab 5 is performing well, not only in the bedroom – Test report from Amazona
With the Palmer FAB5, the Hessian company near Frankfurt am Main, Germany enters a segment, which currently enjoys ever growing popularity like no other. We are talking about a small class A all-tube amplifier, playing in the single digit category in terms of wattage. The prospect of the power amplifier's soft saturation at moderate volume is just too tempting, not to be seduced by it. The expression "bedroom amp" is often used without manufacturers and customers being aware of what volume really resides in those cuddly specifications.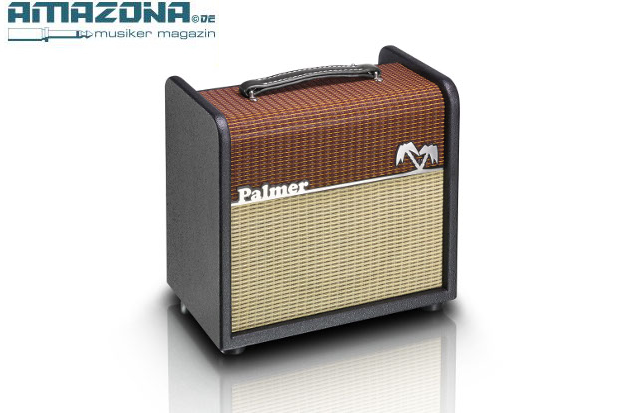 One should always keep in mind that a 10 watt amp provides just under half the volume of a 100 watt powerhouse (doubling the volume requires ten times the power), which invariably finds its expression in large open-air festivals. Anyone who really cranked up the volume of this cute little shouting cube in his bedroom, can surely expect to spend at least one night without the lovely spouse in the same room. Even 1 watt all-tube amplifiers fully turned up after 10 pm will ensure that your neighbours invite the 'boys in blue' to a personal meeting with you. Aware of this, Palmer has provided an interesting detail from the start, which sets your FAB5 apart from most of its competitors. One can use a built-in power attenuator!
Construction
The 10 member company is consistently committed to the "Made in-Germany" statement, not only in the R&D department, but also in the sense of "Designed, Engineered and Assembled in Germany". It is precisely this philosophy that is revealed when you first open the box, or respectively when you first glance at the finished product. The housing designed in a vintage look is of excellent workmanship; every little corner or edge is cleanly glued, bonded or bolted – subtleties, which can only be achieved when there is a thorough quality check.
In addition to the housing which is painted with a textured finish, the front panel of the amplifier is decorated with two pieces of upholstery in shades of beige and dark brown. The whole thing rests on four massive rubber feet, which provide the necessary stability on a smooth surface, a massive artificial leather handle is perched on top of the device. Corner savers have been omitted for looks, however, the top four side panels adopt a circular design which significantly reduces the risk of splintering. Overall, a very visually appealing and also unique concept.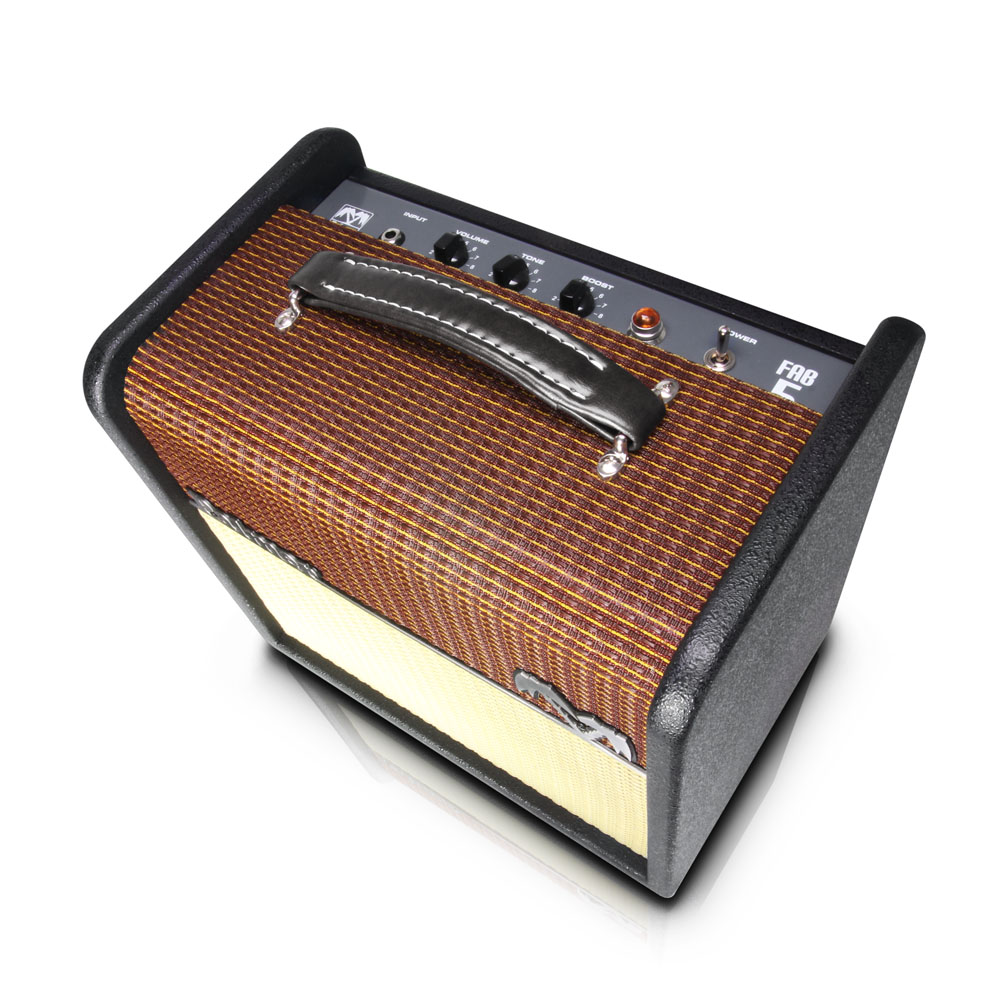 With dimensions of 360 x 345 x 230 mm and a relatively handy weight of just ten kilograms, which is a joke for an all-tube amplifier, the cube can be packed in a standard suitcase, if needs be.. A fact that is likely to be of great value for musicians who like to travel by train. Do you need to help out your colleagues in Hamburg in a tribute band without relying on the organisational skills of the local singer for guitar equipment? The guitar in the gig bag on your back, the suitcase in your right hand, a padded case for pedals, cables and tripod in your left hand. All this, combined with maximum independence.
In terms of electronics, you consistently opt for purist signal processing, which means, that in addition to a single-ended amplifier tube using a 6V6 and a 12AX7 preamp tube, an EZ81 tube is also used as rectifier. As with all class A amplifier designs, the power amplifier always runs on full load, regardless of whether there is an input signal or not. This provides for a strong range of overtones and a higher compression than the differential amplifiers of the AB class version present in other products.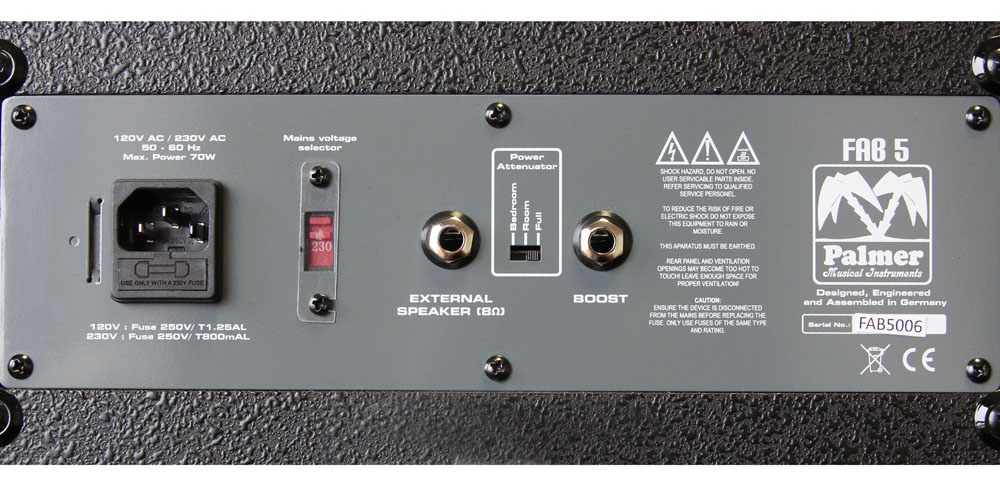 In terms of control options, it is limited to the essentials. In addition to the controllers for Volume and Tone, a Boost can be called upon via footswitch, which impacts both the compression behaviour, the gain range as well as the final volume. Despite the minimal controller range, you have the ability to generate an additional solo sound beside the rhythm sound, which is also characterised by a higher volume level. The FOH will love it because finally, it doesn't need to provide the guitar solo with more volume.
Internally, it uses a 10″ Eminence Ragin Cajun speaker with 8 Ohms. It turns itself off, when an external speaker is used through the external speaker jack. As a special feature, the previously mentioned power attenuator has been fitted with a two-stage reduction of the overall volume, named "Room" and "Bedroom". This makes it possible to achieve amplifier saturation at relatively low volumes.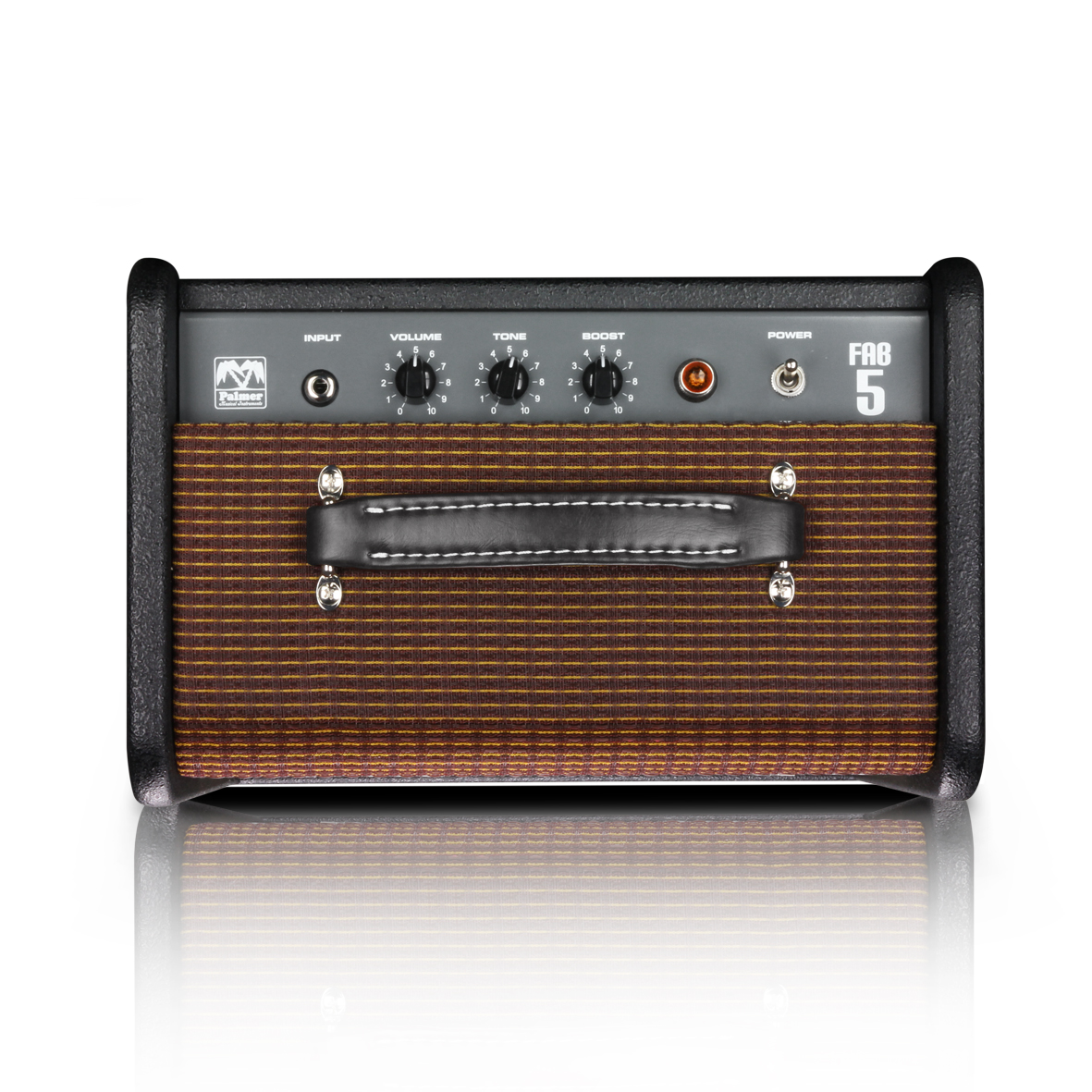 Practice
In terms of practice test, I was lucky enough to be able to test the Palmer FAB5 in an appropriate live situation. The lead guitar player of a friendly AC/DC tribute band dropped out at short notice due to illness, and I was allowed to act as saviour and save the show. This enabled me to directly verify the excellent portability of this amp. Rarely, actually never, have I had so little baggage at the start of a trip.
It was however clear that the classical stage setup, with the amplifier in the back in a three hundred people club, would have been too much of a good thing for a 5 watt amplifier. Therefore, I decided to place the amp directly in front of me, in a classic wedge arrangement. For this purpose, I had specially modified an old guitar stand, which provided a perfect 45 degree angle for the amp which was turned 90 degrees.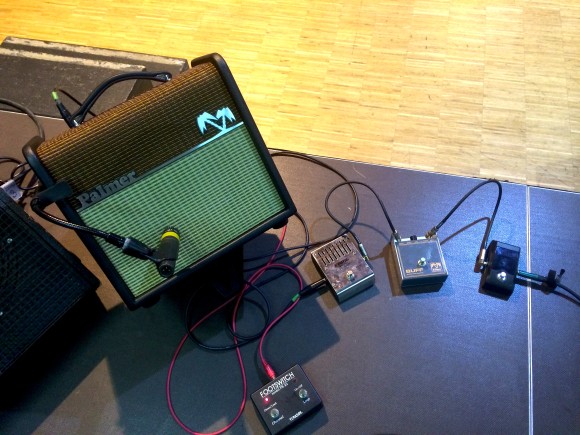 What can I say, I had a fantastic sound! As a setting, I used the classic "everything on 10" approach, which afforded me an unexpectedly high level of flexibility. So, we had the normal channel without boost, that offered a strong, but very warm crunch, that also transitioned into an almost clean sound when lowering the volume level of the SG. Very nice for the amp to stick to the volume control, one of the main strengths of this amp. To compensate for the capacity of cable lengths, I inserted a Palmer PeBuff between my guitar and amp, which acted as a booster in addition to the conversion of high-impedance guitar signal to a low impedance, giving me a higher gain level in the crunch.
To bend the sound towards something more British like an EL34, I used a 10 band equaliser from FAME, to boost the highs and upper mids, so as to make the amp somewhat snappier, when necessary. Last but not least, I boosted the signal by means of the Boost knob with a footswitch, both for gain as well as for volume with a the mighty blow. Conclusion: With two additional pedals and the volume controller of the guitar, I had five spectacular sounds, with which I could cover the entire spectrum of all required sounds!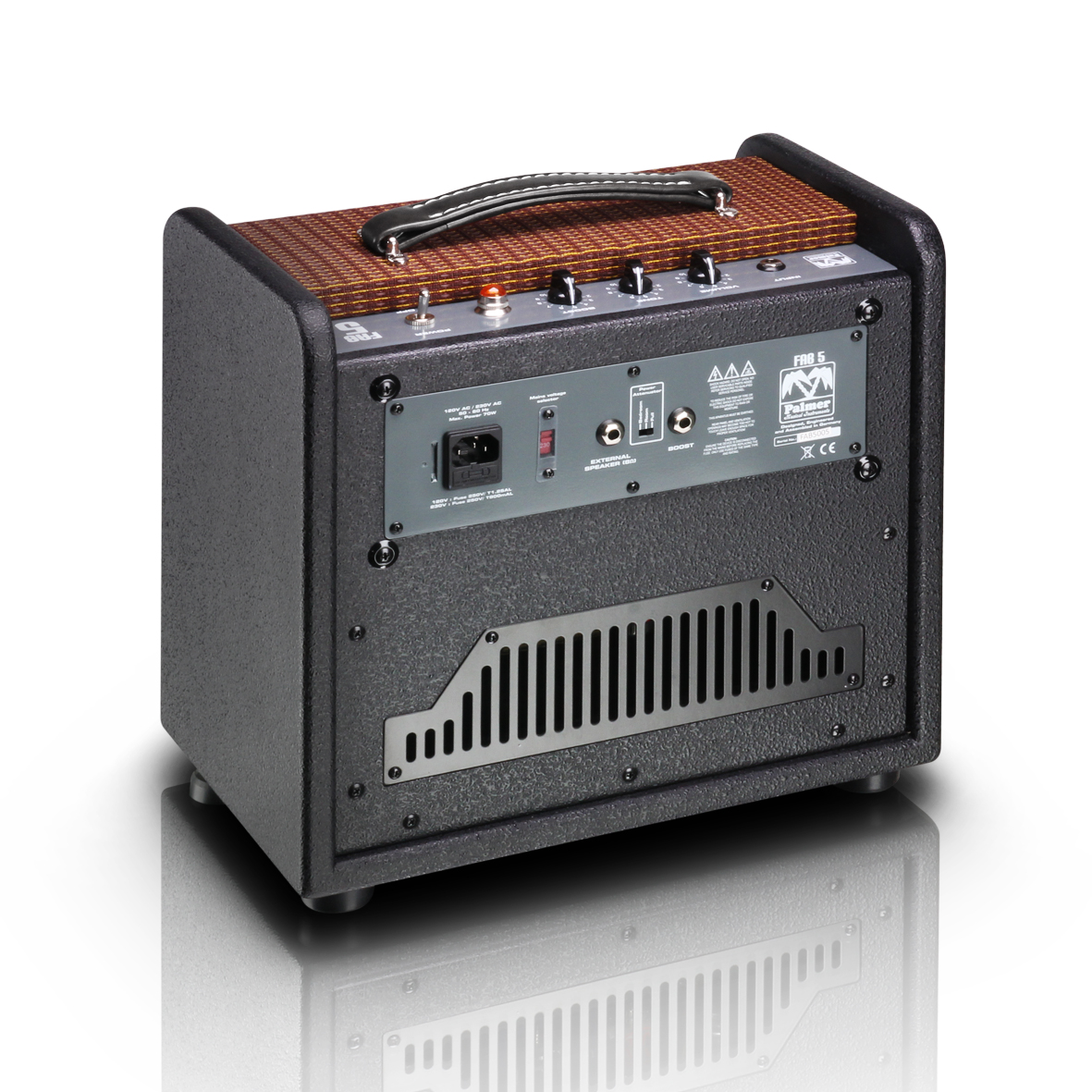 It was pure joy. The amp sang endlessly, tipped very nicely in the highs, dipped properly in the "SAG" (the short-term collapse of the amp power shortly after a strum due to the rectifier tube) and all the while compressed without end. Beautiful standing sounds already at moderate volume levels, gorgeous. This completely convinced me of the wedge arrangement, however, there was a small announcement from FOH. Because of the lacking Nearfield illumination in the P.A., the first row didn't hear much of my guitar signal. Here it would have been perfect if I could connect yet a second box behind me for the classic stage setup, without it turning off the internal speaker.
Anyway, even if the second guitarist across from me on stage was moving the quadruple amount of air with a 4 x 12″ system, my sound was the best thing I ever had onstage in terms of blues/rock. Incidentally, I needed approx. 45 seconds to remove my amplifier, while my colleague had to look for someone to give him a hand to transport his box.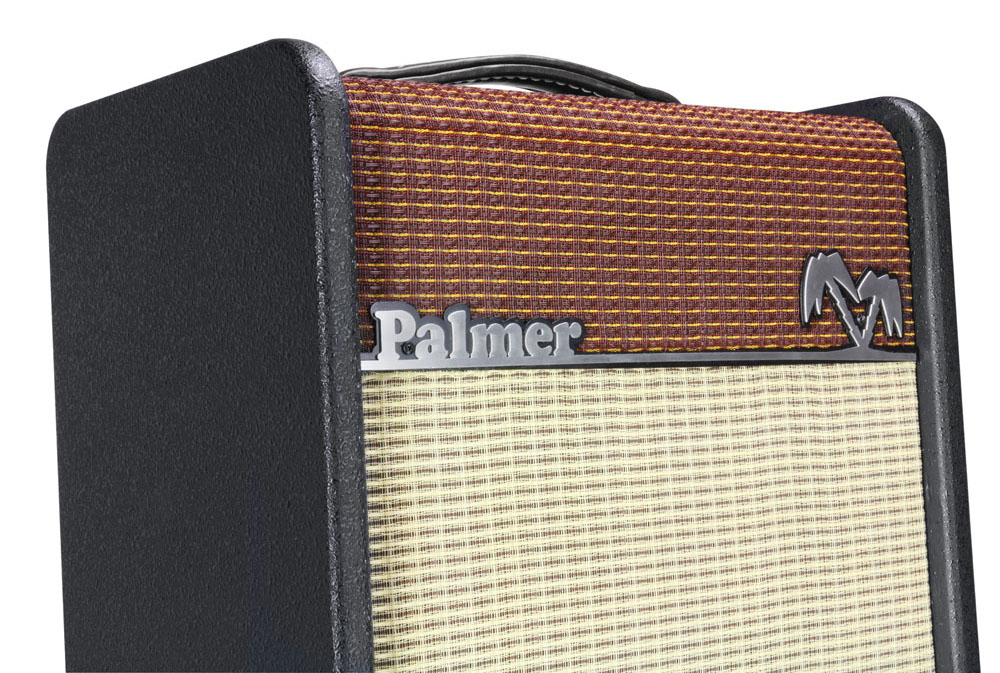 Conclusion
With the Palmer FAB5 the Hessian company has a great success under their belt! The amp, which does not only feature excellent workmanship and shines with an excellent basic sound, also convinces with its practical orientation in terms of power reduction by means of an internally mounted power attenuator.
Thanks to very good components, the flexible use and very clever orientation of the powersoaks, the Palmer FAB5 is, as far as I'm concerned, the best bedroom amp on the market, which displays complete combo facilities in the form of amplifier and speaker. Without a doubt: top grade!
Pros
• Sound
• Workmanship
• Design
• Power Attenuator
• Looks
Price
RRP: € 499.00
For more information about the Palmer FAB 5:
http://www.palmer-germany.com/mi/en/FAB-5-5W-All-Tube-Guitar-Combo-PFAB5.htm
Source: Amazona, Germany, February 2014
Author: Axel Ritt