Portable compact PA in practice – LD Systems Dave 8 Roadie – Test report from delamar.de
In the LD Systems Dave 8 Roadie test report, we examine the performance of this compact PA system. Whether it is more suited to smaller gigs and parties, monitoring for keyboardists, guitarists, and the like, have a look at our practice test here…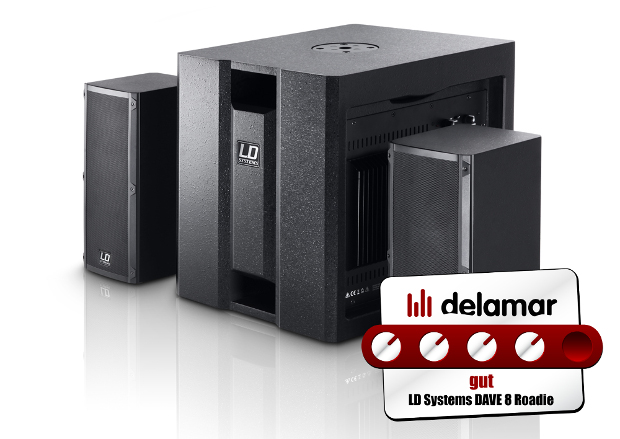 What is it?
The compact LD Systems DAVE 8 Roadie PA system relies on the tried and true. In the casing of the central unit, – measuring 352 × 430 × 434 mm and weighing 20.7 kg – a subwoofer, a 3-channel power amplifier and a mixer section with three channels have been thoughtfully integrated. Also, there are two 4.2 kg lightweight, passive satellite speakers with front grille and 16 mm pole mount. Given the sleek dimensions (150 × 350 × 170 mm), transport is not a major challenge. Everything is lacquered with scratch resistant paint and equipped with reasonably sized handles. The first impression: The system seems rock solid with a focus on easy handling.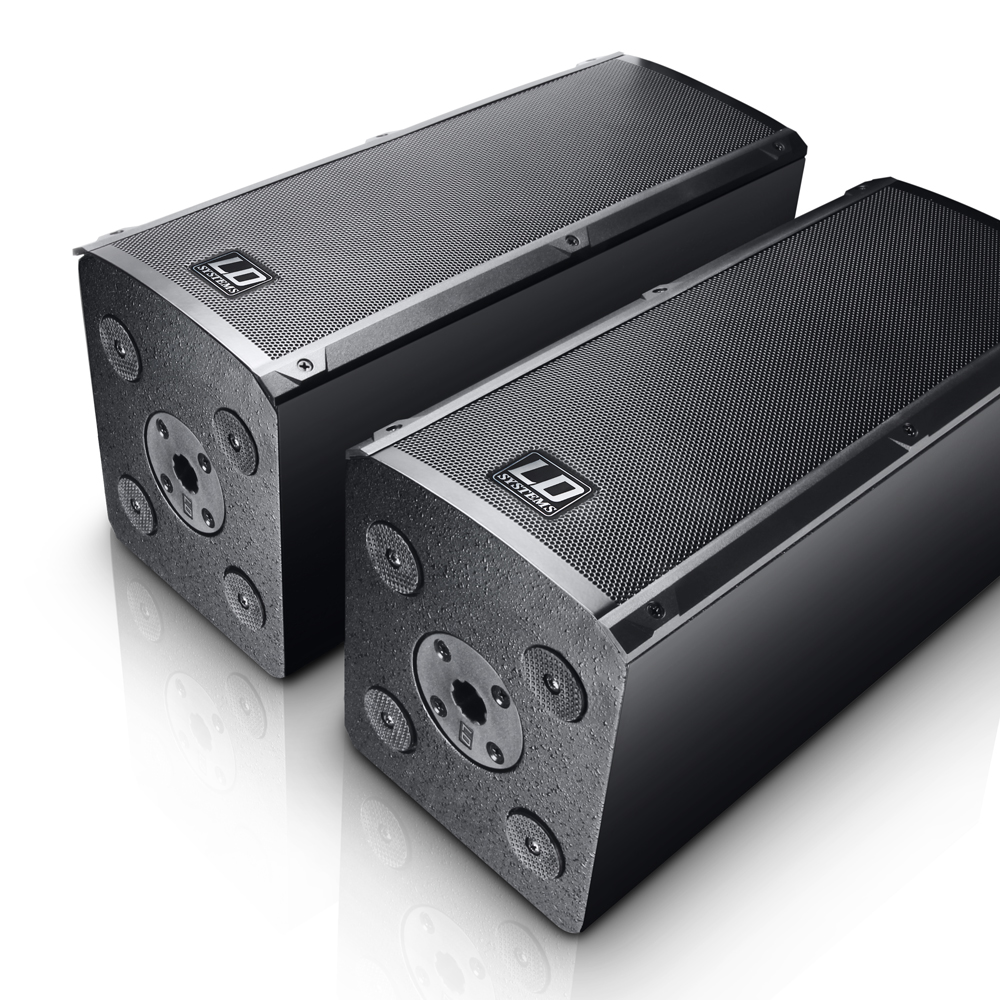 Configuration
The bandpass subwoofer of the DAVE 8 Roadie measures eight inches. Given the rather small membrane compared to a regular sub (1.5″ voice coil) it seems that the bass speaker has to meet broader-band tasks with precision such as handling low-mid range, and was therefore not necessarily designed for the big oomph. Also, the chassis of the two satellite speakers are fitting, since as they were designed as a 2-way system. The mids are therefore powered by two 4″ drivers, the highs by a 1″ tweeter. The dispersion angle is 60 x 60 degrees. The crossover frequency between sub and satellites is 150 Hz, whereby there is intentional overlap in order to avoid a sound hole during delivery. High and mid-range speakers share the workload at 3 Khz. Put together, this combination covers a frequency response of 45-19,000 Hz and delivers a max. sound pressure of 123 dB, which is a very decent output.
Power amplifier
The speakers are powered by a fanless Class-A/B-amplifier, thus avoiding the disturbing noise produced by metal fins used in conventional cooling systems. The output of the subwoofer reaches 150 watts (RMS), while the satellites require 100 Watts each. Judging by the performance provided by the bass range, this distribution is somewhat daring: 200 watts for treble and midrange appear almost excessive. Therefore, it is exciting to find out whether the sound will appear as balanced as we would expect from a mini-PA. In the practical test, we will put the system through tasks so demanding that even the integrated limiter will be able to show how it works. Of course, the power amplifier also has the now mandatory protection circuits against short circuit and over-voltage. These functions are displayed via an LED allowing the user to react accordingly.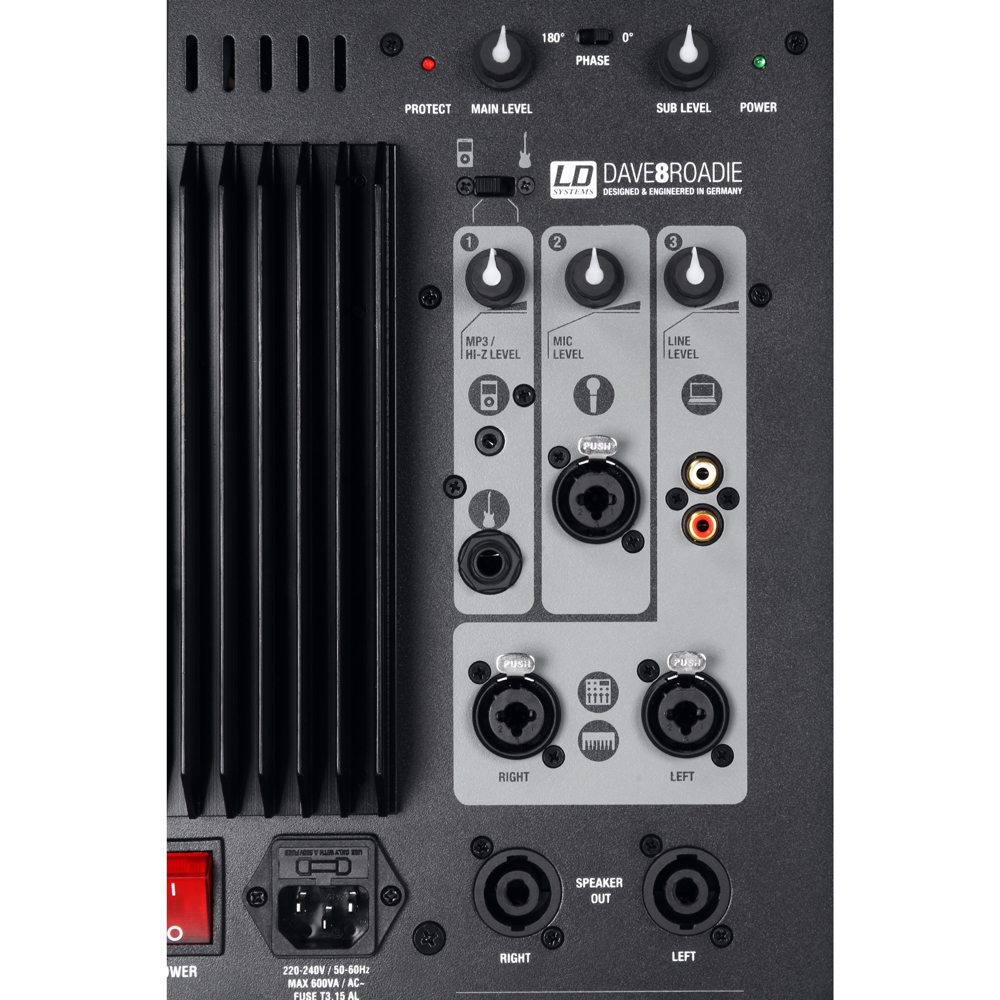 Integrated Mixer
Before the sound test, let's take a look at the mixer unit. Three channels are available for simultaneous use, and they can each be assigned to specific preconfigured applications. Channel 1 is the typical guitar input with a 6.3 mm jack. However, the user can also simply activate a 3.5 mm stereo input via a dedicated selector switch, and connect an MP3 player or other playback devices. Channel 2 is designed for dynamic microphones and is equipped with a useful high pass filter (100 Hz) against the typical rumble and with the usual combo jack (XLR/jack).
The third channel provides two RCA jacks to connect computers, and two combo connectors (XLR/jack) for mixers or keyboards. Every channel has a gain control. A master volume allows the user to set the overall volume level of the unit. The proportion of the sub-basses is controlled by its own regulator and mixed in the desired ratio. Also a switch for polarity reversal (repeatedly but incorrectly called "phase inversion") has not been forgotten. With this mixer unit, DAVE 8 Roadie proves very flexible in terms of connectivity and tone control. We look forward to the sound trials and will simply begin with a classical vocal microphone.
Live-Sound
What the small DAVE 8 immediately and convincingly conveys, is its ease of operation for fast and good results. The micro is quickly under control and straight away, we are pleasantly surprised. The satellites provide a midrange, even in the lower levels, that is not necessarily expected, giving a very clean and transparent sound. The highs are concise and the small sub provides a full belly for the voice. Obviously, the coordination between the speakers is a resounding success. But what happens if we cover a wider frequency range by adding a guitar and a keyboard to the mix? After short tuning of the volume ratios, the unit also manages a transparent sound, which only frayed when we approached the amplifier's power limit. What is striking is that the PA always sounded a bit HiFi, however, we really liked this.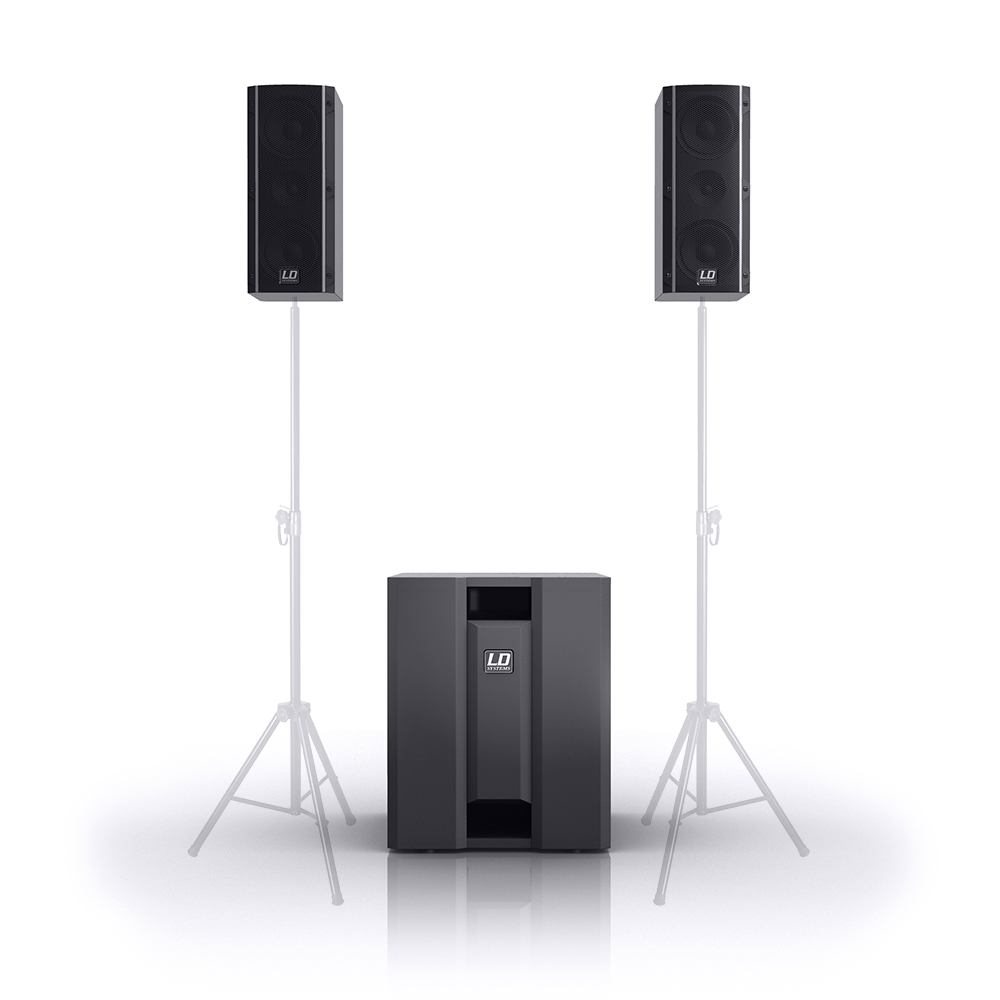 Because assertiveness is not defined by sheer volume alone, but is rather achieved through clean contours. This is very important for small gigs and more pleasing to the ear. Certainly, the well defined sub bass contributes a lot to that impression, always sounding great, when it is not forced to flutter. We would however still wish for two additional features for the DAVE 8 Roadie: A simple EQ for the MIC and instrument channel, in order to have more control over the mid range contours. For example, if you play a slightly nasal voice and want to correct this nasty note with a little bit more sub bass, the residual sound might be affected making it sound muffled. Moreover, it would be useful for these channels to have a balance control, to allow a better spatial distribution of singing and guitar.
Club-Sound
Also, when using WAV files, which we used to torment the mini-PA, the DAVE 8 Roadie seemed to lean towards aficionados of sophisticated and dynamic music. Given the bass range, this system is certainly not designed for clubs after a booming sound that makes your pants flutter, but it can play very fine music and has enough power for 40 to 50 dance crazy people. And on a positive note, it spared us from screeching highs. The favourable dispersion angle of the satellites further contributes to creating a good, homogeneous sound. By the way: even under a desk, as a powerful desktop PA, DAVE 8 Roadie is cutting a fine figure.
Pro:


clean sound


sensible mixer unit


wide scope of applications


ease of use – Plug & Play


road-worthy craftsmanship


integrated high-pass filter for microphone input


good value for money
Con:

no balance control


no EQ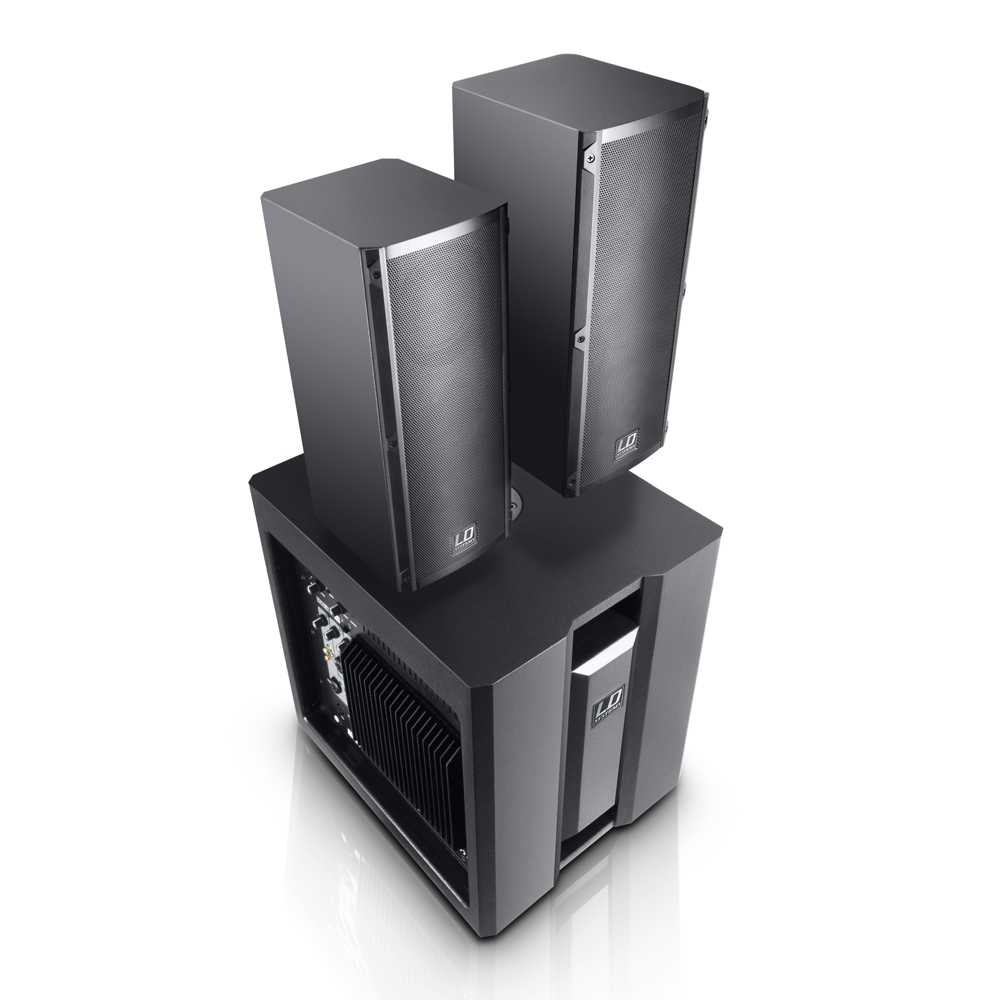 At a glance
"This mini-PA has a purist design and knows how to impress with a clean sound for small events."
Key Features:
• active PA system
• active subwoofer with 8″ subwoofer (150 watts RMS)
• 2 satellites with 1″ tweeter & 2 × 4″ midrange (100 watts RMS)
• frequency response: 45 – 19,000 Hz
• Max Sound Pressure: 123 dB SPL
• Dispersion Angle: 60 × 60 degrees
• MP3/Hi-Z: 3.5 mm + 6.3 mm
• mic: XLR/6.3 mm
• line: RCA + 2 x XLR/6.3 mm
• Speakon speaker outputs
• rotary knob: Main Level, Sub Level, MP3/Hi-Z Level, Mic Level, Line Level
• switch for polarity reversal
• high-pass filter (100 Hz) in the microphone channel
Target Group: Musicians playing live in small bands and small rooms, parties with 50 guests, DJs, keyboardists, guitarists, gamers, and all those looking for a strong desktop sound system.
RRP: € 469.00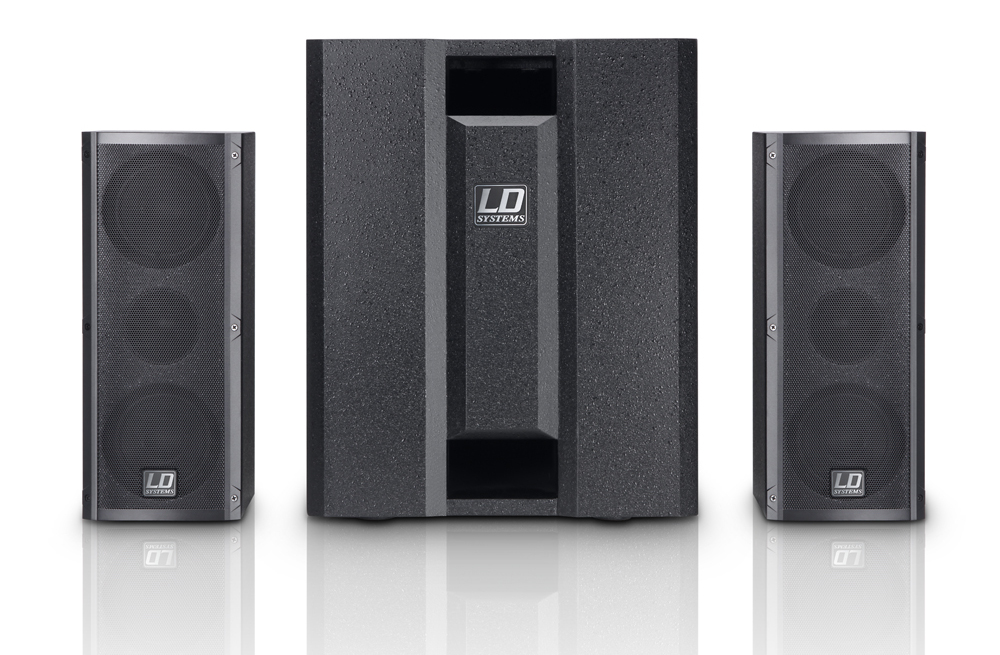 Results of the LD System DAVE 8 Roadie test report
The LD Systems DAVE 8 Roadie is a powerful mini PA with a transparent sound even in the mid range. It does not necessarily provide mega power, but works very cleanly up to its output limit. Live musicians will especially appreciate this small system and its sophisticated mixer unit – because it reduces everything to the essentials and is therefore firstly easy to use, and secondly, very good at what it does. With its solid workmanship, the system also offers good value for money, although tripods and cables must be purchased separately as accessories.
If you spend a lot of time on the road, it is very useful to invest in the bags specially designed for the mini PA. Then, the equipment for the small gig is perfect. Despite the lack of balance controller and EQ, this successful product is suitable for a wide range of applications (see right on »Target Group«) and makes the grade. All in all, the LD Systems DAVE 8 Roadie test report on delamar scores four out of five points for its purist design.
For additional product information, go to:
http://www.ld-systems.com/en/complete-pa-systems/dave-8-roadie-portable-8-inch-active-multimedia-system-with-3-channel-mixer/
Author: Max von Behring
Source: http://www.delamar.de/test/ld-systems-dave-8-roadie-testbericht/, Germany, January 2014