Palmer FAB 5 – a well-made, warm all-tube guitar combo – Test report by ISP Music
Palmer has made a name for itself among guitarists, and while it is much better known for specialised injection boxes and speaker simulators for guitarists, which are undoubtedly its forte, the brand has nonetheless continued to move up in the ranks of manufacturers of enclosures and tube amplifiers for guitarists. Today we're going to talk about this great-looking compact 5-tube combo with great sound.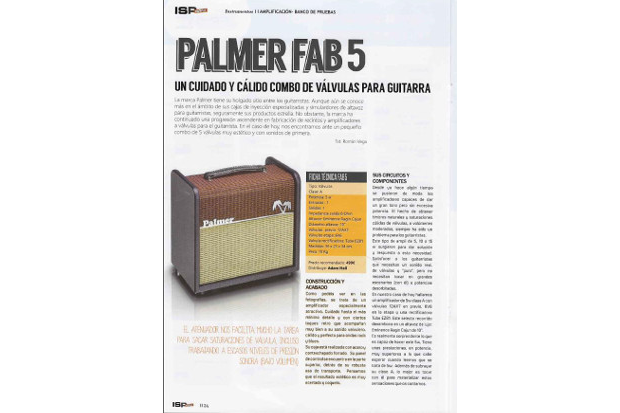 CONSTRUCTION AND FINISH
As you can see in the photos, this amp looks especially smart. Every last detail has been carefully executed, with retro touches that go great with its tube sound, which is warm and ideal for rock and blues. The box is made of steel and enclosed in lacquered particle board. The control panel is on top, right next to the sturdy carrying handle. We think the result is right on — very smart and stylish. The attenuator makes it really easy to draw out tube saturation, even working at low sound-pressure levels (low volume).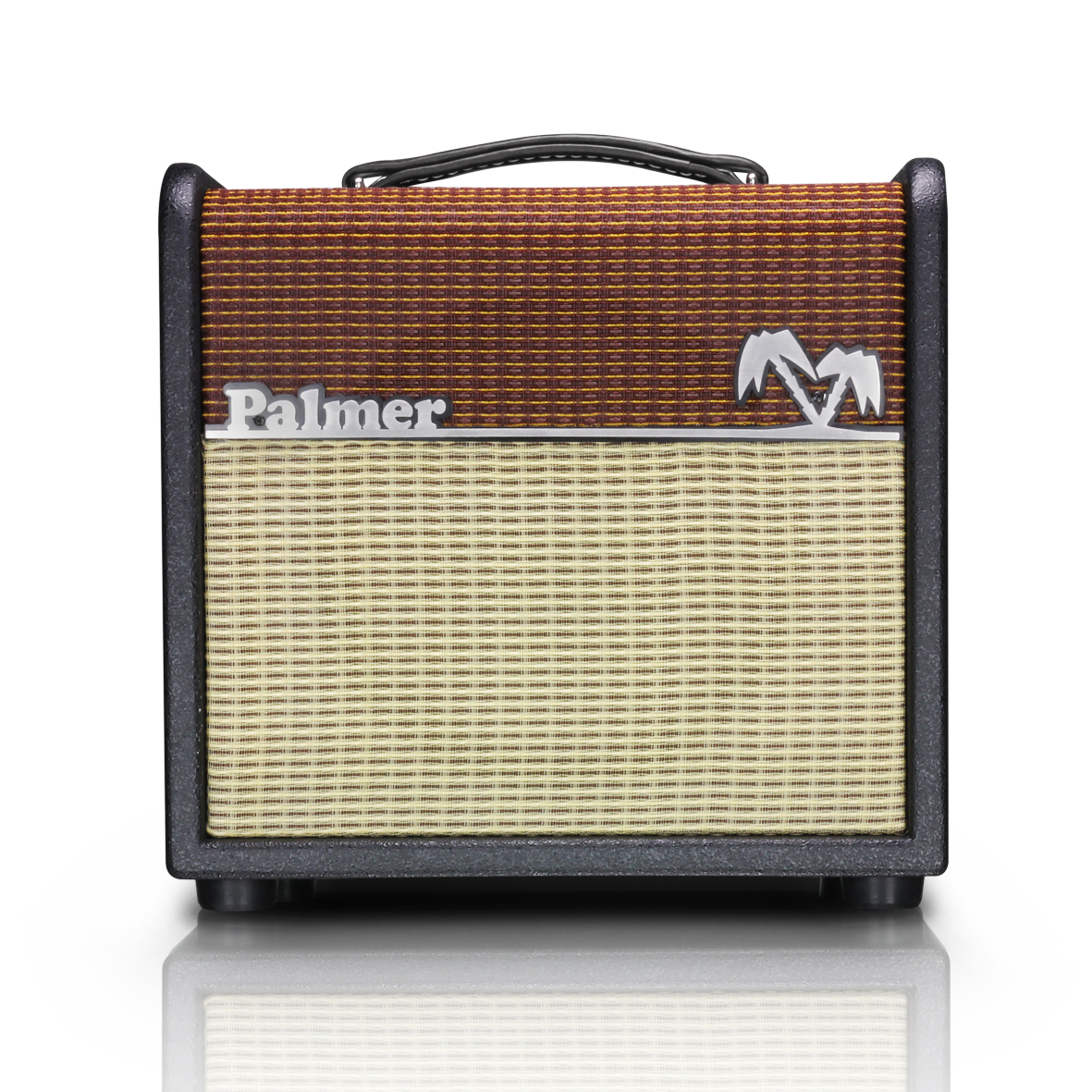 CIRCUITS AND COMPONENTS
Amplifiers that are capable of producing great tone without a lot of power have been the rage for some time now. And the truth is that getting natural timbres and warm valve saturations at moderate volumes has always been a problem for guitarists. These 5, 10, or 15W amps were created to provide a solution to this problem. Satisfying guitarists who need a real "pure" valve sound, but who don't need to play on huge stages (with it) at enormous power levels.
In this case, we have a 5W Class A amp with 12AX7 tubes in the preamp, 6V6 in the power stage, and an EZB1 tube rectifier. This combination of select components is completed with a deluxe speaker: 10″ Ragin Cajun from Eminence. It is really surprising what this 5 Watt amp can do. In terms of power, performance is better than what you'd expect when you find out that its just 5W. In addition to highlighting the fact that it's Class A, we recommend that you play with it to feel these sensations that we're talking about for yourself.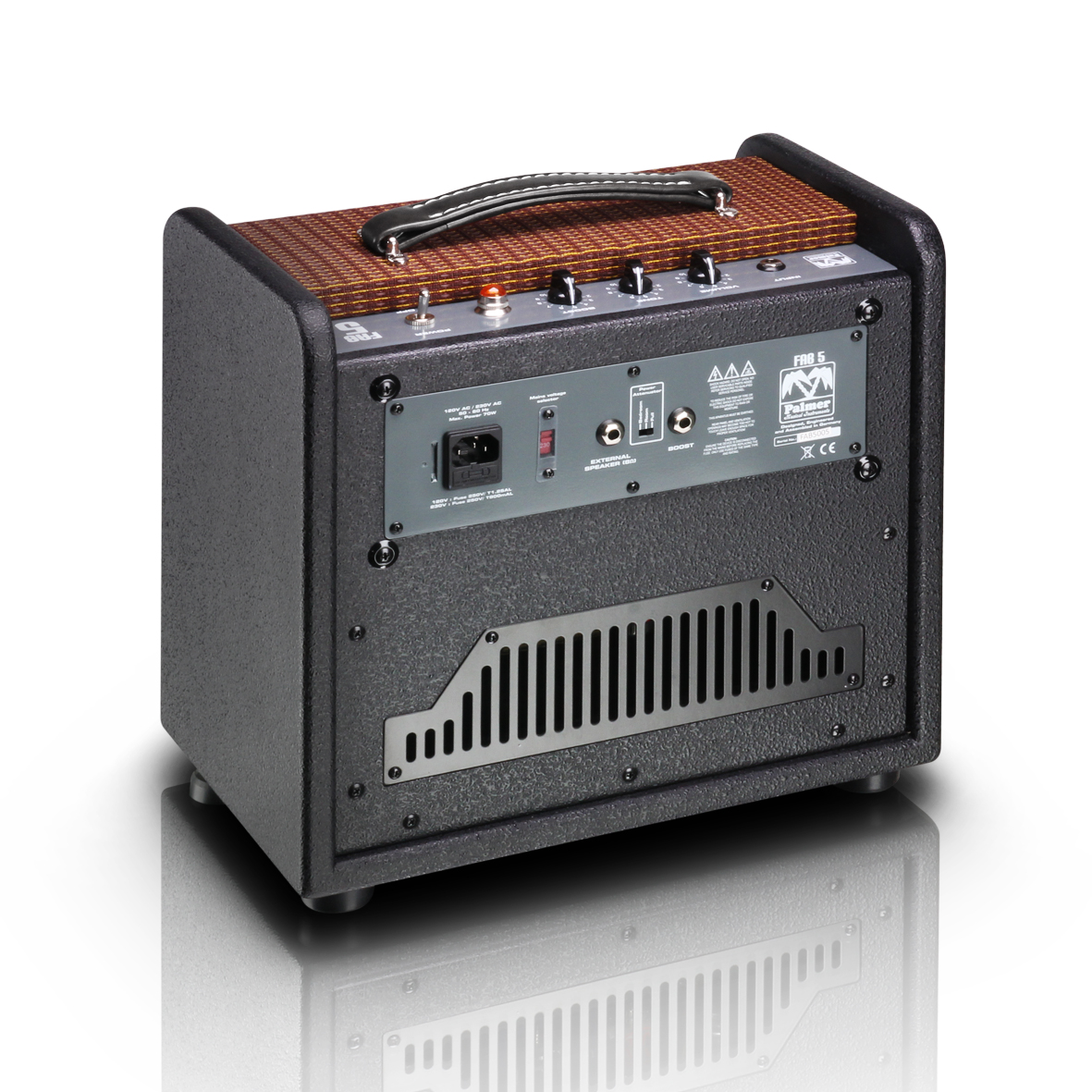 Its 5W of Class A give great performance. There's a lot more to it than you think at first glance.
SOUND AND PERFORMANCE
This is a 10 kg combo that can generate more than enough power, within the logical context of this type of amp. It has an attenuator that lets you work at different volumes and get the most out of the tubes, even at very low volume levels. The back of the amp has a three-way switch that goes from
– Max power: Full.
– Room. Dropping the volume considerably.
– Bedroom, for working at very low volume but getting high saturation.
Most of you already know the virtues of attenuators, but even so, we'll explain it for those of you who don't. What happens when you go from Full to Room, and from Room to Bedroom, is that you make the valves work full-out, maxing gain and volume, but containing the power of the tone in decibels. This means that at maximum attenuation, you can set the controls to maximum, getting total saturation, especially at lower moderate volume levels. Working at Full, you'll get all of the power, which lets you use the amp in practice settings or with louder sound signals.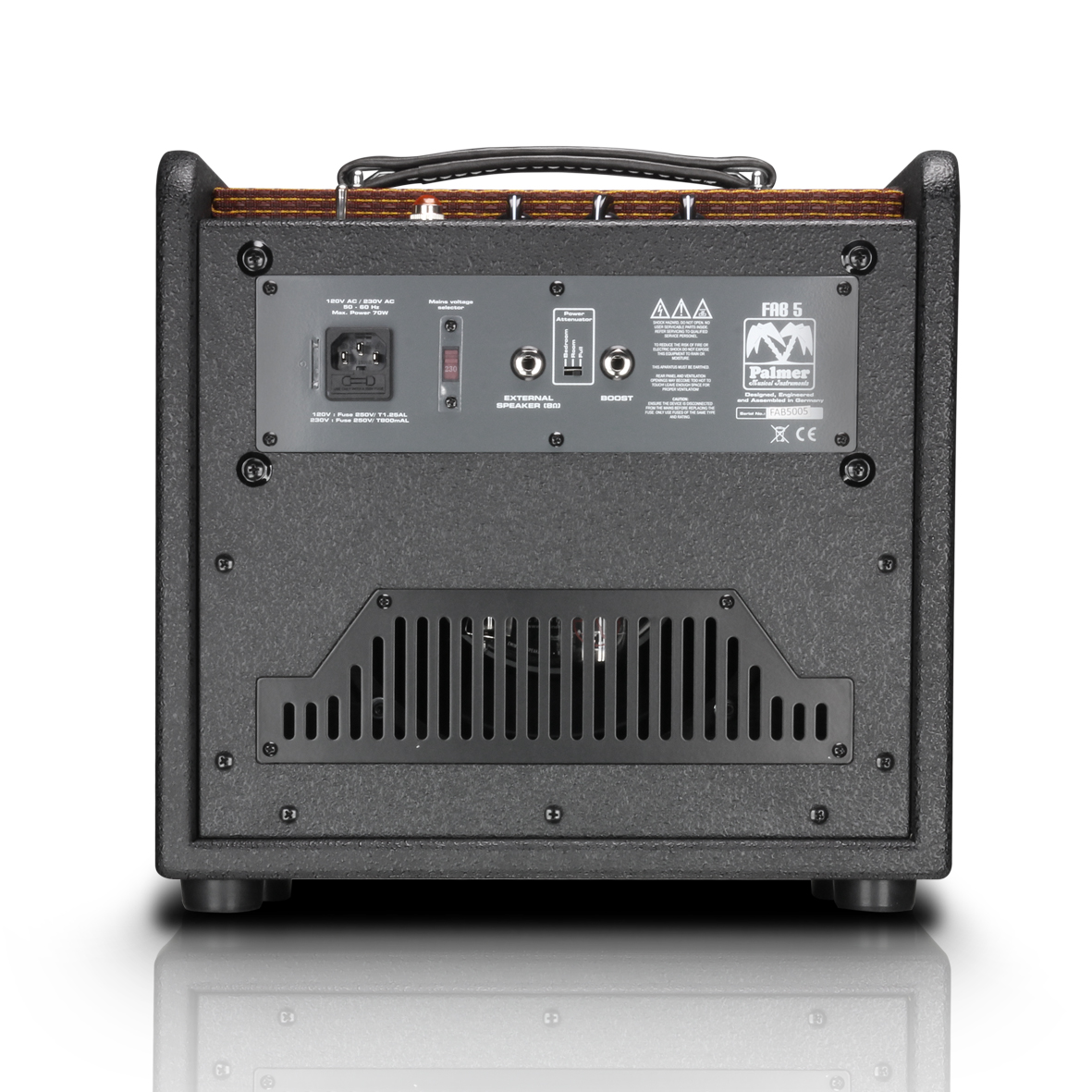 This is where it stands out, because for a 5 Watt amp, in full mode it has a lot of kick. This makes it a very versatile product. And of course let's not forget sound quality. It's probably safe to say that this isn't the ideal amp for metal, but is suitable for rock and blues. For those who love rich tone, who are looking for the warmth and the power dynamic offered by this type of amp, the FAB 5 is a little gem. We also tested it with a couple of pedals that we had lying around, with amazing saturation, and the truth is that with this amp, you'll be able to hold your own in just about any situation: clean, crunch, and aggresive distortion (with the help of pedals).
CONTROL PANEL
The front panel, or rather the top panel in this case, has the controls that are used to control fine-tuning. Simple, with no bells and whistles, but well made. We're more and more attracted by simplicity: less, but good. Getting back on track, the panel offers:
– 1x 1/4 TRS input (Jack)
– Volume control
– Tone
– Boost
– Power LED
– Metal on/off switch (we wish there was a standby)
Thanks to the attenuator, the tubes, and these potentiometers, you'll be able to contain or drive the dynamic of the guitar sounds. The lower you drop the attenuator, the more you'll get out of the saturation when playing at low volume. Pretty clear, right?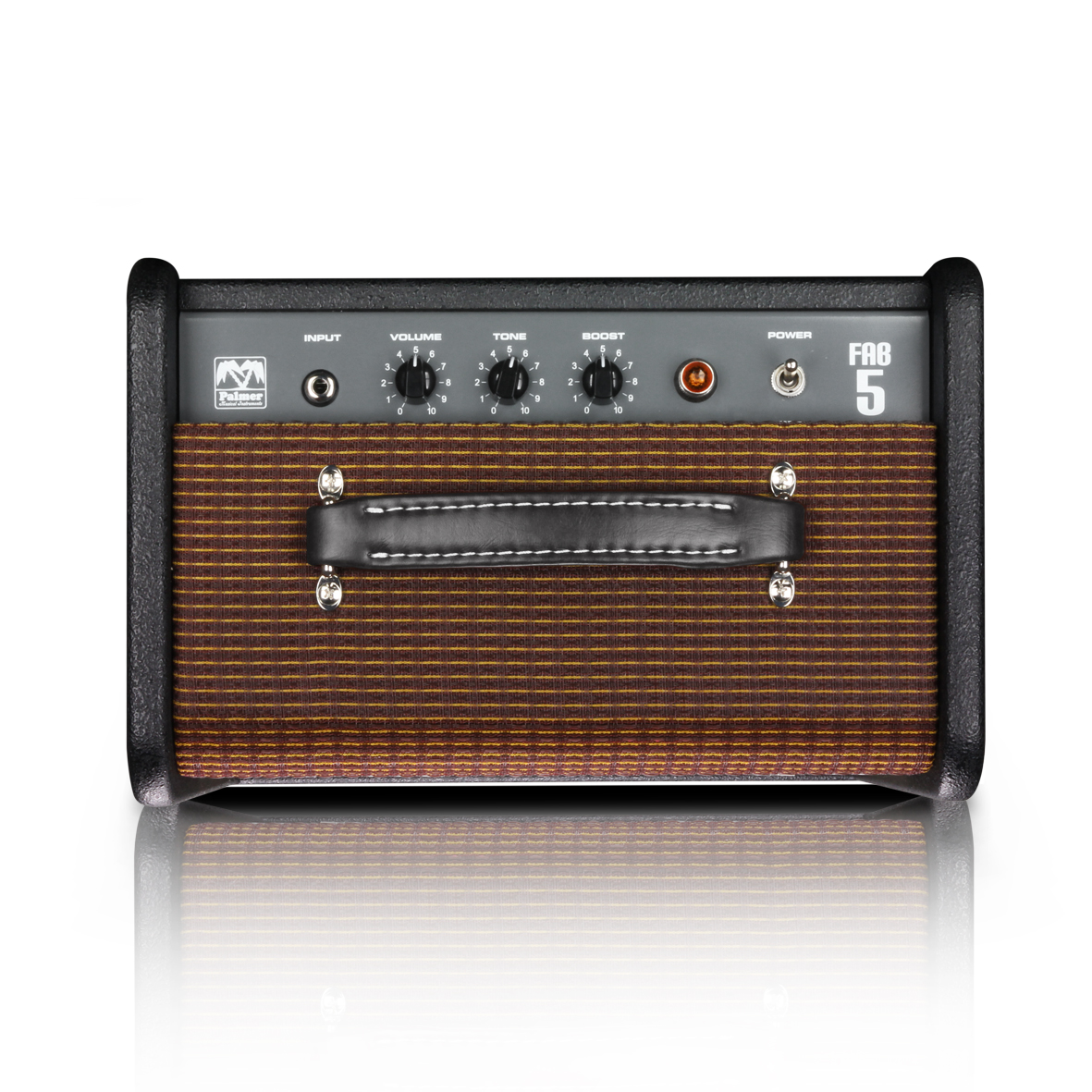 CONCLUSIONS
Not much to add to what we've already mentioned. A warm, attractive, and well finished product in terms of appearance and sound. Especially well suited (in our opinion) for blues, rock and mid-saturated tones. Lots of power considering its 5W. We think this is a great amplifier for working in the studio, at home, or on stage, as long as you're not a band of wild men blasting away on their instruments. In short, compact and simple, but extremely professional. Good finish quality, and well designed both outside and in. We really liked it.
Technical Specifications Fab5
Type: Tube
Class: A
Power: 5 W
Inputs: 1
Outputs: 1
Output impedance: 8 Ohm
Speaker: Eminence Ragin Cajun
Speaker diameter: 10″
Preamp tubes: 12AX7
Power stage tubes: 6V6
Rectifier tube: Tube EZ81
Dimensions: 36 x 23 x 34 cm
Weight: 10 kg
Suggested price: €499
Distributed by: Adam Hall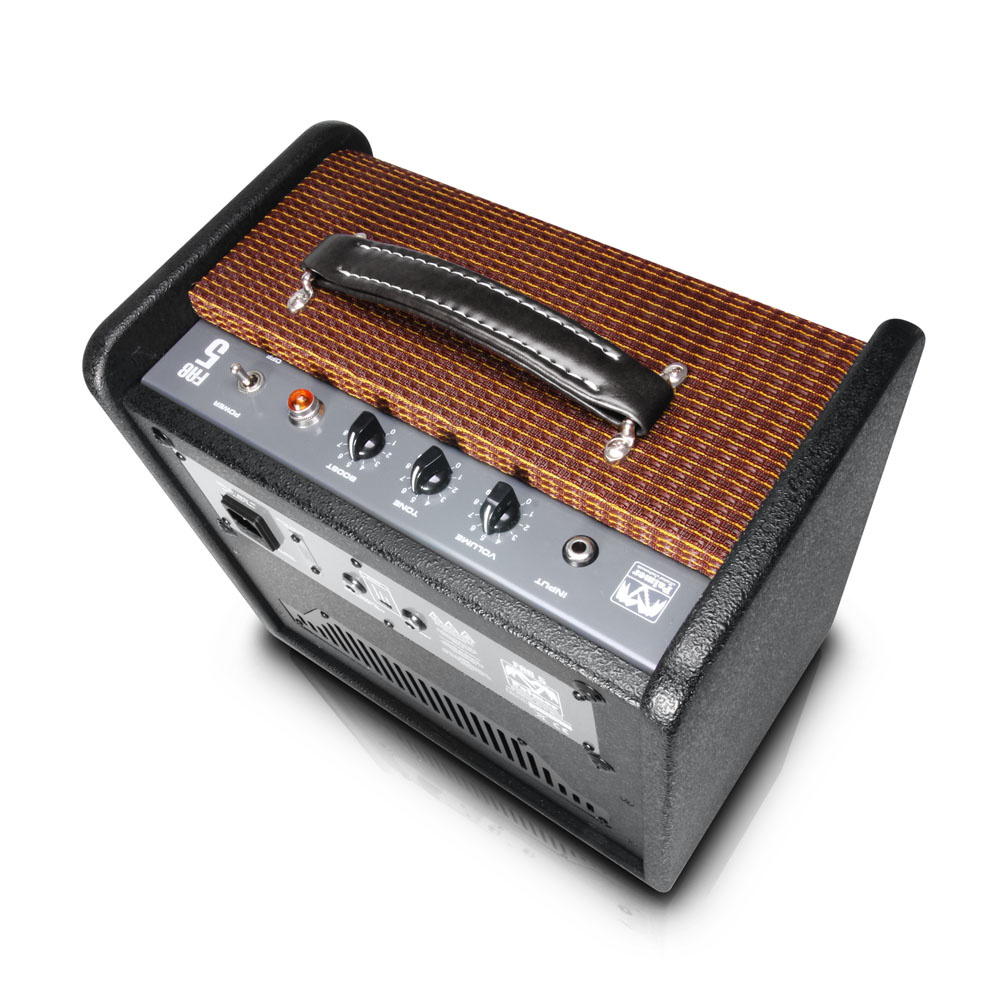 RATING
Finish: 9
Materials: 9
Electronics: 9
Power: 6.5
Sound: 8.5
Versatility: 8
Price/Quality Ratio: 7.8
Average: 8.5
More information on the Palmer FAB 5 at: http://www.palmer-germany.com/mi/en/FAB-5-5W-All-Tube-Guitar-Combo-PFAB5.htm
Author: Román Vega
Source: http://www.ispmusica.com/es/