LD Systems: 10 Years of Evolution – Report by "das Musikinstrument"
In 2002, the distributor Adam Hall unveiled its first own PA systems under the name LD Systems. Within the space of just ten years, this evolved into a remarkable pro audio brand with a product range that covers the gamut of speaker cabinets, line arrays, wireless systems, and mixers. We met the creators David Kirby, Markus Jahnel, and Alexander Pietschmann.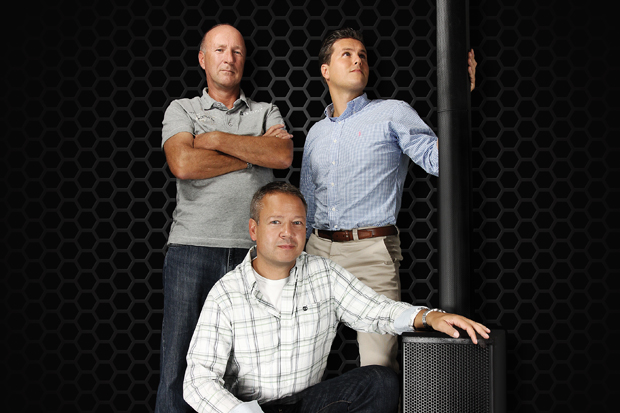 What were the reasons for creating the LD Systems brand?
David Kirby: I founded Adam Hall more than thirty years ago with a product range of its own and also began distributing other brands. When you are strictly a distributor, you have little or no influence on the brand and other manufacturers' products. You cannot decide what happens to a product and are more or less at the mercy of others when it comes to product policy. So because of my experiences and observations in the market, my attitude from very early on was to not include too many products in the product portfolio and release the company from these dependencies. The intention was for at least half of our range to consist of our own products. Today, the ratio in terms of turnover is 80:20 percent – in favour of our brands.
Markus Jahnel: Twenty years ago, it was important for a company to have great sales products because back then there were not yet any independent brands. As we thought about LD Systems back in 2000, the market was already undergoing a transformation. The "everybody buys direct in China" wave was hitting home and everybody wanted to create their own brand. Because of this, sales brands became less and less appealing for companies like ours. Back then, many retailers and wholesalers thought they could be manufacturer, importer, and distributor all rolled into one. In retrospect, however, few companies were able to position their own brands on the market with any lasting success. One of the main reasons for this was certainly also the increasingly stringent EU standards and regulations as well as the complexity of the supply chain.
What were the challenges in developing the LD Systems brand?
David Kirby: From experience, we knew that it is not enough to just think up a brand name and design a pretty logo to go with it. You have to have the right products. In the long term, it is not enough to just buy a product somewhere and stamp your label on it. Our LD products aren't all "Made in Germany", but they were developed here. We are highly selective when it comes to choosing our suppliers worldwide.
Alexander Pietschmann: Brands create clarity and offer orientation. Especially in the future, this will become increasingly important because people are being overwhelmed by the growing complexity and rapidity of the changes in their surroundings. Since it was founded in 2002, the daily marketing work of LD Systems has consisted of focusing constantly on our brand claims "best value-for-money" and "benefit to the customer". Any continuing development on the product end must be oriented towards these claims. I would say that one challenge in growing the brand was the constant temptation to expand LD Systems to additional categories and markets, and thus new target groups, and so gamble away the power, lustre, and credibility it had acquired. With the slogan "Pro audio in motion", we concluded the brand expansion about a year ago and very clearly oriented ourselves toward the pro audio segment.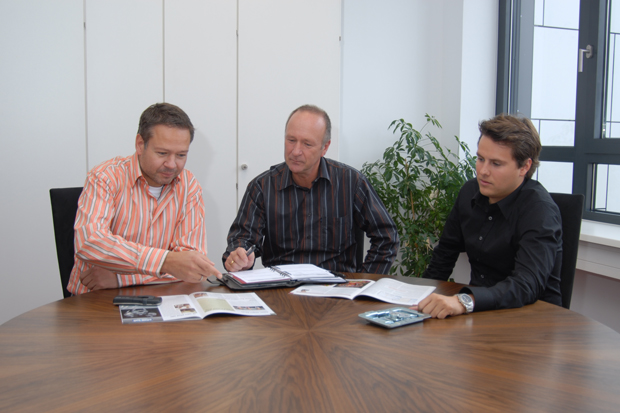 Then you expanded the range with line arrays, wireless systems, amplifiers, and mixers. How did you reach this decision?
Markus Jahnel: Our product range already included third-generation mixers and amplifiers by LD Systems. At that time, we were also still the distributor for Turbosound, which gave us access to the rental market. All of these experiences and the demand on the market contributed to putting the LD Systems brand on a broader footing and expanding it with new product groups.
Why did you start out with LD Systems in the MI market and not in the pro audio market?
David Kirby: In the nineties, we were distributing Wharfedale and Turbosound. We had positive experiences with Wharfedale in the MI market. So we didn't start with a high-end product to develop our way downward. Instead, we took the reverse route by producing a multitude of MI products and then successively expanding these into the pro segment.
Markus Jahnel: We already had numerous contacts in the MI market and it was easier to gain market share with basic products. Our early products were dependable and affordable, but were more at home among "off-the-rack" products. That changed fundamentally over the past ten years. In the course of the evolution of LD Systems, the products became more mature and now set market trends in terms of both price and technology.
Which products were those?
Alexander Pietschmann: Take the MEI 1000 in-ear monitoring system, for example, which was priced at about half the price of comparable products when it was launched on the market, or the Dave 2.1. portable PA systems. Last year then, we chalked up the most successful product start in our company's history with the Maui 28 column PA. This active plug n' play mini line array concept, which is technically very sophisticated but is also very easy to use, is a hit with more and more musicians and bands. The guiding star behind all of our products is benefit to the customer. That is the aim of all of our products and processes. Ultimately, that is also the only way that we can attain our central brand claim of the best value-for-money. If that also results in new trends, then we are that much more pleased.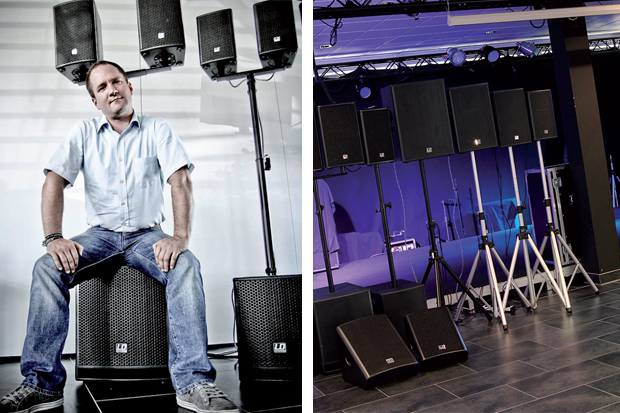 Ten Years of LD Systems – Highlights
2002 – The first LD Systems speakers make their debut
2004 – Expansion of the range to include wireless microphone systems
2005 – LD Systems goes live with its own Internet brand presence
2006 – LD Systems has it's own booth at Prolight & Sound
2006 – Personal monitoring becomes affordable for all with the Mei 100
2007 – A genuine alternative: the first portable DAVE PA systems hit the market
2008 – The new European logistics centre, with a large pro audio showroom, is dedicated in Neu-Anspach (Adam Hall)
2009 – Presentation of the VA4 & VA8 premium line array systems 2010 Introduction of the LAX mixers & DEEP series of power amps
2011 – The "plug and play" Maui 28 column system takes the musician and DJ market by storm
2011 – LD Systems in dialogue with users at www.facebook.com/ldsystems, now with more than 40,000 fans
2012 – New Dave Generation3 now with LECC DSP.
2012 – The compact Maui 11 column system expands the Maui series
2012 – Active DDQ series "state-of-the-art" high-performance speakers & subwoofers are introduced
2013 – Fit for digital dividends with the WS 1G8 1.8 GHz wireless systems & the duplex gap
How did LD Premium come about then?
Markus Jahnel: The impetus came from the market and from users of our LD Systems speakers. The LD Premium series was then created in close cooperation with our manufacturer, after we developed the product completely in Germany. We introduced the VA4 to the market with a very appealing price-performance ratio. The VA8 also sold well in the market by our standards. This then resulted in a complete series of multifunctional speakers. We are now exporting all across Europe and worldwide, all the way to Asia. In a time of tight budgets, the Premium Series enables us, specifically in the area of line array systems, to offer an entry-level alternative to other brands that sometimes cost significantly more.
Alexander Pietschmann: It is harder for any brand to develop from the bottom up. The introduction of line arrays was an important, but highly controversial step. Credibility plays a big role in this connection. The success of the systems, above all the technical know-how gained, flows into all of our new products and encouraged us to position another series of high-performance speakers via the premium products. We will begin shipping the DDQ active speakers in the first quarter of 2013. The feedback we have received from customers who have heard our first models is already very positive.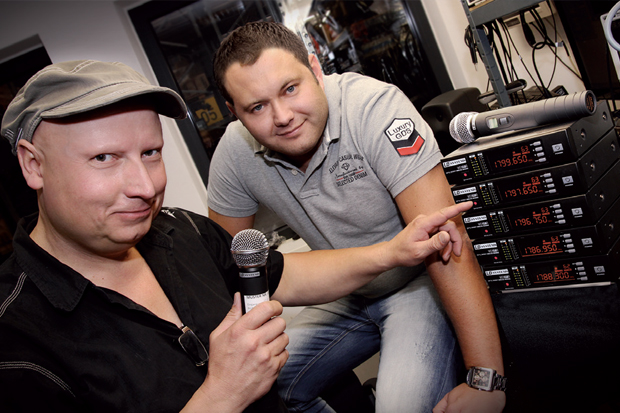 Markus Jahnel: The product was designed entirely in Germany with internal and external audio developers. We integrated the best and most powerful amp modules with components such as BMS and FaitalPro speakers. This will result in a complete series, in other words, multifunctional speakers and matching high-performance subwoofers up to 1200 watts RMS. And all of this at an extremely low weight. The DDQ series is intended primarily to win over rental and installation customers.
Another area is your LD Systems wireless and in-ear systems. How are you responding to the radio frequency change in the near future?
Markus Jahnel: Before the year is out, we will introduce systems for operation in the duplex gap between 822 MHz and 832 MHz and we will offer new 1.8 GHz radio links at the latest by early 2013. We made a conscious decision for 1.8 GHz because we determined that 2.4 GHz systems are problematic in operation over the long haul. Parallel to this, all of the in-ear monitoring systems in the MEI 100 or MEI 1000 series will also become available in the aforementioned frequencies. Where do you see the brand positioned relative to the competition?
David Kirby:We view LD Systems as THE dynamic alternative to the pertinent top brands in the market. We are on the same level in terms of quality. Users and/or musicians who are new to the semi and professional segment should be turning to LD. That is why we must ensure high visibility as a brand in dealerships on the one hand, while on the other hand attaining high support intensity in the rental sector.
What is it like to develop an LD Systems product?
David Kirby: We rely on cooperation with acknowledged experts from our corporate network. Because of ever shorter product cycles and our wide range of products, it also isn't economically feasible to develop our products entirely in house. What is important to us is that the best people always cooperate on each product , without deadlocks when it comes to creativity. For example, we use external space at institutes such as Darmstadt University of Applied Sciences or Aachen Technical University (RWTH) for the laboratory measuring technology. We have our products developed externally, but always exclusively for us. So we also never buy products that already exist in the market. For years now, we have cooperated only with specific partners in order to ensure this.
Markus Jahnel: We develop a system specification in house. After that, we decide which partners come into consideration for development and manufacturing. It is increasingly important to us that the products have a design of our own. We want to stand out from the rest of the market and be unique.
Next to development, what role does the service department play at Adam Hall?
Markus Jahnel: Repairs take an average of three days and are generally back on the dealer's shelf or, upon request, at the end customer's, on day five. If that isn't fast enough, we lend him the equipment he needs. It takes good service to have lasting market success.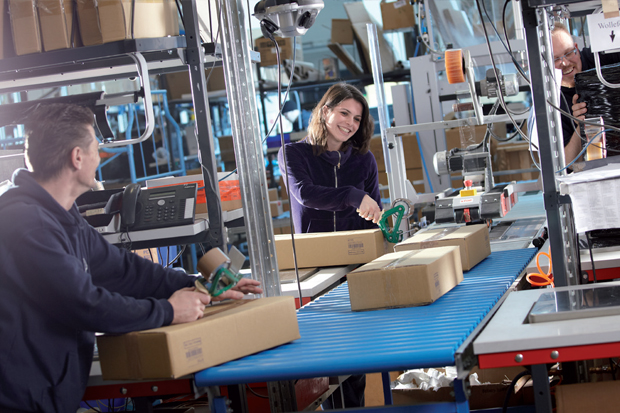 What advantages do the LD Systems brand and the distributor Adam Hall offer for dealers?
Alexander Pietschmann: As a rule, it should be possible for any dealer, whether in a brick and mortar shop or online, to attain the margin he needs in order to make a high-quality presentation of our products. However, it is very important to us for customers to also be able to touch, try out, and hear our our LD Systems products at brick and mortar shops. That is why we are consciously staking our future on cooperation with local dealers and support them with brochures, sales campaigns, banners, and displays. On the other hand, we expect appealing and prominent product placement and availability from stock. One big advantage of the future LD Systems website (which will go online in the first quarter of 2013), is the way it networks the off- and online worlds through implementation of an outstanding local dealer search function and the first "buy online at" dealer lists. This shows customers who land on the LD website where the goods are available and they can buy them directly online. So buyers pick a shop where they want to buy online or locally and/or give the product a final audition.
David Kirby: In the end, what is decisive for any brick and mortar dealer is that customers are not only able to test the product, but are also able to obtain advice and have a larger selection with the opportunity for direct comparisons.
Where do you still see growth markets for the LD Systems and LD Premium brands?
Markus Jahnel: We still see a lot of opportunities for growth within the EU. That is why we have invested a lot in sales offices of our own in Benelux, England, Spain, France, Scandinavia, and Poland over the past few years. Over the next few years, however, we will surely also focus on setting up an international distribution structure. There are now LD Systems distribution partners in South America, northern and South Africa, and parts of Asia. So we have only just begun to exploit this potential.
Personal contact is always decisive. What about direct contact with customers, for example, on the Internet?
Alexander Pietschmann: Social media is becoming increasingly important for us. By means of Facebook, YouTube, forums, and our blog, we engage in the kind of active dialogue that would be unavailable to us or limited to trade show feedback if we were strictly "manufacturers". That is very important, because it lets us find out straight from the customers what they think of our products. In addition to online marketing campaigns, we also use these channels for customer service.
David Kirby: The very best thing that can happen to us is for a potential customer to walk into a dealership and say "I want to listen to an LD Maui 11 because I have heard and read so much about it." The Internet enables us to achieve this.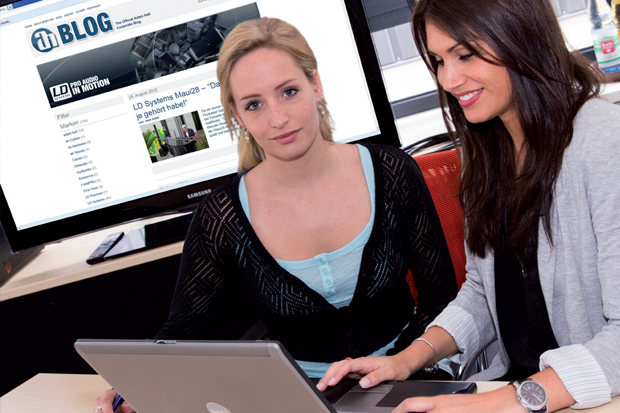 How do you steer and control your very extensive social media activities?
Alexander Pietschmann: We have employees who especially trained to do this and are solely responsible for it. When it comes to social media, the reaction time is exceedingly important, as is the entertainment factor and also the way we handle criticism. It is vital to accept criticism and view it as an opportunity. It is usable feedback that we pay attention to and analyze to improve our stance for the future. Of course, this kind of dialog also existed previously, but it was strictly between us and the dealer. In addition, social media has had a tremendous impact in terms of visibility. Today, everyone is right there with us, from end customers and dealers to our competitors.
David Kirby: Praise, criticism or even a complaint is an opportunity to generate long-term customer loyalty. It's not enough anymore just to keep the customer satisfied. You have to generate enthusiasm. That kind of enthusiasm is frequently generated at the precise moment when the customer has had a problem with a product and you have resolved it to his utmost satisfaction. Customer friendliness strengthens us as the distributor Adam Hall and reflects positively on the LD Systems brand.
Background: LD Systems
The LD Systems brand was founded in 2002. The company behind the LD Systems brand is Adam Hall, which has been engaged in the production, wholesaling and distribution of fittings for the manufacture of flight cases, speaker chassis, and pro audio accessories since 1975. The founding of the brand was prompted by the changed market situation for manufacturers in Europe that became apparent already in early 2000, the company's ongoing partnership with dealers, and sourcing experience in the Far East. Starting with a pair of passive plastic speaker cabinets, today the still growing product range now includes a complete audio range with more than 300 products such as power amplifiers, microphones and wireless microphones, in-ear monitoring systems, active speakers, and professional line array systems.
Data + facts: Adam Hall GmbH
Dealer network in Germany: All relevant dealers in Germany, but also in many other EU nations.
Number of dealers: > 500 in the EU
Distribution partners worldwide: > 20
Manufacturing locations: China and Germany, two-track QM (CHN and D), final assembly of many speaker systems takes place in Germany
About Adam Hall
Office & showroom space: 2500 m2
Manufacturing & development space: 1000 m2
Warehouse: 8000 m2
Ecology: 6500 m2 Photovoltaic plant & connection to local heating plant
Employees: 130 <
Turnover: approx. 43 million
Product range
Company brands:
Adam Hall Hardware, Cables, Stands, Cases, Connectors & Accessories, LD Systems, Palmer PRO, Palmer MI, Defender Cable Crossovers, Cameo LED
Distribution brands:
FaitalPRO, Eminence Speakers, BMS Speakers, Audac, Neutrik Connectors, Amphenol, K&M Stands, EARBOMBZ, Gruv Gear, 2m
Product groups (LD):
Power amps & DI, microphones and wireless microphones, in-ear monitoring, mixers, signal processors, speaker systems, and matching accessories such as headphones, microphone filters, and much more.
Complete information about the products and the LD Systems brand is available at:
http://ld-systems.com/1-1-home.html
Source: www.das-musikinstument.de, Germany, November 2012