Adam Hall GmbH – (Almost) Everything for the Stage
Adam Hall GmbH offers parts for flight cases – CEO David Kirby relies on close bonds to community.
The new building erected on the new Kellerborn industrial estate in 2008 is visible from afar: The black cube with the glazed administration building leaning against it is a prominent landmark on the boundary between Westerfeld and Anspach. "The neighbours have gotten used to the building in the meantime," says Sven Wagner, Commercial Director at Adam Hall GmbH. Appearances are one thing, but very few people know what one of the region's most important employers does, what they produce or how they earn their money.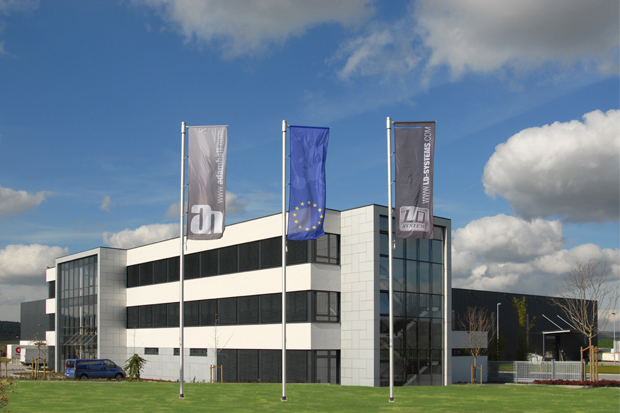 Adam Hall, which was founded by David Kirby a little over thirty years ago, generates its revenue with the production, wholesale, and distribution of hardware for manufacturing flight cases and transport containers. However, these sturdy boxes for transporting musical equipment are not assembled in Neu-Anspach. Instead, the company carries a range of all conceivable parts, from wooden panels to aluminium extrusions. These are sold, for example, to cabinet makers who assemble all of the parts for end customers according to their personal specifications. The custom transport cases are used at concerts, among other things. This means that the end customers include well-known performing artists. Moreover, the flight cases are also used in medical engineering, industry, and even Formula 1 racing to transport sensitive goods from place to place.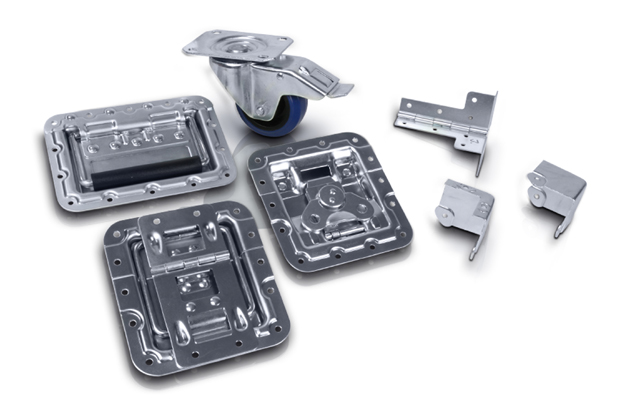 Many are one-of-a-kind, custom built to meet the needs of the individual customers. The market is relatively limited. "This is a classic niche market," according to Wagner. A niche market that is not without appeal and made Adam Hall the company it is today. He goes on to explain that, despite moderate growth, a certain level of saturation has been reached.
This makes it all the more important for the company to continually position new product groups on the market. These now also account for the lion's share of sales. In the meantime, according to Wagner, the expansion of the Adam Hall product portfolio has taken on such dimensions that they "offer everything that you need onstage, except for the instruments".
Adam Hall makes and distributes a broad palette of professional audio products such as sound reinforcement equipments, wireless microphones, speakers, and analogue audio technology "Made in Germany". Moreover, the product portfolio includes an extensive selection of accessories, for example, connectors, cables, and stands. In the event and industry sector, the company offers professional cable and line protection with its Defender line of cable protectors. Since 2012, the company's line of LED lighting products has been expanded by the new Cameo brand.
The brands distributed by Adam Hall include LD Systems, LD Premium, Palmer PRO, Palmer MI, and K&M stands.
The successfully expanding company not only offers secure jobs, but also comprehensive vocational training programs. These lead to specialist careers in wholesale and retail sales, warehousing logistics, business informatics, and, for the first time this year, media design. Here the prevailing atmosphere is obviously one in which co-workers feel at ease and deal with one another on a friendly, relaxed first-name basis.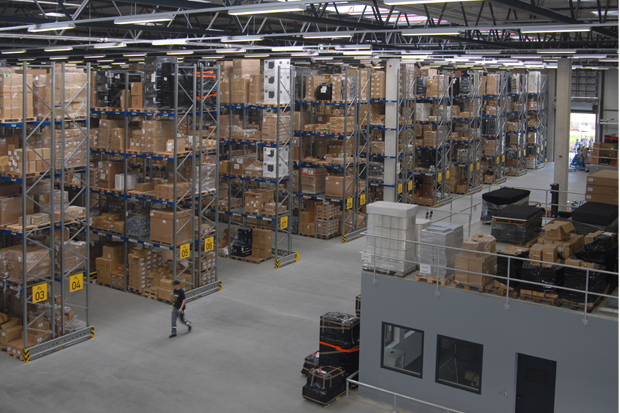 In addition to its corporate headquarters, Adam Hall maintains offices in various countries in order to coordinate sales of its products locally with a permanently employed sales force. There are offices in Poland, Great Britain, Spain (covering France, Italy, Spain, and Portugal), Denmark (Northern Europe), and The Netherlands (Benelux countries). Among other things, it is this constant investment in the expansion of Adam Hall's foreign sales force that has also had a positive impact on the company's key performance indicators in recent years. In the past fiscal year, which ends on 30 June, the company recorded a turnover of approx. € 40 m.
According to Wagner, however, business is about much more than just crunching the numbers for CEO David Kirby. He is also a man with a keen sense of social responsibility who puts great stock in a good relationship with the local community. Not only do nearly all of the employees live in Neu-Anspach the surrounding area, but the cooperation with local politicians has also always been friendly and very constructive. One more reason for Kirby to invest right here and not in some far-off corner of the world.
For additional information, go to: http://www.adamhall.com/
Source: Usinger Anzeiger, Germany, May 2012