Magic Box – Palmer Pocket Amp – Test Report by Grand Gtrs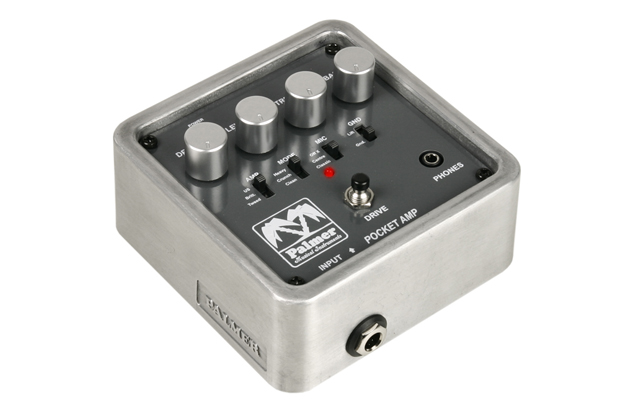 GRAND EFFECTS & ACCESSORIES
Until now, the slogan "square, practical, good" reminded me only of the calorie-rich treats produced by a famous southern German chocolate maker. It's time to think again, however, because there is an opulently equipped little vest-pocket helper that doesn't taste as good, but sounds sweet and, especially for guitarists, is hugely practical. Clear the stage for the Palmer Pocket Amp!
Analogue Modelling Granted, the Pocket Amp concept is not a new idea. Long before the advent of digital modelling emulations, there were gadgets using good old analogue technology that fulfilled a similar purpose. One of the most important of these in the late 1980s was the original Sansamp with its fussy little array of switches. By the way, its successor, the GT-2, is still available in music stores today. However, it costs nearly three times as much as today's test candidate, which makes one sit up and take notice.
Rounded corners From the moment you first hold it in your hand, the Pocket Amp has a feel to it that inspires confidence. A solid chassis made of brushed aluminium with hand-pleasing rounded corners is wrapped like a car bumper around a control panel in Palmer's signature dark grey. This is densely populated by four knobs (DRIVE, LEVEL, TREB., BASS), four slide switches (AMP, MODE, MIC, GND) and a DRIVE switch. The instrument plugs into the front. The back has an unbalanced jack output and a balanced XLR output with gold-plated contact pins, as well as an aux in for an external signal source (CD or MP3 player) and a connector for a power adapter, which is not included.
A miniplug socket permits connection of headphones – which should be low-impedance ones whenever possible. The Pocket Amp's sometimes curious markings lend it a certain down-to-earth charm. For example, it seems as if they entirely forgot to mark the instrument input until one accidentally discovers the word "Input" on the top. As a side note, "Treble" is abbreviated "Treb." and "Britt." has one too many "t"s. What is far more important in practical use, and highly praiseworthy, is the rugged rubber bottom with the recessed battery compartment.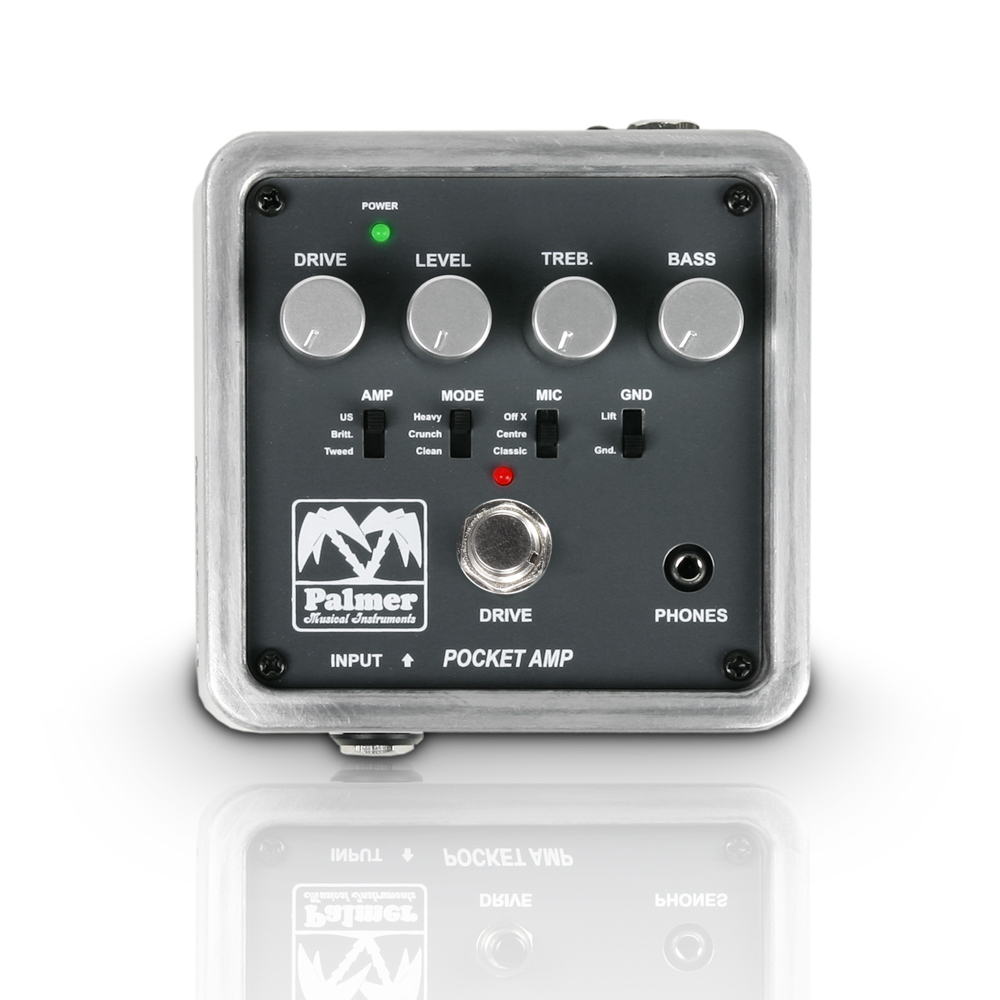 Edgy Sounds When running on battery power, the Pocket Amp is activated by plugging in the instrument cable and the green power LED comes on. In this mode, it is a high-gain DI box which, however, is not neutral, but reveals a rich, warm character. In this mode, all of the knobs and switches are non-functional, so there is also no volume control. The Drive switch activates the drive section (no kidding?); now the red LED comes on instead of the green one. AMP selects one of three amp simulations (Tweed, British or US). MODE determines the level of distortion (Clean, Crunch or Heavy), and MIC the virtual microphone position. Classic simulates a large distance to the speaker, Centre corresponds to a mike centred on the axis of the speaker and Off X emulates off-axis micing. The GND (ground lift) switch eliminates eventual ground loop hum by isolating signal and chassis potential.
The Clean setting only lives up to its name with the Tweed model, otherwise it is already pretty crunchy. The Tweed sounds considerably quieter and too muffled for my taste, but this can easily be corrected with Level and EQ. With the Strat, I was even able to obtain an authentic reproduction of the down-and-dirty guitar in Genesis' "We Can't Dance". Brit and US evidence the same distortion pattern, but with varying equalisation settings.
As anticipated, Brit takes one onto more aggressive Marshall sound terrain, while US tends more toward scooped American high-gain. The nuances in distortion level could be a little better. Depending on the Drive knob setting and the guitar used, the jump from Crunch to Heavy is barely perceptible. Even Crunch already pumps out high-gain sounds. In this regard, I would wish for (Mk2 version?) for amp models with a lower basic gain so that there is always also a clean variant available.
Crunch and Heavy provide the necessary distortion with no problems. Nevertheless, almost all of the sounds offered are pleasant. Regardless of what guitar amp, headphones or recording equipment you use, you will quickly discover your favourites and be able to use them creatively. The stronger the distortion, the clearer the differences in mic position are heard. I almost always preferred Off X with slightly reduced hi mids and plenty of drive – just try it out, it doesn't take long to figure out whether or not you are pleased with the results. The effect of the Bass control ranges from thin as a rail to massive. Treble should be used with caution, otherwise the sound quickly becomes toxic and it gets audibly noisy. Here the ideal settings are between nine and one o'clock. Then this peewee sings so that it is a joy to hear.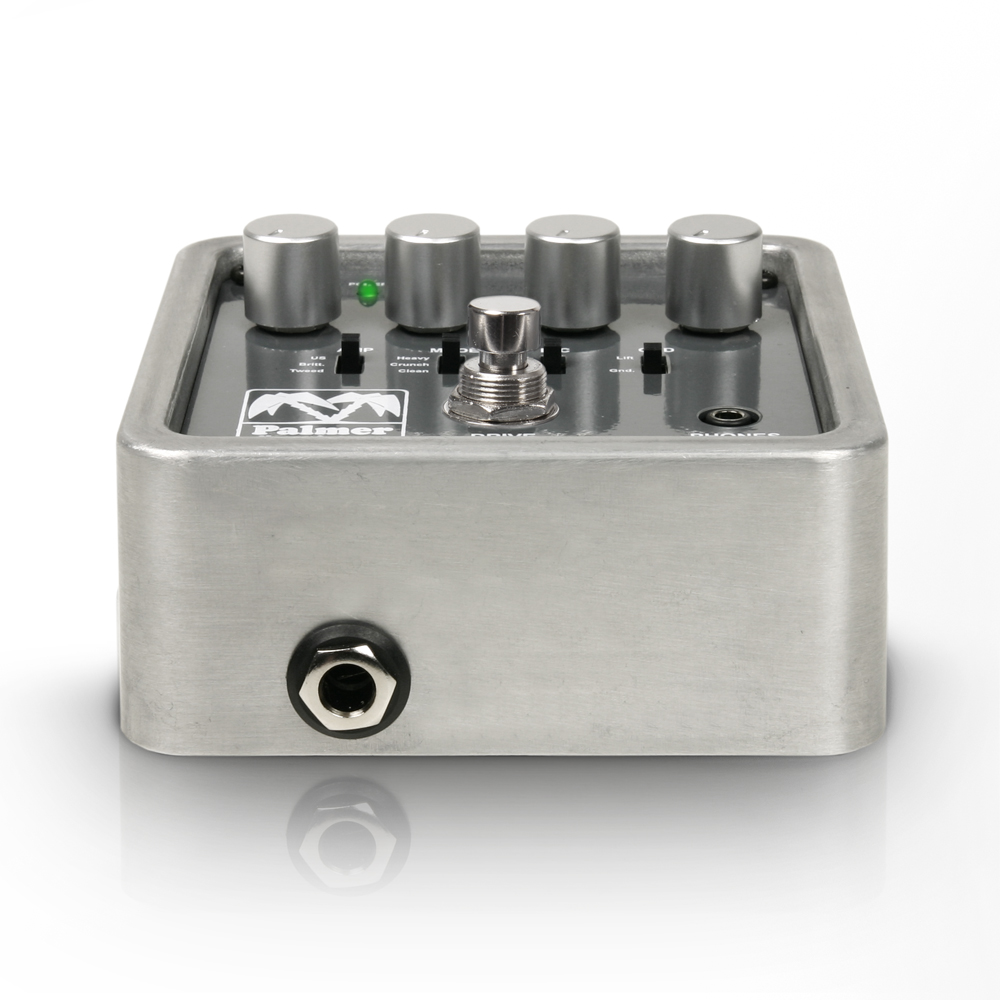 Summary Is there anything this little box can't do? It is a versatile, powerful sounding headphone practice amp, a DI box with parallel use of both outputs for connection a mixer/PA and a guitar amp, and, last but not least, an amp simulator that makes it possible to refine or distort guitar tracks after the fact (keyword "re-amping") – an impressive overall package. The rich feature set is rounded out by the Aux In for connecting an external sound source. The Pocket Amp is less suitable as a classic distortion pedal: other devices make a better job of this, and ultimately the little Drive switch is too small for a footswitch. The "ashtray" (as my colleague A. Huthansl called it) evidences super workmanship, and the battery and power adapter options mean that it can be used anywhere. It's great piece of gear with minor weaknesses at a fair price that won't bust your allowance. And a hot tip for your next vacation – it fits inside any case.
DETAILS
Manufacturer: Palmer
Model: Pocket Amp
Country of origin: Germany
Type of device: Amp simulator, headphone practice amp and DI box
Controls: Drive, Level, Treb., Bass
Switches: Amp, Mode, Mic, Gnd; Drive
Connectors: Input, Output, XLR Output, Aux ln, DC 9V, Phones
Power supply: 9V battery or power adapter (not included)
Dimension (L x W x H): 98 x 98 x 54 mm
Weight: approx. 370 g
Price: 86 Euros
Test with: Fender Stratocaster, Tokai Loverock; Une 6 Spider IV
Distributor: Adam Hall, Neu-Anspach
Complete information about the Palmer Pocket Amp is available here: http://www.palmer-germany.com/mi/en/PEPAMP-Pocket-Amp-PEPAMP.htm
Source: Grand Gtrs, http://www.grandguitars.de, Germany