Press: LD Systems Shines at Summer NAMM 2017: "Best in Show" Award for Adam Hall Group PA Brand
Nashville, USA/Neu-Anspach, Germany – August 2nd, 2017 – From July 13th to 15th, the international MI industry convened at the Summer NAMM 2017 in Nashville, Tennessee. Over 1,600 manufacturers and companies made the trip to the Music City Center to present their latest products and technologies to almost 15,000 visitors. Also in attendance was the Musical Distributors Group (MDG), which, as the exclusive U.S. distributor of the Adam Hall Group, presented the brands LD Systems® and Gravity® at the trade fair.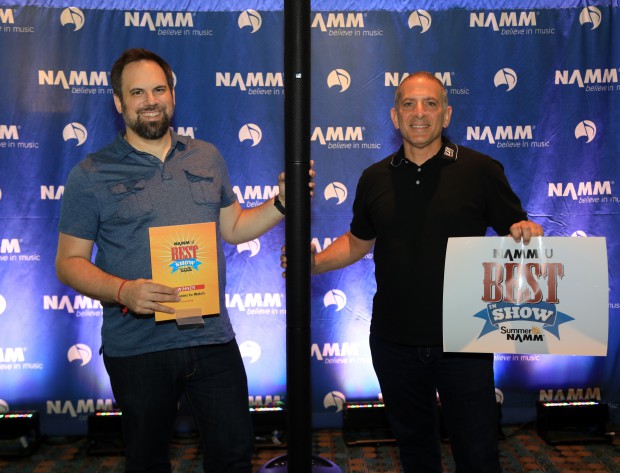 "In addition to the Gravity® stand solutions that made their NAMM debut this summer, we were particularly excited about the buzz surrounding LD Systems® products," explains Steven Savvides, President, the Musical Distributors Group. "Amongst the highlights were the CURV® and MAUI® series, including the new MAUI® G2 range."
NAMM Award: Best in Show
The popularity of the Adam Hall Group PA brand was also confirmed during the "Best in Show" award ceremony. Here, LD Systems® triumphed with the introduction of the MAUI® 5 GO system, taking home the coveted "Best in Show – Company to Watch" award from the NAMM jury.
MAUI® 5 GO vs. Line Array
The award ceremony was held in the Music City Center's grand ballroom. To showcase the advantages of the innovative products from LD Systems®, MDG placed a single portable MAUI® 5 system on the ballroom stage and put it up against the installed line array system with several 18" subwoofers – live in front of nearly 600 guests.
Steven Savvides describes the 'Aha-effect' as follows: "When we presented the MAUI® 5, we switched from the house system to the individual MAUI® 5. The audience was certainly impressed, which was also made evident by the large crowds flocking to the system after the ceremony. Many agreed that even at the back of the large hall, the audio quality was extremely clear, crisp and articulate."
Click here to download the Press Package (Press release in Word format in 6 languages + pictures)!
Further information:
www.ld-systems.com
www.gravitystands.com
www.musicaldistributors.com
www.namm.org
About ʻBest In Show' at Summer NAMM 2017
Best In Show, the popular NAMM University breakfast panel discussion highlighting great new gear, named 18 new products and four companies that exemplify excellence at Summer NAMM in Nashville Tennessee. Six retail experts shopped Summer NAMM and presented their favorite products and companies in four categories. On the morning of July 15, in the Music City Center Grand Ballroom, they discussed their selections in front of nearly 300 NAMM attendees.
The categories were:
-Best In Show — The best product or service that panelists saw at Summer NAMM
-Companies To Watch — Exhibitors with trendsetting products and/or services
-Gotta Stock It — Products that retailers want to stock right now, if they haven't already
-Best Accessories And Add-ons — A great product from the small-goods arena
This year's panelists were:
-Robert Christie, President, A&G Central Music, Madison Heights, Michigan
-Carol Cook, Owner, The Music Room, Palatine, Illinois
-Todd Johnson, Manager, Groth Music, Bloomington, Minnesota
-Bobby Montemurro, Senior Director, Pro Audio Sales and Marketing, Alto Music, Middletown, New York
-Gabriel O'Brien, Sales Manager, Larry's Music, Wooster, Ohio
-Tim Spicer, Owner, Spicer's Music, Auburn, Alabama