Press: The Adam Hall Group Presents New Event Tech Solutions at Music Inside Rimini
Neu-Anspach, Germany – April 28, 2017 – From May 7th to 9th, the Rimini Expo Centre is once again the venue for a special kind of trade fair: Music Inside Rimini (MIR). Here is where Italy's show business professionals and its music scene come together. Audio, video, lighting technology and much more are on show. A new addition at the second MIR fair is the Integrated Systems section. In Hall A7/C7 #078, the integrated event technology solutions provider, the Adam Hall Group, will present its latest product highlights from the brands LD Systems®, Cameo®, Gravity®, Defender®, Palmer® and Adam Hall®. Distribution brands, such as RAM Audio, Eminence and Bütec, will also be present at the Adam Hall Group exhibition stand.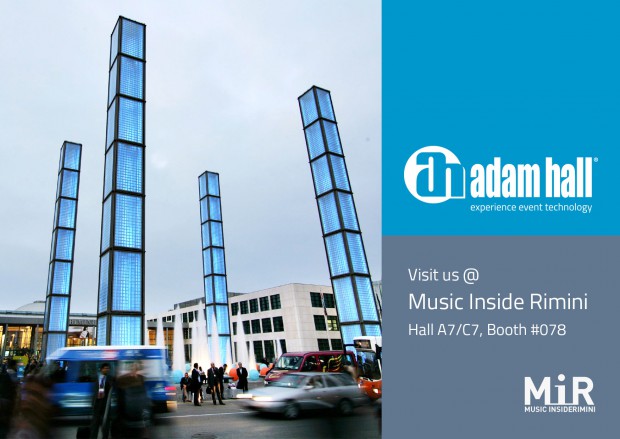 Recently introduced as a world premiere at Prolight + Sound in Frankfurt am Main, the LD Systems® MAUI® P900 is sure to be a major attraction. The column PA system, developed in collaboration with the Porsche Design Studio, showcases the future of pro-audio design. The MAUI® P900 combines state-of-the-art technology with iconic design and exclusive materials in a unique audio product.
The next highlight is the world's first mobile, battery-powered column PA system – the MAUI® 5 GO, from the brand LD Systems®. With six hours of battery life from a single charge and long-term high performance, thanks to its lithium-ion replacement batteries, the MAUI® 5 GO guarantees total, uncompromised freedom and excellent sound quality. The MAUI® 5 GO offers all the benefits that have already made the MAUI® 5 a bestseller: ultra-portable construction, PA and monitor system in one, an integrated mixer with Bluetooth®, 800 watts peak power and award-winning design.
Professional lighting equipment
Cameo®, the professional lighting equipment brand, will present its ZENIT® series. It comprises several products and accessories, and is aimed at the professional installation and rental market. Designed to be the perfect all-round spotlights for numerous applications, the ZENIT® series includes mains- and battery-powered lighting products for indoor and outdoor applications, as well as zoom spots and high-quality diffusers. The series comprises the PAR spotlights ZENIT® Z 120 (with zoom and IP65 rating) and the ZENIT® P 130 and ZENIT® P 40 (each with light shaping diffuser and IP65 rating).
New additions to the ZENIT® series are the ZENIT® B 60 battery-operated, IP65-rated PAR lights (black or chrome housing). Not least due to their specially developed high-performance batteries, they provide great freedom for lighting design. The iDMX® App-Controller and the iDMX® Core Wi-Fi to W-DMX™ connector box enable absolute mobility. For safe transport, Cameo® has included a touring case for six ZENIT® B 60s in its range. The spotlights can be conveniently stored in the German-manufactured case, while being simultaneously charged in the embedded charging station.
The ZENIT® series is rounded off by the ZENIT® W 600 LED washer, a completely new Cameo® development, with IP65 rating and a new design, which is indicative of the future direction for Cameo® designs. The ZENIT® W 600 washer offers great versatility and user-friendly application, with flexible control options via iDMX® core and W-DMX™ technology.
Integrated Systems
Perfect for the new integrated systems exhibition area are the LD Systems® CURV 500® installation solutions – a scalable system combining up to 24 CURV 500® array speakers with a CURV 500® iAMP installation power amplifier. Low-frequency support is provided by the CURV 500® iSUB bass reflex subwoofer. Also designed for professional sound applications, the four-channel LD Systems® DSP 44 K high-performance power amplifier provides comprehensive DSP functions and an integrated Dante™ interface for simple integration into Ethernet networks.
Innovative contenders for design awards
Gravity®, the stands and accessories brand with an extensive portfolio covering almost all of the classic areas of application, has recently been nominated for the German Brand Award. Now the multiple award-winning premium brand is extending its range. Additional contenders for future design awards that should also not go unmentioned here include innovations such as a revolutionary laptop stand or a highly flexible keyboard table. The same applies to products from the lifestyle sector, which already hint at the Gravity® brand's future direction.
Gabriel Medrano, International Sales Manager for Southern Europe/South America: "As a leading manufacturer and distributor of event technology solutions, Music Inside Rimini is a very important trade fair for us. The MIR fair has become an industry event for the Italian market, with well-known rental companies, retailers and installation companies seeking out product innovations. We are looking forward to direct exchange with interested parties and this year, for the first time, we are throwing a fair party. Join us at our stand on Sunday, 7 May, from 5.30 pm."
#EventTech #ProAudio #ProLighting #StageManagement #MIR2017
Click here to download the Press Package (Press release in Word format in 6 languages + pictures)!
Further information:
www.ld-systems.com
www.gravitystands.com
www.cameolight.com  
www.musicinsiderimini.it
Information about the Adam Hall Group:
www.adamhall.com