Cameo Zenit P 40 Outdoor PAR and Cameo Zenit Z 120 Zoom PAR – Test Report by bonedo.de
Although the Zenit P 40 and Z 120 from Cameo differ in design and construction, they nevertheless share some significant details: They are suitable for outdoor and indoor use, equipped with high-performance light sources and have been optimised for professional requirements. Their flicker-free light and high refresh rate also make them suitable for the supreme discipline of lighting technology: TV and film applications. Let us take a closer look.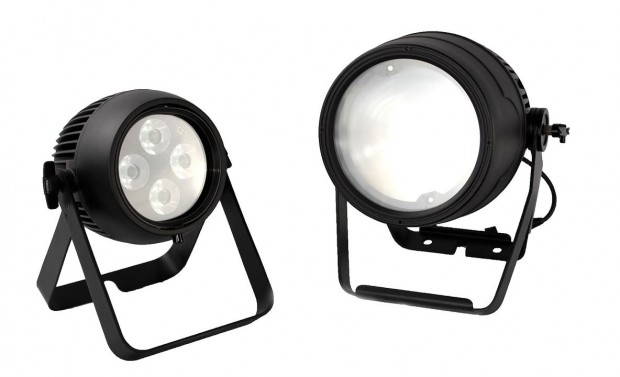 Details
Cameo Zenit P 40
The Cameo Zenit P 40 is small, compact and easy to handle. Nevertheless, it weighs only 4.8 kilograms and at 186.6 x 186.6 x 159 mm it is only half the size of a shoe box. It provides precise light beams with a reduced beam angle of 8 degrees. Two extra diffusers (supplied) allow additional beam angles of 25 and 45 degrees. The special feature: The light output remains constant regardless of which diffuser is installed.
Construction
On the front, four 10-watt Osram OSTAR LEDs are installed in a square formation. They provide brilliant colours, which can be tempered to be pleasantly warm and uniform, and also calibrated individually, including the colour temperature. 15 colour macros are integrated as presets. Light intensity is adjustable from 0 to 255. There are four different dimmer curves available, one of which can simulate the dimmer curve of a halogen lamp. This is not common amongst competitors' products.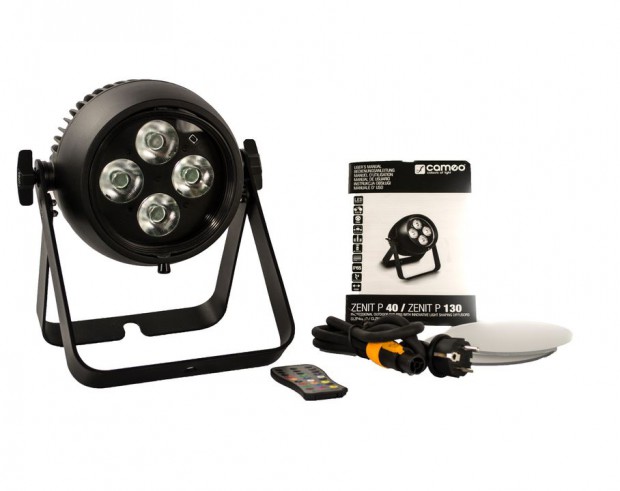 The typical area of application for the P 40 would be outdoors. It is IP65-rated and is well-protected against bad weather etc. Whereas I had to test it out in the open in an anorak. No matter. On the rear, in addition to the display, we find that all connections are covered by protective plastic caps for when they are not occupied by plugs. The five-pin DMX IN and DMX OUT are located here. The spot is also equipped with the future protocol DMX512A. Power input and output is provided by IP65-rated Neutrik powerCON sockets. The safety eyelet for rigging or overhead installation is a mandatory legal requirement.
The outer housing is manufactured from cast aluminium. Everything is robust and solid and also looks great. I do not see the point of the cooling fins on the rear of the housing, because, at operating temperatures of between 15 and 45 degrees Celsius, it remains questionable as to whether any accompanying heatsink measures are necessary.
Lugs for the supplied retaining bracket are on each side. Here too, stability is the focal point. Unfortunately, the inner part of the double bracket cannot be locked into the desired position when standing. It can be fixed into position only by using the rotary handles and screws where the double bracket meets the housing. They grip well, but I would have preferred double protection. In the worst case scenario, both of the double-stand's legs will open wide and the lamp will lie on the floor. In any case, the P40 will only rarely stand on the floor.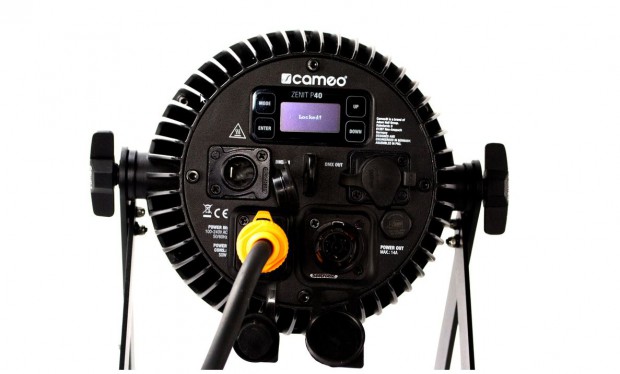 Cameo Zenit Z 120
The Cameo Zenit Z 120 ups the ante somewhat. It is considerably larger and at 8.5 kg, also heavier. The 120-watt RGBW COB LED also provides more output and the beam surface has a larger diameter. Its special feature is its motorised zoom from 7 to 55 degrees. This facilitates closely grouped beams and light cones as well as spacious floods over wide areas. The housing design is similar to that of the P 40, albeit in an XXL-format, which also features five-pin XLR DMX inputs and outputs. Here too, a surrounding element with cooling fins is integrated into the housing. And with this unit, I also understand the purpose, as underneath are the warm air outlet slots.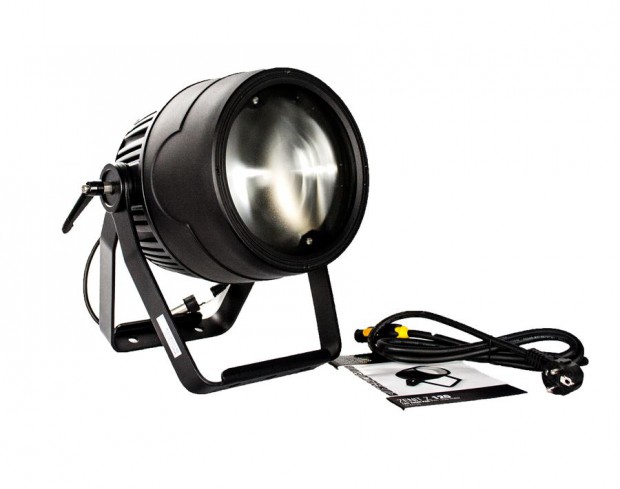 In use
Security: The Zenit P 40 and Z 120 feature an auto-lock function to prevent accidental or unauthorised changes. Anyone unaware of this feature may be left tearing their hair out, as the unit can be supplied locked. The unit first of all runs through its internal test mode – and then initially nothing happens. The lock is released by pressing and holding Up and Down for five seconds. From here, the menu can be accessed simply. The P 40 is equipped with an OLED display with touch-sensitive control fields that respond very quickly, as we already know. A simple tap is all it takes.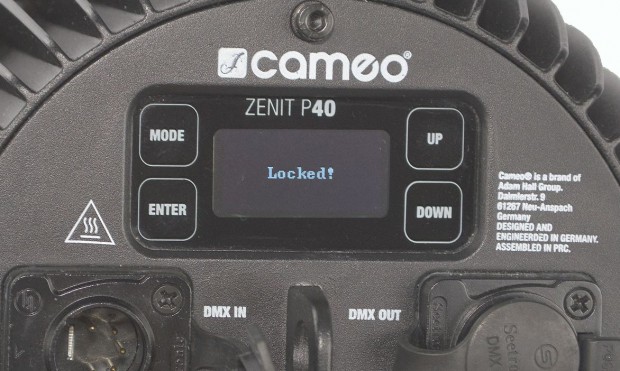 Cameo Zenit Z 120
The control buttons on the Z 120 are protected by flexible plastic caps that you have to push quite hard. Programming using the buttons is thus a little cumbersome. The backlit LCD display is fairly easy to read, but you would normally control the spotlight via DMX anyway.
In addition to the adjustable light output, the noise level of the zoom motor is an important consideration for theatre applications. But the manufacturer is true to its promise. The motor is pleasantly quiet, and with convection cooling, operation is hardly noticeable. In fact, at first there is absolutely no noise. Only after reaching operating temperature is a slight noise just about perceptible. Just one person whispering in the room would certainly be louder than the cooling.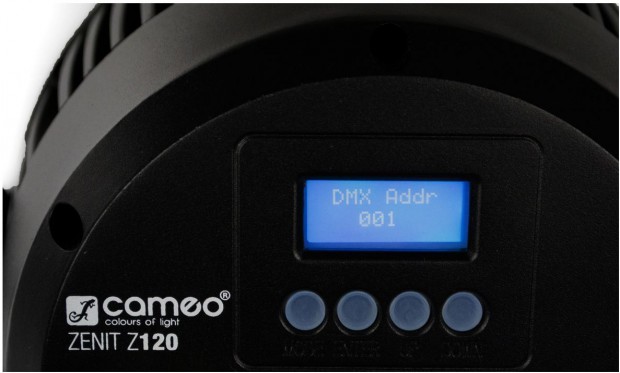 Control options
The units offer a high level of control options. They can be used in master, slave, stand-alone and in seven DMX modes. Some examples: RGBW colour, colour temperature correction, colour macro, dimmer curves and dimmer response can be controlled via DMX. Also in the repertoire: strobe, colour jump, zoom, colour fade, fine reset and many more.
I have rarely seen such simple and effective units. The default auto run programmes are tasteful and professional. You are not bombarded with a diverse range of effects that you first have to consolidate in order to use effectively. Most agreeable.
Conclusion (4.5 / 5)
If you want to create the highest level of lighting design, whether indoor or outdoor, the Zenit P 40 and Z 120 are useful tools to have available. Their flexibility, performance and individual control options are impressive. They can deliver pretty much everything from subtle lighting moods to effective spotlight beams. Furthermore, you can choose between hard, soft, or retro styles. As such, the audience's senses are stimulated consistently. Given their specification, the pricing is more than reasonable.
PROS
Flicker-free lighting
Colour temperature correction
Halogen simulation
Beam angle adjustable via diffusers (P40)
OLED display with touch-sensitive controls (P40)
RDM-capable (Z 120)
Zoom between 7 and 55 degrees (Z 120)
CONS
Backlit display slightly undersized
Double bracket cannot be separately locked into position
FEATURES
CAMEO ZENIT P 40
PAR spotlight with 4 x 10 W RGBW Osram OSTAR LEDs and 8° beam angle
Outdoor-suitable, IP65-rated
2 diffusers for 25° or 45° beam angle with constant light intensity
RDM-capable
16-bit technology
Flicker-free, ideal for film and television
Colour temperature and LED colour correction
4 dimmer curves including halogen lamp simulation
Master, slave or stand-alone
OLED display with 4 touch-sensitive control panels
Access lock
Convection cooling
Refresh rate: 3600 Hz
Beam angle: 13.5° field°, 7° beam°
DMX input/output: five-pin
7 DMX modes:
DMX functions: Dimmer Fine, Dimmer Curve, Dimmer, Strobe, CTC (Colour Temperature Correction), Colour Macro, RGBW Fine, Colour Jump, RGBW, Colour Fade, Reset, Dimmer Response
Stand-alone modes: White Balance adjustable, Colour Macro, Strobe, Colour Jump, Static Colour, Colour Fade, Master/Slave Mode, Auto programmes, Display Lock, Dimmer Curve, Dimmer Response
Operating controls: Value Up, Value Down, Mode, Enter
Power supply: 100–240 V AC / 50–60 Hz
Power consumption: 50 W
Housing: die-cast aluminium, black
Light intensity: 25200 lx @ 1 m
Lighting power: 1200 lm
Operating temperature: -15–45°C
Dimensions without retaining clip (WHL): 186.6 x 186.6 x 159 mm
Weight: 4.8 kg
IR remote control included
MSRP: 506 euros
CAMEO ZENIT Z 120
LED PAR spotlight with 7° – 55° zoom
RDM-capable
120 W RGBW COB LED
16-bit technology
Colour temperature correction
4 dimmer curves with variable response
Variable white balance
Flicker-free, ideal for TV and film
IP65-rated, suitable for outdoor use
Master, slave and stand-alone
Neutrik powerCON TRUE1 and five-pin X-HD network and DMX sockets
RGBW
Refresh rate: 3600 Hz
Beam angle: 7–55°
DMX input and output: five-pin Neutrik X-HD
7 DMX modes:
DMX functions: RGBW, Colour Temperature Correction, Colour Macro, Dimmer Response, Dimmer Curve, Strobe, Colour Jump, Zoom, Dimmer, Colour Fade, Zoom Fine, Dimmer Fine, Reset, RGBW Fine
Stand-alone modes: Display Lock, Colour Macro, Static Colour, Colour Jump, White Balance adjustable, Colour Fade, Strobe, Dimmer Response, Dimmer Curve, Master/Slave Mode
Operating controls: Mode, Up, Down, Enter
Indicators: colour LC display
Power supply: 100–240 V AC / 50–60 Hz
Power consumption: 180 W
Power connection: Neutrik powerCON TRUE1 IN (NAC3FX-W) / OUT (NACMFX-W)
Housing: metal, black
Cooling: convection
Light intensity: (7°) 62000 lx @ 1 m, (55°) 3900 lx @ 1 m
Lighting power: 2117 lm
Operating temperature: -15–45° C
Dimensions without retaining clip (WHL): 230 x 230 x 300 mm
Weight: 8.3 kg
MSRP: 961 euros