The power of WaveDynamics™ on 100V amplifiers
It's only been a couple of years since AUDAC first introduced the SMA/SMQ amplifier line with WaveDynamics™ audio processing technology. This technology changed the way we were used to adjust advanced settings on an amplifier. Ever since then, the most advanced acoustic configurations like a 7-band fully parametric equalizer with adjustable frequency and Q-factor can be set-up and controlled with ease.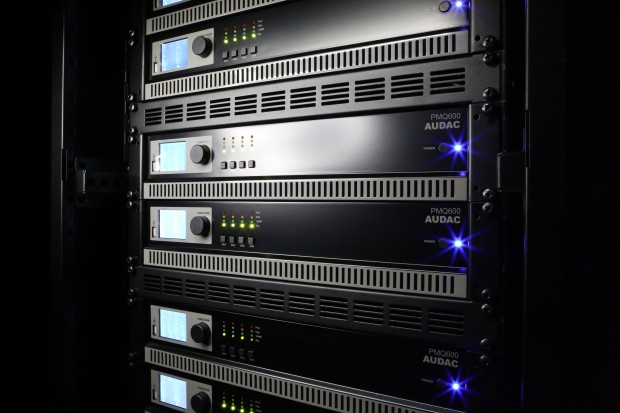 Recently, AUDAC decided to also integrate this proven technology into its new line of premium sound 100V amplifiers. The new PMQ series is built for applications that require a high output and come in three different four channel configurations that are available in output powers of 240 Watt, 480 Watt and 600 Watt for each channel.
The market embraced the SMA/SMQ series as there is no other amplifier on the market that enables you to load files so easy from a USB or allows you to do enhanced setting on the front side of the amplifier through a 2.5 Inch graphical display, the new PMQ now also comes with exactly the same user-friendly interface.
The PMQ series is fitted with class D amplifier technology which has a very clean and wide, HiFi sound quality. Due to its green power auto standby feature is the amplifier also a great fit for energy conscious customers.
Thanks to the advanced limiting configuration implemented by AUDAC's WaveDynamics™ technology the amplifier can be matched with any speaker's output and overcome it to be overdriven without creating a compressed sound.



But not only the controllability of the amplifier on the front side is what makes these new 100V amplifiers special. Besides RS232 connection PMQ also enables for an optional Dante™ expansion. Allowing the installation of a network interface making the device able to receive and send low latency, high quality audio over a standard Ethernet network. You can even connect an additional APC100 unit which enables web controllability, the choice is yours!
Available from stock in the summer.
The distribution of the brand AUDAC for Germany and Austria is at the Adam Hall Group, a leading German manufacturing and distribution company providing event technology solutions around the globe.
More information: info@audac.eu