LD Systems Maui 28 G2 – Test Report by bonedo.de
The latest revision of the Maui 28 from LD Systems bears the name affix G2. As well as a new look, it also features a revised mixer layout with four channels including Bluetooth, a sub-out and the option to run a stereo system using a second Maui 28 G2. Additional features include a DynX DSP, a separately controllable subwoofer and 1000 watts RMS output. The price is under 1000 euros. This makes me curious.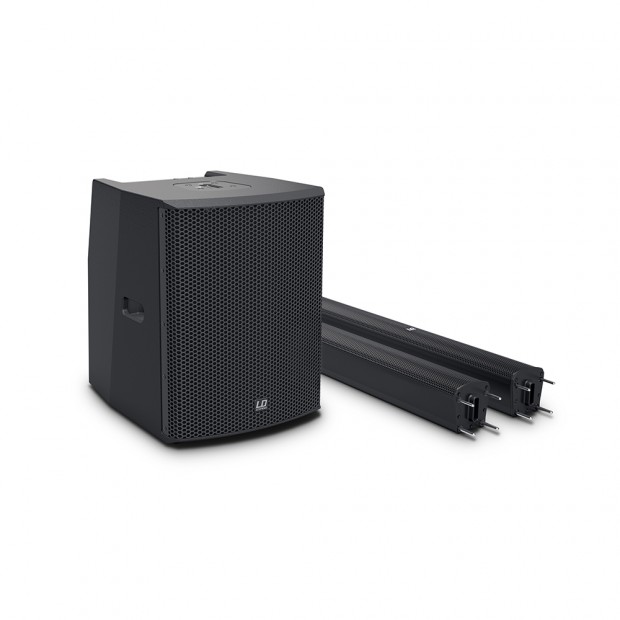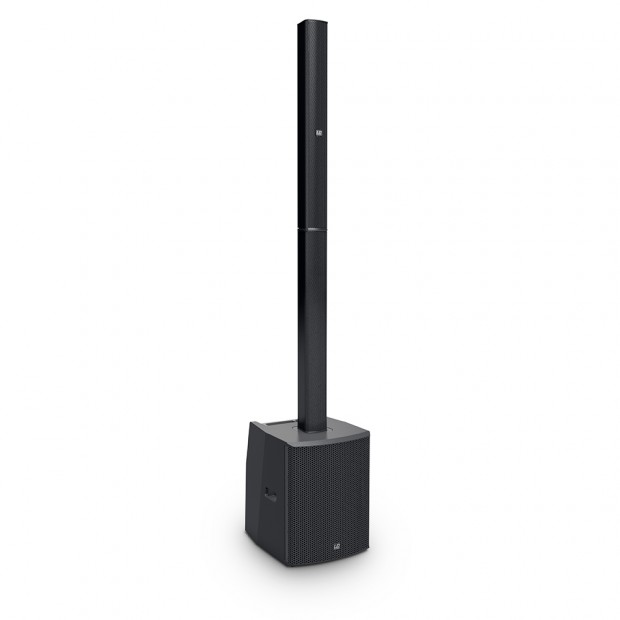 Details
The Maui 28 G2 is the largest column PA from LD Systems and it replaces the 28 Mix. Many of the features of the smaller Mauis have been incorporated, such as the separate bass control and the Bluetooth interface. With a punchy 1000 watts RMS (4000 watts peak), LD Systems has increased the power output by a factor of 2.5. However, at 32 kg, the whole system weighs only as much as one subwoofer used to weigh. The original design has been retained, but rounded edges now lend the cabinet a more modern appearance. As for colour options, the G2 can be ordered in classic black or white. Special praise is in order for the concise (but nevertheless very informative) multilingual operating manual.
Dimensions and specification
The birch ply bass reflex cabinet houses two 8-inch woofers with 2-inch voice coils. Including speakers and electronics, the cabinet registers a manageable 20.2 kilograms on the scales. The mixer is located at the rear, with the display indicators and master volume controls on the top. Recessed handles on the left and right facilitate easy handling, and a metal grill provides frontal protection to the speaker.
The two columns (each weighing 5.4 kg) house 16 three-inch mid-range speakers with 1-inch voice coils. Two 1-inch high-frequency horns with 1-inch voice coils are installed at the top; the special multi-pin connector is a revised version of that on the Maui 28 Mix. The manufacturer states a frequency response of 45–20,000 Hz at 120 dB SPL (126 dB peak) and a dispersion angle of 120° x 20°. A multi-band limiter and additional protective circuitry protect the three-way class-D amplifier against thermal overload, short-circuiting and DC voltage.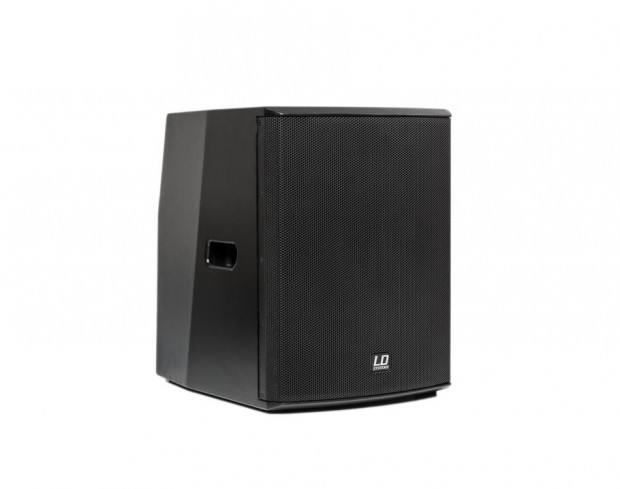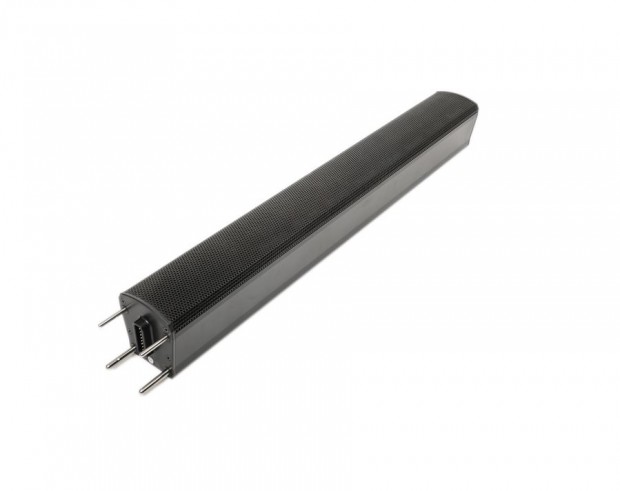 Technology
In the master section, the subwoofer volume can be controlled relative to the main level. This is ideal, for example, for an acoustic gig where less bass is required than for a dance event. The subwoofer volume can be adjusted as required and according to room size. If more power is required from the system sub, an additional subwoofer can be connected via the Sub-Out XLR. Four LEDs indicate ready status, signal flow, and activation of the protective circuitry. There are also setup indicators. The cabinet can be used either as a line array, or the columns can be wall-mounted or used on stands, separate from the subwoofer. In this case, the DSP (24-bit, 48 kHz) reconfigures the frequencies of the components.
A switch allows selection between mono and stereo operation. The Maui 28 G2 should be run in mono in standalone mode. If a second G2 is available, the signal can be split. The right channel of the stereo signal is sent to the Master-Out XLR (which otherwise receives the mono signal), and its level again depends on the main level.
The following four channels are available:
Bluetooth with operation indicator and button including a mini jack for external sound sources
Hi-Z input with 6.3 mm jack socket
Line in with two combo jacks and stereo phono sockets
Microphone input with combo jack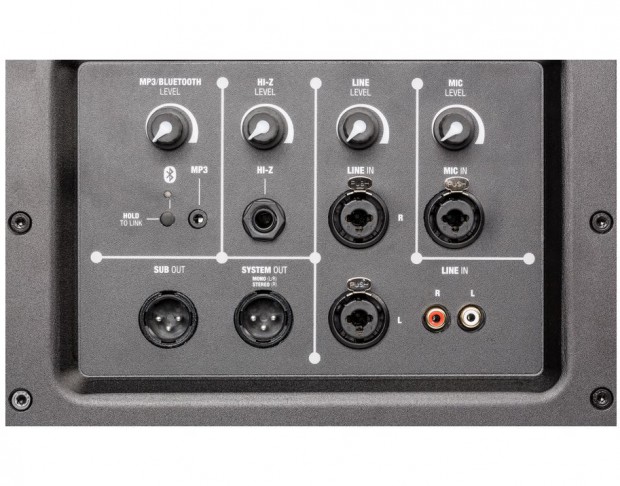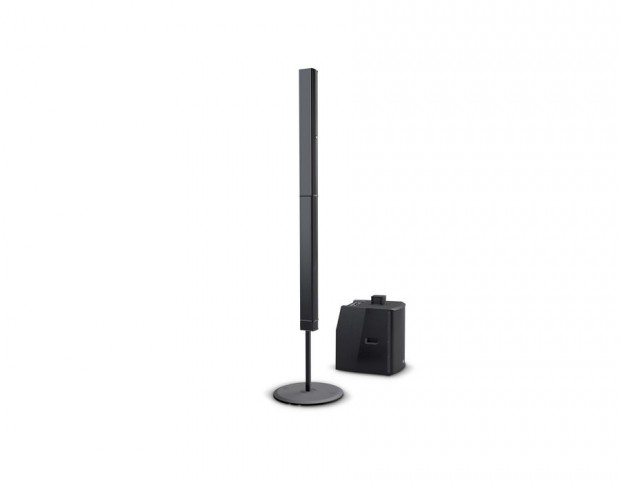 Accessories
Due to the low price, LD Systems has not included covers or transport bags. These can be purchased as extras for all system components and are highly recommended. In addition to a bag and cover, a roller board is also available for the subwoofer. There are also black and white stands and wall brackets for installing the columns, and a black or white powder-coated stand kit with cables and adapters for positioning the column of the Maui 11 G2 and 28 G2 separate from the subwoofer.
In use
The somewhat problematic multi-pin connectors of the original Maui 28 columns have been completely redesigned. Where previously two people were required, with the Maui 28 G2, just one can easily manage. The system is assembled and disassembled in an instant.
The system creates a classy and elegant impression; with mounted columns, the Maui 28 G2 stands at a height of two metres. And although the rather bulky subwoofer housing conceals a monster power amplifier, its footprint is a mere 0.18 square metres.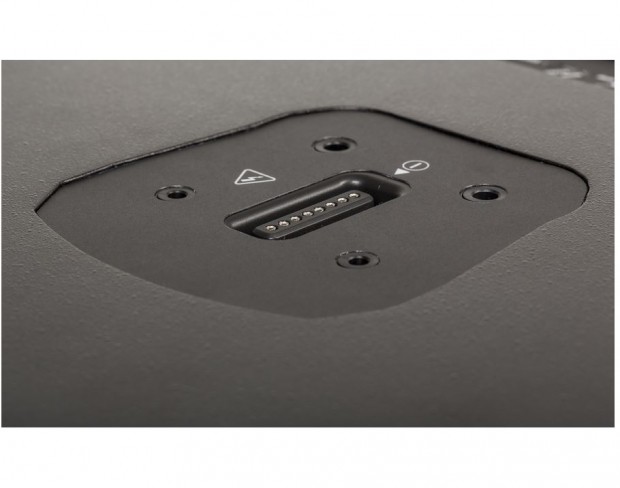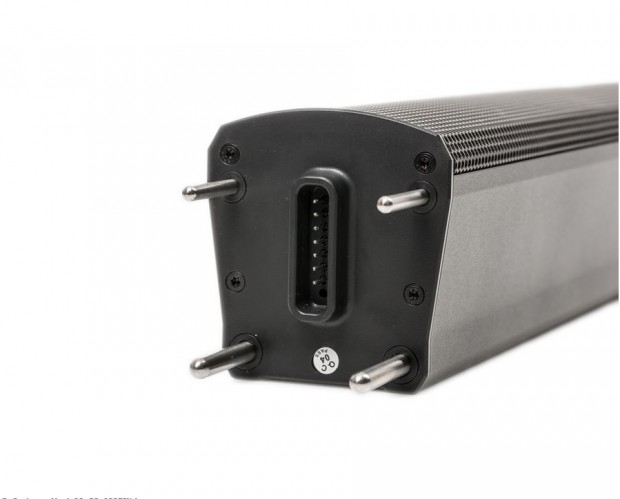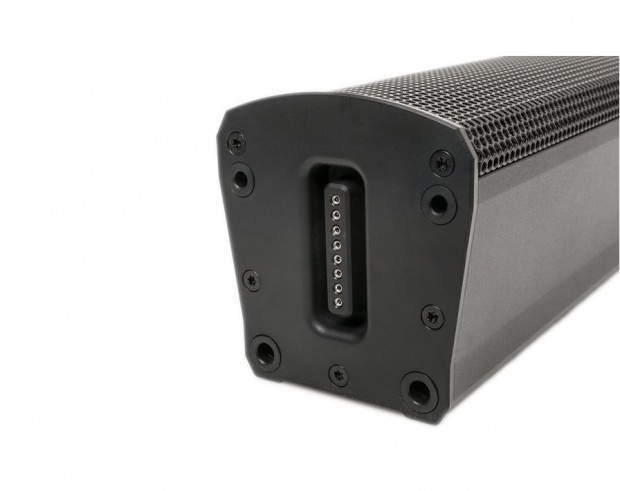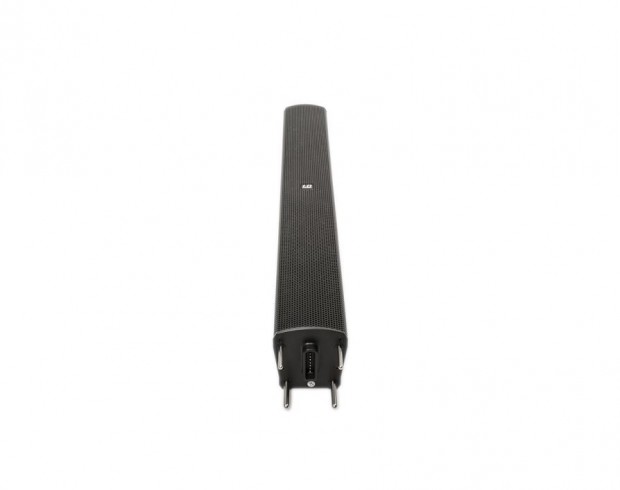 Sound
It appears that the product developers have looked closely at the test reports for their older models, because the Maui 28 G2 combines all the positive features of the Maui family. Furthermore, the areas of criticism have been addressed. As such, the noise level at switch-on is almost imperceptible. The signal-to-noise ratio of the DSPs is specified as 100 dB, which is sufficient.
The frequency response is consistent, with no lack of power in the mids to cause any sound drop-out. The high-frequency horns have been installed right at the top to ensure that the highs are projected above head height and well into the room. Brilliant sound is guaranteed, even on full dancefloors. In close proximity, the sound is equally impressive, so it can also be used in smaller spaces. The horizontal dispersion angle of 120° is extremely apparent, with consistent sound reproduction even right next to the cabinet. As with expensive column PAs, additional monitoring is often no longer necessary. Incidentally: Even at minimal sub-levels, the G2 sounds classier and more powerful than some other compact PAs. If the bass response is not sufficient at even maximum sub level, LD Systems offers an active subwoofer.
Mixer
First of all, I test the Bluetooth input. After holding down the button for a few seconds, the input is activated and is ready to be paired with a sound source. A mini-jack can be connected in parallel. I am happy to report an absence of buzz or hum to detract from your enjoyment of the music. The volume can be controlled accurately.
I check the Hi-Z-instrument input with an electric bass, which performs without crackling, humming, spluttering or excessive noise. I could do with a little more depth from the system for my own playing pleasure, but apart from that, I have no complaints.
The line input accepts stereo signals via XLR, jack (balanced) or phono sockets (unbalanced). A possible drawback here is the lack of input or volume indicators. Care must be taken when summing, as the mixer does not indicate possible overloads. Green and red LEDs on the inputs and outputs would be a simple solution.
I test the microphone input with a Shure SM58. The microphone sounds surprisingly crisp; the system reproduces the voice extremely naturally. The voice mixes well with the playback and has plenty available gain. The EQ that I otherwise always demand in a microphone channel is almost superfluous here. However, a one-knob EQ would be the icing on the cake.
All mixer channels can be turned up full without any perceptible noise. It delivers both a powerful and balanced sound in equal measure. However, the G2 does not feature any effects. They must be patched in externally.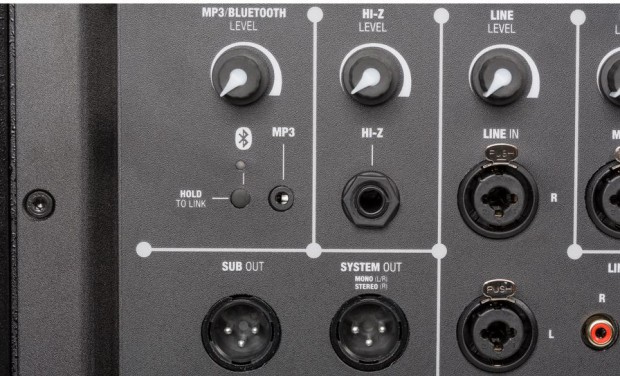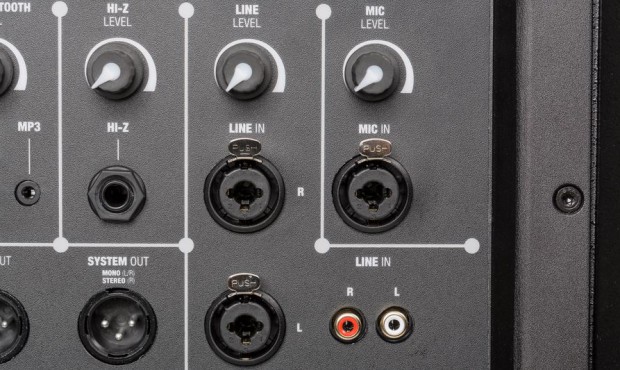 The G2 as a monitor
As the Maui 28 G2 can also be used as a monitor system, I test its feedback resistance. Both with the bass and with a live microphone, I can stand directly in front of the speaker at high volume without any problems. Only with the channels turned up full and the master brutally high, do the high frequencies begin to whistle slightly when I hold the microphone right up to the grille. So you can create an extremely natural, acoustic sound, especially with a quiet sub.
Users
I keep thinking that it does not get more universal than this.  And then along comes a system like the Maui 28 G2. Just one of these columns can be used as basic equipment for beginners, small band projects, solo entertainers, mobile discos, singer-songwriters. Upgrade to two systems and the world is your oyster. For musical performances, a mono system delivers sufficient power for an audience of 170, a stereo system for an audience of 340. For purely vocal acts, you can safely count on 30% more. Touring musicians, mobile DJs, FOH engineers, showmen and operators of medium-sized clubs and bars and smaller halls will enjoy this system.
Conclusion (4.5 / 5)
With the Maui 28 G2, LD Systems goes head-to-head with the more expensive competition. 1000 watts RMS and a consistent, powerful sound (even close-up) prove the point. The simple four-channel mixer delivers impressive, powerful sound, whether from a Hi-Z source or a microphone. The Bluetooth channel sounds punchy and powerful without any annoying distortion. Furthermore, the Maui 28 G2 can easily be upgraded to a stereo PA for 340 people, as and when the budget for a second system becomes available. And let's not forget the extremely attractive price of around 1,000 euros.
PROS
Excellent sound
Switchable stereo and mono
Low feedback
Excellent design
Easy-to-use four-channel mixer
Separately controllable subwoofer
Bluetooth
CONS
No overload indicators on the mixer channels
FEATURES
Compact, active line array with four-channel mixer
Frequency response: 45–20,000 Hz
Sound pressure: 120 dB SPL / 126 dB SPL peak
Dispersion angle (H x V): 120° x 20°
Power amplifier: three-way Class D, 1000-watt RMS, 4000-watt peak
Protective circuitry: multi-band limiter, thermal overload, short circuiting, DC voltage
DSP: 24-bit, 48 kHz, 100 dB signal to noise ratio
Switching power supply: IEC, 100–240 V AC, 50–60 Hz
Power consumption (off/on/max): 0 / 11 / 600 watts
MIXER
Channel 1: Bluetooth, activation button, mini-jack for MP3, gain
Channel 2: Hi-Z input, 6.3 mm jack socket, gain
Channel 3: Line-in, 2 x combo jacks, stereo phono sockets, gain
Channel 4: Microphone / combo socket, gain
Outputs: Subwoofer (XLR), Line (XLR)
Master: main level, sub level (dependent upon on main level)
SUBWOOFER
Loudspeakers 2 x 8-inch bass/midrange drivers
Housing: birch ply, bass reflex
Dimensions (W x H x D): 370 x 484 x 480 mm
Weight: 20.2 kg
COLUMN
Loudspeakers 16 x 3-inch mid-range drivers, 2 x 1-inch high-frequency horns
Housing: aluminium, sealed
Dimensions 1 (W x H x D) / Weight: 96 x 780 x 104 mm / 5.6 kg
Dimensions 2 (W x H x D) / Weight: 96 x 795 x 104 mm / 5.4 kg
All mixer channels can be turned up full without any perceptible noise. It delivers both a powerful and balanced sound in equal measure. However, the G2 does not feature any effects. They must be patched in externally.