Barcelona Fitness Studio Gets in Motion with LD Systems and Cameo
Since its formation in 1989, the Claror Group has been operating various sports and fitness facilities in the Catalan capital of Barcelona. Today, the company – which is part of the Fundació Claror Foundation, and helps to promote sport, health and leisure across the country – has a total of four large fitness studios as well as other municipal sports centres, such as athletics arenas and swimming pools. At the Claror Cartagena studio, installer Mister Mix has equipped the new spinning hall with Cameo® Light and LD Systems® pro audio throughout for the Claror Group. Both brands are part of the extensive event technology solutions portfolio of the Adam Hall Group.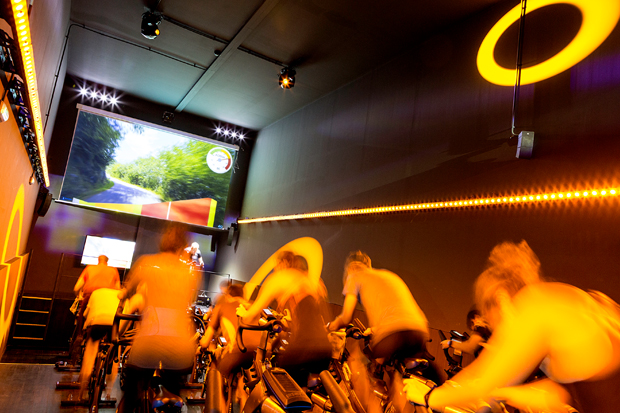 Complete light and sound package
The specifications for Mister Mix and the owner and manager Sergio Parera: A state-of-the-art spinning hall with spectacular lighting and a powerful sound system, making each course participant feel like part of a motivating show. Mister Mix chose two CURV 500® PS stereo systems to ensure excellent sound throughout the elongated spinning hall. The Power Set delivers a punchy 920 watts RMS and a maximum SPL of 134 dB via its two 10-inch bass-reflex subwoofers and a total of eight satellites.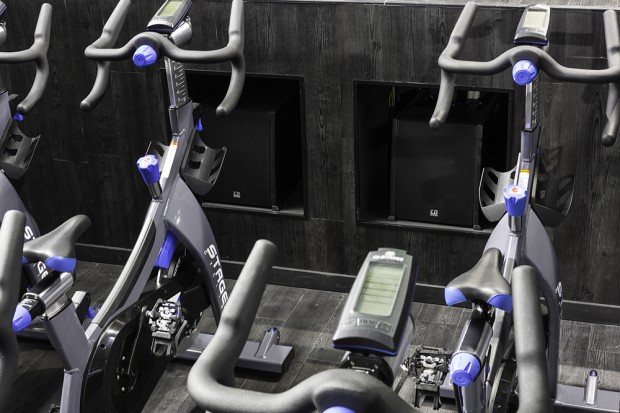 The driving beats for the spinning classes are provided by an LD Systems® CDMP 1 multimedia player, which, thanks to its wide range of playback options (CD, MP3, SD, USB) and infrared remote control, meets all of the demands of the intensive spinning classes. To give their motivational instructions, the instructors (who also sit on spinning-bikes) are equipped with a wireless headset as part of the 16-channel LD Systems® WS ECO 16 BPH wireless microphone system.
Versatile lighting
To keep the spinners spinning and visually stimulated, the Mister Mix technicians rely on a combination of Cameo® lighting products – 2 x AURO® SPOT 200 LED moving heads each with powerful 100-watt LEDs, 2 x HYDRA BEAM 400 RGBW light systems, each with four ultra-fast moving heads that can be controlled independently, as well as a total of 24 x PIXBAR 600 PER LED bars, each with twelve RGBWA+UV LEDs – which have been installed along the two side walls.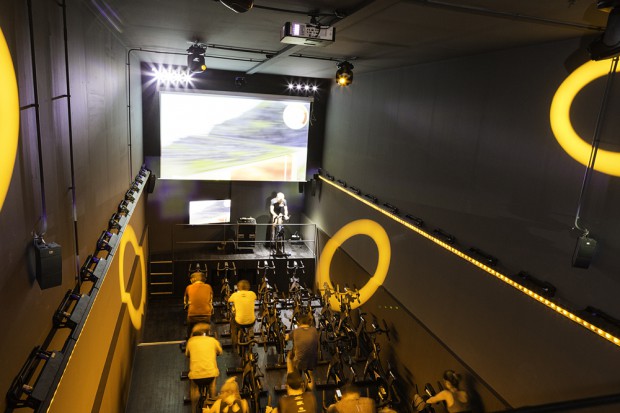 The spectacular spinning light show is further enhanced by a Cameo® IODA 1000 RGB 1,000 mW RGB show-laser and a Cameo® INSTANT HAZER 1400 PRO, which, with its extremely short warm-up time of only 45 seconds and its whisper-quiet operation, is perfect for use in an environment where fast vapour blasts are as important as maintaining the focus of all participants.
Demo studio on site
Thanks to the new Adam Hall showroom in Barcelona, the Claror management could be convinced of the benefits of Cameo® and LD Systems® products locally and conveniently, and together with Mister Mix and the Adam Hall product specialists, were able to assemble a package perfectly tailored to the individual installation requirements. "The combination of an unbeatable price-performance ratio and the opportunity to show our customers the quality and versatility of the products, locally, in a fully equipped demo studio, convinced us to choose products from the Adam Hall Group", explains Parera. "In this way, the client does not have to simply rely on the designer's recommendation, but can see and hear the products in a comparable setting prior to installation."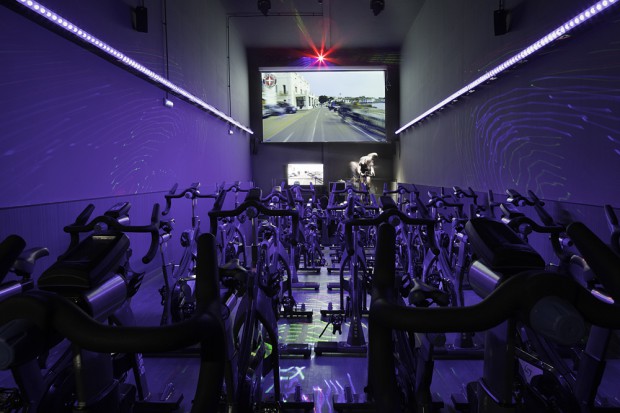 Under these optimum circumstances, the installation of LD Systems and Cameo products in the spinning hall at the Claror Cartagena fitness studio can only be a complete success. And indeed: "The client and their customers are all delighted with the lighting and sound during the spinning classes. In conjunction with the 5000 ANSI Lumens projector and the 4 x 3 metre canvas on the head side, the CURV 500® PS and the Cameo® spotlights and lasers provide an unbeatable spinning experience, both now and for the foreseeable future."
The Claror Cartagena installation features:
2 x LD Systems® CURV 500® PS portable array system power sets
1 x LD Systems® CDMP 1 multimedia player
1 x LD Systems WS ECO 16 BPH wireless microphone system
2 x Cameo® AURO® SPOT 200 LED moving heads
2 x Cameo HYDRA BEAM 400 RGBW lighting systems
24 x Cameo® PIXBAR 600 PRO LED bars
1 x Cameo® IODA 1000 RGB show laser
1 x Cameo® INSTANT HAZER 1400 PRO
The Claror Cartagena installation was carried out by the company Mister Mix, located in Barcelona.
The Adam Hall Group:
www.adamhall.com/solutions/installation
Products:
www.ld-systems.com
www.ld-systems.com/curv-500-series
www.ld-systems.com/ws-eco-16-series
www.ld-systems.com/cd-mp3-player
www.cameolight.com
www.cameolight.com/auro-series
www.cameolight.com/hydra-series
www.cameolight.com/pixbar-series
www.cameolight.com/ioda-series
www.cameolight.com/instant-series
Location:
www.claror.cat/cartagena