Press: LD Systems Stinger G3 – 3rd Generation of High-Performance Speaker Range
Neu-Anspach, Germany – February 21, 2017 – The Adam Hall Group presents the new STINGER® G3 Series from LD Systems®. In its third generation, the series has been significantly improved. Professionals will be impressed by these robust and roadworthy multi-functional full-range speakers and subwoofers, which are available in active and passive versions, providing both excellent sound and an array of practical detail solutions. With the usual excellent price-performance ratio, the STINGER® G3 series is a professional sound solution for all applications.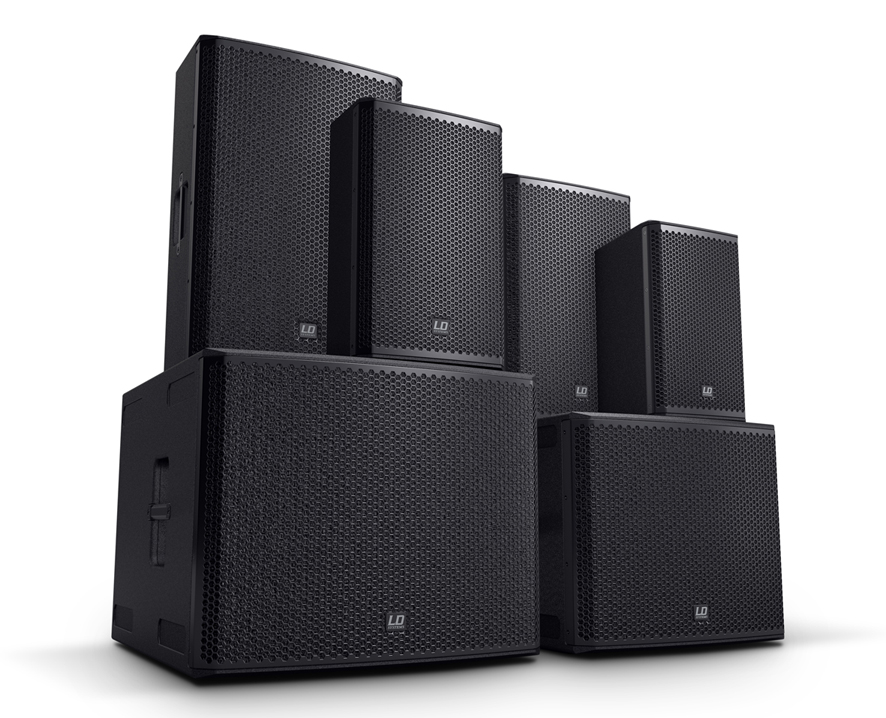 The new STINGER® G3 series comprises active and passive speaker cabinets in 8-inch, 10-inch, 12-inch and 15-inch formats, as well as two 15-inch and 18-inch subwoofers, available in active or passive versions. All cabinets are made from high-quality 15 or 18 mm birch ply, which, in conjunction with the tuned bass reflex enclosures, ensures accurate bass response. The abrasion and impact resistant polyurea plastic coating repels dirt and guarantees longevity, especially during mobile use. All active speakers are equipped with powerful class D amplifiers.
The dispersion characteristic of the full range speakers has been further optimised in the high frequency range. During the development and optimisation of the horns, the Boundary Element Method (BEM) was used, and the distance between the tweeter drivers and woofers has been minimised to avoid partial drop-outs caused by comb filter effects. DynX® DSP technology, a proprietary development from LD Systems®, ensures crystal clear sound. With their four precisely tuned presets (full range, satellite, monitor, flat), the full range speakers can be optimised
for the desired application at the touch of a button.
In addition to three different high-cut filters, the active STINGER® G3 subwoofer's DSP presets also feature a cardioid preset. By combining three STINGER® G3 subwoofers of the same design, a cardioid dispersion characteristic is achieved with this circuitry, which offers a number of qualitative advantages over conventional subwoofer setups.
Dual-Tilt stand attachments, flight points, stack moulds as well as ergonomic handles make the STINGER® G3 Series from LD Systems® the perfect system for professional artists, distributors and fixed installations. The extensive range of STINGER® accessories includes clever mounting hardware, padded protective covers and a stackable roll board for easy transport.
Viktor Wiesner, Pro Audio Product Manager: "The new STINGER G3 series speakers are highly professional PA solutions and reliable tools for the professional user. LD Systems has incorporated numerous unique technical features into these new developments and in doing so has improved the sound even further."
For further product information and pricing, please visit the Adam Hall Group's B2B Webshop at www.adamhall.com/shop.
#Stinger #Eventtech #ProAudio #ProAudioInMotion
Click here to download the Press Package (Press release in Word format in 6 languages + pictures)!

Further information on the STINGER® G3 series:
www.ld-systems.com/stinger-g3-series