Press: Adam Hall Group Expands Distribution Network in South Africa, Namibia and Botswana with Mitech Distribution
Neu-Anspach, Germany – February 2, 2017 – The Adam Hall Group is continuing the rapid expansion of its international distribution network. An exclusive partnership for South Africa, Namibia and Botswana has now been established with Mitech Distribution, a subsidiary of Stage Audio Works Group. This includes the German manufacturer's complete portfolio of Cameo®, Palmer®, Gravity®, LD Systems® and Defender®.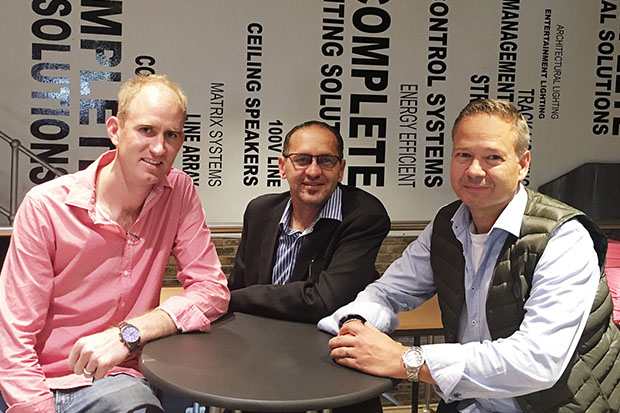 Stage Audio Works is a leading international distributor & manufacturer of complete technology solutions to the live event, places of worship, commercial, education and industrial sectors. Since its inception in 2000, Stage Audio Works has acquired more than six companies geared in the distribution and retail markets. Its footprint extends over South Africa and into the rest of Sub-Saharan Africa. In addition to a comprehensive portfolio of reputable audio, video, staging and lighting equipment, the distributor also has a well-established network of partners in the retail, houses of worship and live event markets and has become one of the biggest players in this space. Mitech Distribution, part of the Stage Audio Works Group, is the subsidiary which will focus on the MI-market distribution in Sub-Sahara Africa.
Markus Jahnel, COO of the Adam Hall Group, is quite happy with the new distribution partner:
"The Stage Audio Works Group has been operating with great success in the B2B markets in Southern Africa and the adjoining areas for many years and is gaining impressing success with Entertainment- and Installation Projects as well. They are pursuing a strategy which perfectly meets the expectation of the Adam Hall Group. Its many years' experience in the retail-, installed- and live-sound sectors links seamlessly with our broad, innovative range of professional audio and lighting products and accessories to perfectly complements Stage Audio Work's services. It was also important for us that, in addition to products, our future partner is also able to provide the appropriate technical service and training for staff and customers alike. Stage Audio Works focuses on all of these points, and this convinced us to join forces."
Will Deysel, founder and CEO of Stage Audio Works Group, is also convinced of the success of the new partnership: "We have become very familiar with the Adam Hall Group and its extensive product range. As we are anticipating a long and successful presence in South Africa and its neighbouring states, it was immediately apparent to us that the best opportunities lay in a partnership. Our expert knowledge of the region coupled with a modern, innovative manufacturer that covers a spectrum of the entertainment industry will be beneficial for both the partners and of course for our customers. We were especially impressed with the way in which the Adam Hall Group has positioned itself logistically in an international market and with its future-oriented research and development facilities. We have also been extremely impressed with the quality of all the products from the respective brands. Such a product range allows us to fill the gaps in our portfolio, offer our customers great value and make us both more competitive. We are looking forward to a successful partnership."
#EventTech #ProAudio #ProLighting #StageManagement
Click here to download the Press Package (Press release in Word format in 6 languages + pictures)!
More Information:
www.adamhall.com
blog.adamhall.com
www.stageaudioworks.com