TLB Veranstaltungsservice provides relaxed, non-stop performance thanks to Adam Hall Group event technology solutions
The Museum Embankment Festival in Frankfurt am Main is one of the most important and largest art and culture festivals in Europe, attracting up to three million visitors to the Frankfurt Main River every year. The city uses this public festival to celebrate its museum embankment, which is like no other like it in Germany: an array of important museums lines the banks of the river Main, one after another. Over three days from 26 to 28 August this year, visitors to the participating museums could see artistic projects and permanent exhibitions. The programme also comprised guided tours, lectures, readings and workshops. Regular features of the Museum Embankment Festival include the summer gardens, stage shows and dance areas. Alongside cabaret, variety and karaoke, visitors could also experience live music, from pop and rock to blues, funk and jazz.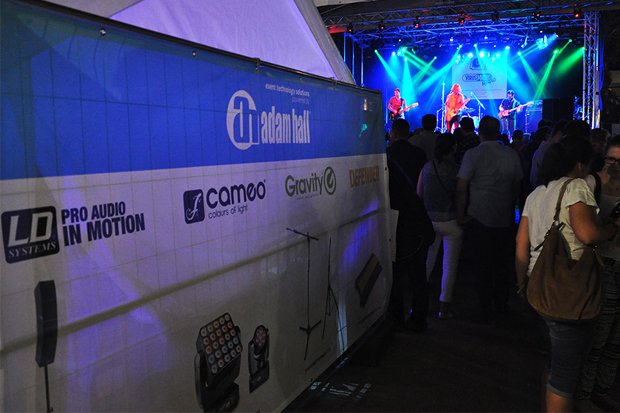 The radio x stage, presented by VirusMusik, featured several Adam Hall Group products. Here in particular, products from the brands Cameo®, LD Systems® and Defender® were in continuous use almost around the clock on all three days, ensuring that the event ran smoothly and professionally.
TLB Veranstaltungsservice has worked with VirusMusik for over ten years. On the radio x stage, TLB's event manager Christian Klann and Jörg See (owner) provided optimal sound and the appropriate light show. Here, the two pros were using six LD Systems® Stinger 12 G2 12-inch PA speakers (passive) as stage monitors. Eight Cameo® Auro® Spot 200 LED Moving Heads and four Cameo® Auro® Matrix 500s conjured up exciting lighting effects, and several Defender® Nano cable protectors took care of the cable routings.
From metal to rock, pop, singer-songwriter and jazz – the musical programme featured all genres. It was broadcast live by radio x on 91.8 MHz, and also streamed over the Internet. There was also a live online TV stream from MOK (an open channel for Rhine Main).
The equipment had a tough task to fulfil, because everything had to work perfectly without failure for the entire three days, ensuring that the 6 x 8 metre stage always had a big fat sound and a great design. Reliability and good sound were essential during the short changeovers of approximately 40 bands, sometimes at temperatures above 40 degrees Celsius on the stage. But the extreme heat and even a temporary power failure presented no problems for the equipment.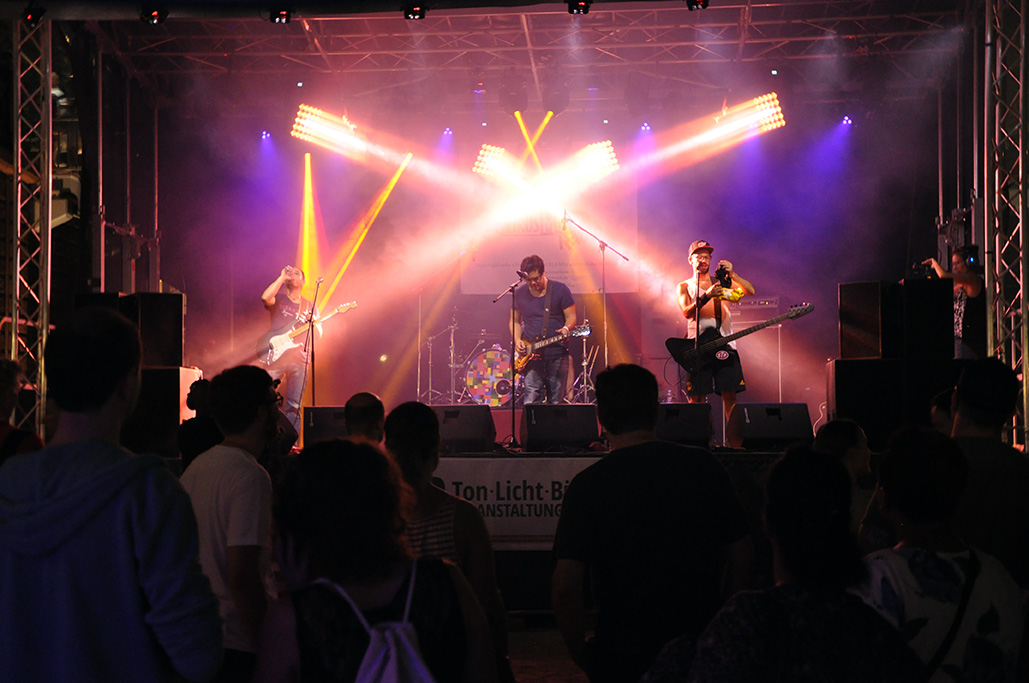 Jörg See, TLB, general technical manager, chief sound engineer: "The LD Systems® 12-inch Stingers provided the best sound quality for our music festival during this public celebration. Musicians from the most varied of genres were really impressed with the stage sound. Of course, music is an emotional thing, and the equipment is just a tool to help transfer these emotions to the audience. If you are worrying about technical problems, you can't concentrate on doing a good job. The audience will notice this, and ultimately, it is them that we are here for."
Christian Klann, TLB, technical manager for lighting, lighting technician: "Cameo® Moving Heads deliver rich, deep colours for impressive stage sets. Good lighting can put across the emotion of a song visually. And Cameo®'s consistent colour temperatures can really enhance it. Especially noteworthy is the Auro® Matrix 500, which was a particular highlight for both the audience and the musicians."
Further information at:
www.cameolight.com/produkte/led-moving-heads
www.ld-systems.com/serien/stinger-g2-serie
www.defender-protects.com
www.tonlichtbuehne.de