Press: Creating waves in the license-free duplex gap with the LD Systems U500 Series – products now available
The U500® Series offers True Diversity radio microphones and guitar systems packed with professional features. The wireless systems are available in the frequency ranges 823 – 832 MHz, 863 – 865 MHz, 655 – 679 MHz and 584 – 608 MHz. High dynamic transmission quality and ease of use are further advantages of the German-made series. The German Design Council, the German foundation supporting brands and design, has just nominated the U500® Series for the German Design Award 2017.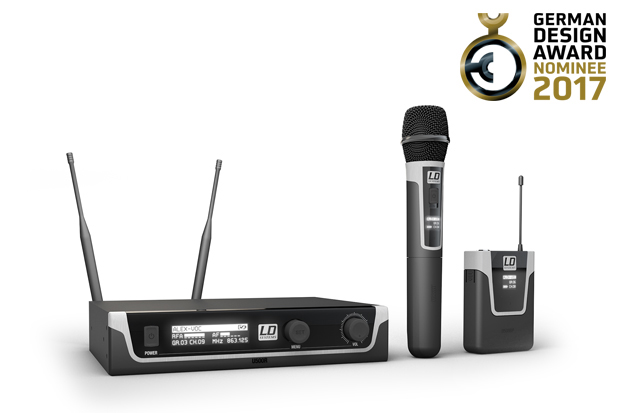 Neu-Anspach, Germany – 16 August 2016 – With automatic channel search, convenient one-touch infrared synchronization and intuitive user control on easily readable OLED displays, the UHF wireless systems in the U500® series are quickly ready for use. Besides dynamic and condenser microphones, there are also U500® wireless systems with headsets, lavalier and clip-on microphones and a version for electric guitars and bass. Exchange capsules with hypercardioid features are available for the handheld transmitters' replaceable heads.
The bodypacks and wireless microphones boast a reliable battery level display and can be given names to allow differentiation when several systems are being used at the same time. A total of 96 channels are available, spread over eight groups with 12 channels each. Up to six systems can be operated at the same time.
The outputs on the single and double receivers can be switched from line level to instrument level. Adjustable transmission strength of up to 30 mW, the effective noise reduction with a pilot tone and the frequency range of 60 Hz to 16 Hz ensure professional transmission quality with high
dynamics and very clear speech quality. Depending on battery type, the handheld transmitters and the bodypack have a battery life of up to 13 hours.
Viktor Wiesner, Product Manager Pro Audio: "With the new LD Systems U500® Series, we are offering a flexible system that meets the needs of various target groups, sounds great, is easy to operate and can be used free of charge."
Click here to download the Press Package (Press release in Word format in 4 languages + pictures)!
Click here to download the product test by Soundcheck (in English and German)!
Further information at:
http://www.ld-systems.com/en/series/u500-series/