Press: Adam Hall Group with even more new audio highlights at Prolight + Sound, hall 3.1, booth E60
Adam Hall Group will present an overview of their extensive portfolio at booth E60 in hall 3.1, not only including their brands LD Systems®, Cameo®, Defender®, Palmer®, Adam Hall® Hardware, Adam Hall® Stage Equipment & Cables, but also their new stands brand Gravity®. Products from exclusive distributor brands will also be exhibited across almost 400 sq. m, from 5 to 8 April.
Adam Hall Group once again has a number of highlights to offer in the professional sound sector – from logical expansions of well-known series to completely new products.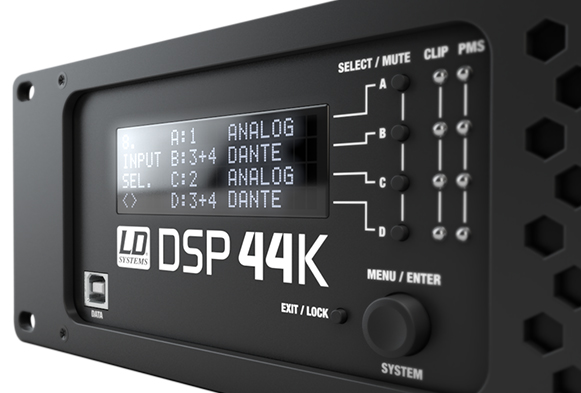 The CURV 500® series, which has won a number of international awards, has been expanded. Established Adam Hall Group brand LD Systems® is exhibiting two new products specially made for the installation sector.
The CURV 500® IAMP is a class D four-channel amplifier with DSP. 4x 150 watts at 8 ohm and 4x 300 watts at 4 ohm provide enough power reserves for a variety of applications. The powerful amp, with the dimensions of 482 x 44 x 350 mm (W x H x D) needs only a 19-inch height unit, transmits a frequency range of 20 Hz to 20 kHz, and offers an eightfold parametric equalizer for every channel. Delay functions of up to 48 m per channel make setting up delay lines possible. The CURV 500® IAMP plays out its strengths as a system amplifier, but is, in principle, perfectly suited to any type of acoustics.
The passive CURV 500® ISUB supports powerful bass. The 10-inch speaker in the bass-reflex cabinet can handle 300 watt RMS @ 4 ohm, and transmits a frequency range of 47 Hz to 150 Hz. The installation subwoofer is available in a white or black housing design, each with a robust 15 mm wooden construction. Compact The dimensions of 610 x 310 x 230 mm (W x H x D), a low weight of 14.5 kilograms and the subtle surface allow the CURV 500® ISUB to be discreetly positioned. The integrated wall mount means that the slim subwoofer can be easily installed anywhere.
Dante spoken here
With the DSP 44 K Poweramp, LD Systems® presents a four-channel amplifier for the live and installation sector. The integrated Dante interface opens the way to easily operated network solutions. Powerful The 4800 watt overall performance (4x 1200 watt @ 4 and 2 ohm, 2x 2400 watt,
– bridged – @ 8 and 4 ohm) and extensive DSP functions with 24 bit 96/48 kHz (FIR and IIR filter, parametric equalizer, crossover, delay, RMS and peak limiter) are further features of this modern power pack. USB and Ethernet interfaces make simple system integration and quick control possible via computer software (Mac and PC). The dimensions are 483 x 89 x 320 mm (W x H x D). This means that the LD Systems® DSP 44 K occupies two height units in the rack. The extensive library of pre-sets is coordinated with speakers from the LD Systems® range, and ensures optimal performance. As well as this, professional corrections of spatial conditions are possible even under difficult conditions. The PFC (Power Factor Correction) power supply unit guarantees steady voltage and helps prevent line disturbances.
Freedom on the stage: LD Systems® U500 wireless system
The True Diversity UHF microphone wireless system U500, with handheld transmitter (dynamic and condenser capsule available) or pocket transmitter, can be identified on the displays of the transmitter and receiver by allocating specific names or designations. This means that frequencies and names/designations can be quickly and easily synchronised via infrared technology. High-contrast OLED displays guarantee easy readability at all times. Automatic channel scanning ensures interference-free operation, and pilot-tone squelch safeguards undisturbed transmission. The transmission power is selectable, between 2, 10 or 30 mW. Hand and pocket transmitters can be adjusted as desired with easy gain settings. As well as XLR outputs for symmetrical operation, the receiver also offers an asymmetrical plug socket. This can be switched over to subsequent devices for line-on instruments (Hi-Z guitar) for optimal adjustment. This expands the range of applications and creates more flexibility. The shock-mounted capsules of the hand transmitter reduce hand noise to a minimum. In simultaneous operation, the LD Systems® U500 wireless system in 800 MHz band (823 to 832 MHz and 863 to 865 MHz) allows the use of up to five systems at the same time. Dynamic and condenser microphone capsules with hypercardioid features are optionally available.
Audac
Audac installation technology presents the modular audio system XMP44. The highly flexible player has four module slots, which can be equipped with any combination of individual modules:
DMP40 – combined module with three reception modes, DAB/DAB+ & FM tuner
FMP40 – voice file player
IMP40 – web streaming client & internet radio
MMP40 – media player & recorder
TMP40 – FM tuner
This freedom to equip allows you to create a system solution that is perfectly customised to your individual requirements, and also impresses with crystal clear audio playback. The 2.8″ TFT display guarantees convenient operation. Even inexperienced users are able to configure the XMP44 quickly and easily. Each module has its own USB interface (a total of four) for the playback or storage of media and voice files, and a speaker is integrated for previewing individual outputs. The system can be controlled and configured via any mobile device, with the free app or web interface, independent of location and time.
Click here to download the Press Package (Press release in Word format in 4 languages + pictures and logos)!
Information about the exhibited brands and products
http://www.ld-systems.com/en/home/
http://www.gravitystands.com/
http://www.cameolight.com/en/home/
http://www.palmer-germany.com/
http://www.adamhall.com/en/Cable.html
http://www.adamhall.com/en/DEFENDER_Cable_Protectors.htm
http://www.adamhall.com/en/AH_Hardware_and_Fittings.htm
http://www.adamhall.com/en/Audac_Installation_Equipment.htm
Information about Adam Hall Group
http://www.adamhall.com/de/Home.html
http://blog.adamhall.com/en/