Press: Impressive and professional lighting design – new Cameo products at Prolight + Sound
Adam Hall Group and Cameo® are once again presenting a variety of lighting products at the Prolight + Sound, Hall 3.1, Stand E60, in Frankfurt am Main. The brand new Auro® series starts out by showing six fascinating and professional moving lights, and the equally new Zenit® series makes professional indoor and outdoor lighting design even more spectacular.
A lot has happened at Cameo® in the field of "atmospheric" effects. There is the new Instant series, with its two professional hazers, which have individually adjustable outputs and fans, as well as automatic self-cleaning. The Instant range also has a highly efficient wind machine with a 180° adjustable outlet nozzle.
Of course there is also the well-established Cameo® overall range to be seen at the trade fair stand.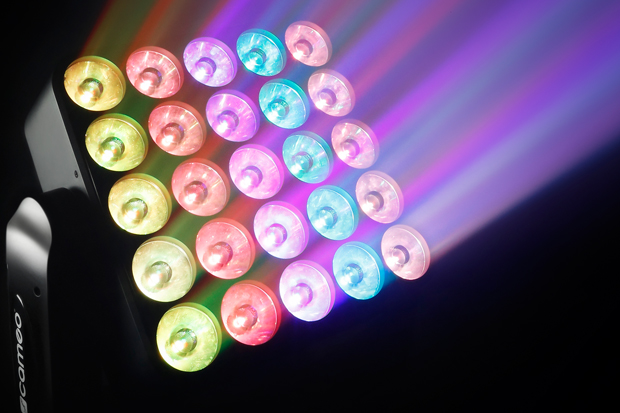 The Zenit® series is being presented to the public for the first time. The passively cooled professional spotlight Zenit® Z 120 with zoom and protection class IP65 is the first product in the new series. The unique feature is the use of a long-lasting 120 W RGBW-COB LED that, in combination with 16 bit technology, makes extremely homogeneous colour mixing with high resolution and perfect dimming behaviour possible. With its variable dispersion area of 7° to 55°, the quiet zoom motor ensures flexible lighting, which ranges from sharp, tightly bundled beams to widely diffused areas. Flicker-free operation thanks to 3,600 Hz repetition rate, colour temperature correction, variable white balance and four high-resolution dimmer curves with variable response behaviours make Zenit® Z 120 an ideal spotlight for TV, theatre and film usage.
Auro – limitless creativity
The Cameo® Auro® series presents its new LED moving heads. Auro® Spot 100, 200 and 400 make fascinating colour, prism and gobo effects possible. Particularly impressive with the Auro® Matrix 500 and Auro® Bar 100 are the pixel mapping effects, in which individual LEDs can be controlled. The LEDs of the Aurobeam 150 can also be individually controlled via "Single Pixel Control".
The Auro® spots operate with ultra-fast 3-phase motors for 630° panning and 235° tilting (230° tilt for the Auro® Spot 400). The differences here lie primarily in the LEDs, which range from 60 watt (Auro® Spot 100), and 100 watt (Auro® Spot 200) to the powerful 180 watt (Auro® Spot 400), and achieve extremely high luminance of up to 190,000 lux. Two gobo wheels, with seven rotating and nine fixed gobos, as well as two colour wheels with a total of twelve intense colours, and warm and cold whites, make the Auro® Spot 400 the frontrunner of these three new LED moving heads.
Auro® Matrix 500 is a high-power LED moving spot with 25 powerful 15 watt LEDs. Ultra-fast 3-phase motors make unlimited pan and tilt movements possible. Extremely quiet and temperature-controlled fans, as well as a 3,600 Hz repetition rate are additional features that make the Auro® Matrix 500 ideal for use in TV, film and video. Auro® Bar 100 has the same features, but a different housing shape due to the row of seven powerful 15 watt LEDs. Both Matrix 500 and Bar 100 can be controlled via ArtNet, ensuring flexible use in large setups.
With the Auro® Beam 150, Cameo® adds a moving head to the range that impresses with its rich colours and professional features. Two high-speed motors move the spotlight quickly on its horizontal and vertical axes and ensure continuous, endless rotation. Seven powerful 15 watt quad LEDs, harmonious RGBW colour mixing, and differentiated, natural white tones with 16 bit resolution are special equipment features. The 12° dispersion angle creates a clearly focused beam, and the repetition rate of 3,600 Hz makes the spotlight ideal for use in TV and video.
All Auro® series moving heads have RDM functionality, a repetition rate of 3,600 Hz and professional PowerCon, 3-pin and 5-pin DMX connections.
No need to worry about bad weather
Cameo® PixBar 600 Pro IP65 is a RDS-enabled lighting strip for outdoor use. Twelve ultra-bright, 12 watt powerful RGBWA+UV LEDs, with nearly limitless colours and a dispersion angle of 22°, give free rein to your creativity. The PixBar 600 Pro IP65 operates completely silently, has a repetition rate of 3,600 Hz and is flicker-free, making it ideal for use in TV, film and video. The lighting strip is delivered with a frost filter and glare protection. These guarantee homogeneous dispersion and glare-free operation.
Instant series
The new Cameo® Instant series is well positioned right from the start, with the two hazers 1500T Pro and 1400 Pro, and the Air 1000 Pro wind machine. Aimed at the professional market, these devices offer all the features essential for satisfying the requirements of equipment professionals in the stage, TV, theatre, fixed installation or nightclub sectors.
Click here to download the Press Package (Press release in Word format in 4 languages + pictures and logos)!
More information
http://www.cameolight.com/en/home/
Information about Adam Hall Group
http://www.adamhall.com/de/Home.html
http://blog.adamhall.com/en/