Cameo Aurobeam 150 – Motion Artist – Review by Tastenwelt Magazine
The manufacturer Cameo has given its Moving Head Aurobeam 150 a promising slogan: "Unlimited Moving Head". Not without reason, as our test shows.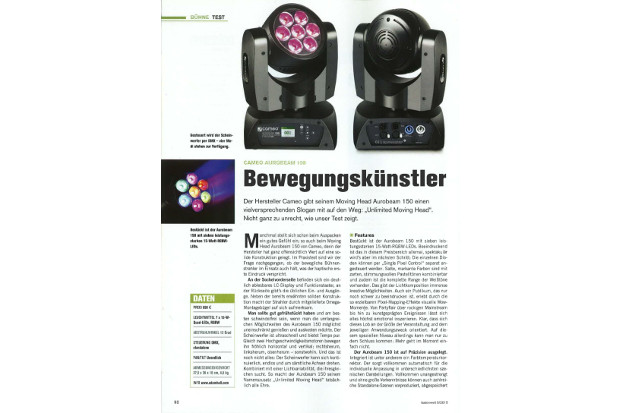 Sometimes you can just feel you're on to something when you start unpacking: this is absolutely the case with the Cameo Moving Head Aurobeam 150, as it's plain to see that the manufacturer has placed a lot of value on solid construction. When we tested it in practice, we wanted to see how the movable stage spotlights held up to the first impression they made when you pick them up. The clearly readable LCD display and function keys are located on the base, and the normal inputs and outputs can be found on the back. Besides the already mentioned solid construction, it's worth mentioning the Omega mounting bracket supplied with the spotlight.
If you want to savour the extensive and almost unlimited possibilities of the Aurobeam 150, then you should have a good breakfast and a head for heights. The spotlight is ultra quick and offers pure speed. Two high-speed motors move it happily around both horizontally and vertically; clockwise, anti-clockwise, up, down, and wherever else you like for that matter. And that's not all: The spotlight can be continuously and endlessly rotated around any axis. This is combined with a light variability that is unparalleled. The Aurobeam 150 gloriously lives up to its tagline, "Unlimited Moving Head".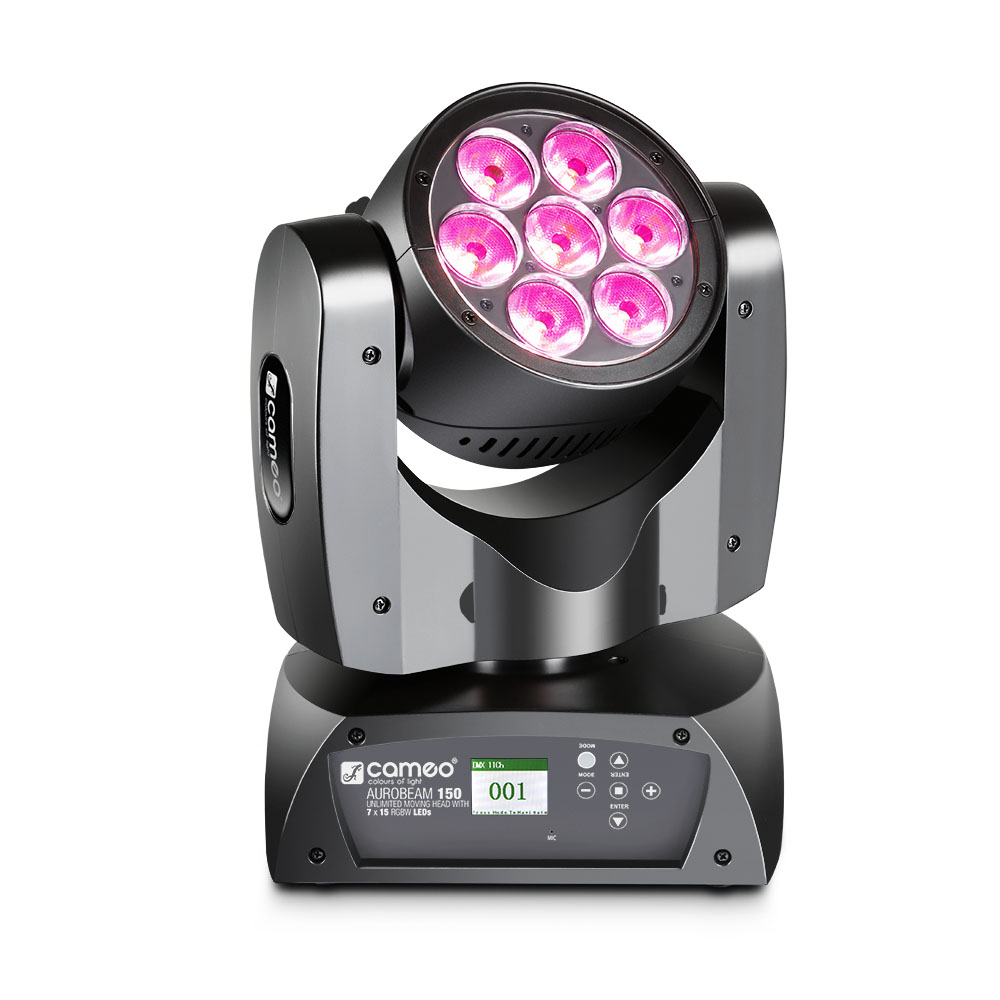 Features
The Aurobeam 150 is equipped with seven powerful 15 watt RGBW LEDs. It's impressive within this price range, but the most alluring characteristic is yet to come: The individual diodes can be controlled separately by using the "Single Pixel Control". Rich, striking colours can be combined with delicate, evocative pastels, as well as the complete range of whites. This means that there are incredible creative possibilities available when it comes to light composition. Even an audience that is simply hard to impress will experience visual wow moments thanks to the achievable pixel mapping effects.
The full range of emotions can be invoked, from a party atmosphere, all the way through to mainstream rock and arty events. It's worth mentioning that this praise only applies to certain sizes of events and certain applications. But when used in this way, there's only one conclusion: The sky's the limit.
The Aurobeam 150 is designed for precision. It has a number of integrated features, such as the colour temperature corrector. This automatically ensures individual customisation in the most diverse scenic representations. Numerous standalone scenes can be pre-produced, saved, and accessed in a totally effortless manner and without needing any prior knowledge. The Aurobeam 150 can be used as a master or a slave and comes with both dimmer and strobe functions.


Control
The spotlights can, of course, be controlled via DMX. There are four modes available. There are also numerous integrated automatic functions and a microphone for sound-to-light operation. The ROM capability of the Aurobeam 150 is handy. The so-called Remote Device Management (RDM) is an extension of the DMX protocol and is used primarily to centrally configure and monitor various DMX devices in the network. A number of professional programs and open-source software have been available to download on the Internet for quite some time.
The user trend is quite clearly heading towards ROMs. That's because it saves time, as wel as being effective, and easy to use. The controllable operating conditions and the clear operational reliability will go down well with sound technicians all over the world who work with current and voltage.
Practice
With a beam angle of 12 degrees, the Cameo Aurobeam 150 is suited to a wide variety of locations. It can be used well in small to medium sized clubs. Thanks to its compactness and low weight, it is ideal for both ambitious entertainers or Party DJs at a family get-together, as well as Light Jockeys in large clubs or medium-sized rock'n'roll stages. It can be positioned in a number of different ways, meaning it can be easily tailored to the event. It can either be rigged up as an illuminating sidefill on the stage floor, or attached to a truss, depending on how it is going to be used.
And last but not least: When it comes to the TV and video sector, lighting equipment must have special properties so that it can cope with out-of-focus sequences, contradicitons, or even image interruptions on digital cameras. The Cameo Aurobeam 150 is suited to being used in this way due to its 3,600 Hz repetition rate. The low noise level is especially important for both filming as well as being used on stage, especially in smaller locations.
Each user should be aware that electrical power has to be cooled, which is mostly not possible without producing sound. The noise test performed on the Aurobeam 150 was almost silent. The fan is temperature-controlled and very quiet.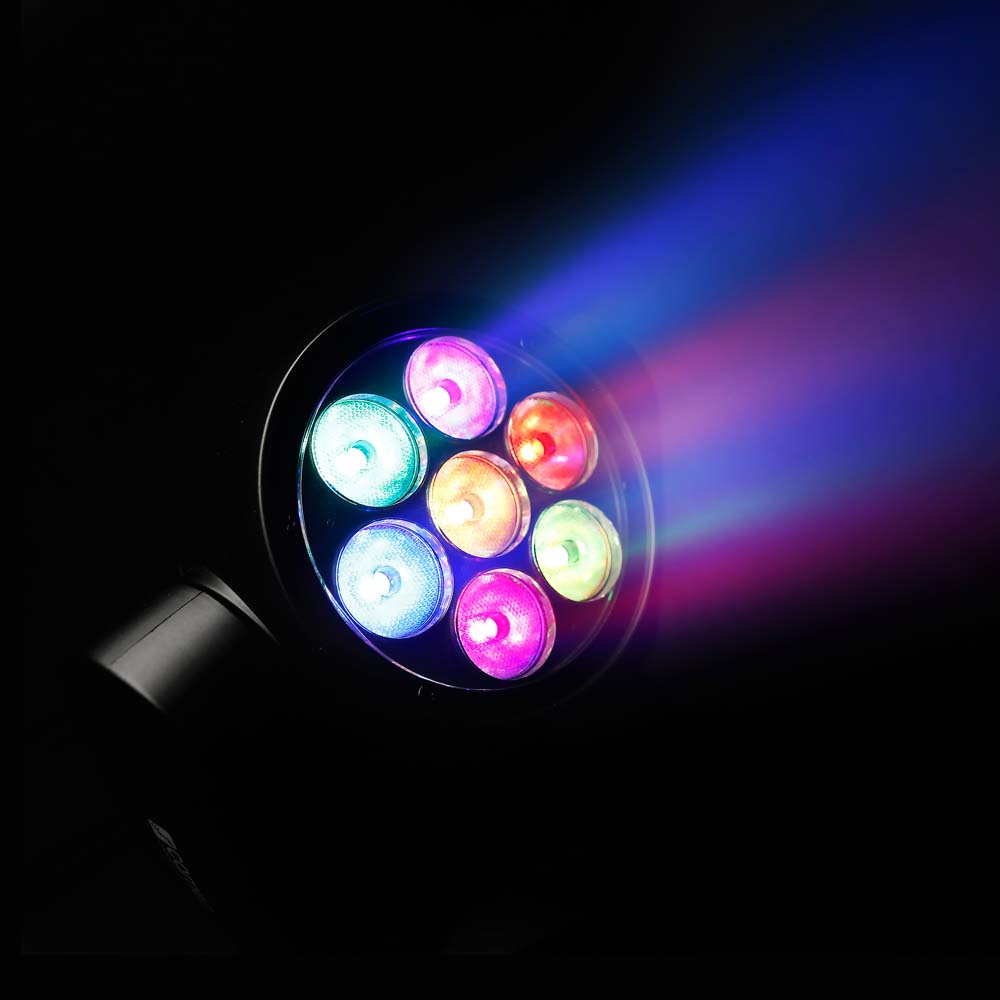 Conclusion
The Cameo Aurobeam 150 is a professionally applicable tool for moving lights on stage. Functionally, the device is on the cutting edge of technology, it is also well made and pleasingly quiet. For a fair price, Cameo provides a strong and reliable performance.
Rating
+ Powerful 15 watt quad LEDs
+ Rich colours and differentiated pastel shades
+ Natural white gradations
+ Low noise level
+ High swivelling speeds
+ Unlimited pan and tilt
+ Fully ROM capable
+ 4 adjustable dimmer curves
+ Very good workmanship
____________________________________
Source: Tastenwelt Magazine, Germany, May 2015: http://www.tastenwelt.de/ Author: Jörn Petersen
Learn more about the Cameo Aurobeam 150 here:
http://www.cameolight.com/en/products/led-moving-heads/aurobeam-150-7-x-15-w-rgbw-led-unlimited-moving-head/