Press: Adam Hall Group wins four Design Awards
iF DESIGN AWARD 2016 – the jury has decided: From 19 to 21 January 2016, a 58-member jury of international experts met in Shed 52 at Hamburg's harbor to pick the winners of the iF DESIGN AWARD 2016. The results are now final:
Adam Hall Group is now a four-time winner of the iF Design AWARD for its brands LD Systems® and Gravity®!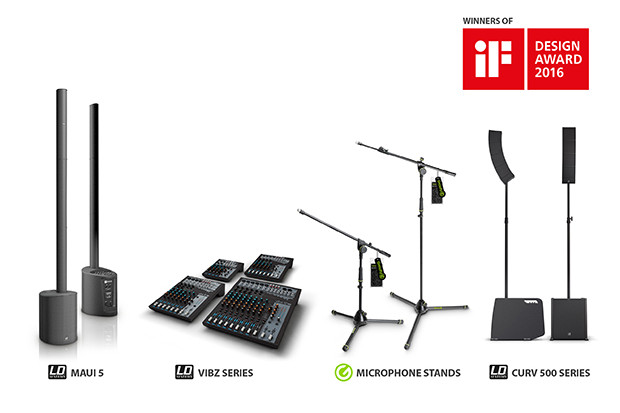 The iF DESIGN AWARD has been an internationally recognized mark of exceptional design for over 60 years. The iF brand is an internationally established symbol of outstanding design quality. The iF DESIGN AWARD is one of the world's most significant design prizes.
Adam Hall Group is now pleased to announce that the LD Systems® brand with its products CURV 500®, Maui 5, VIBZ series (audio mixers) and Gravity® (microphone stands) has won the renowned iF DESIGN AWARD 2016 for exceptional design.
There was a high number of applicants: the international, top-level jury of experts had to choose out of over 5,000 submissions from 53 countries whom to award the sought-after seal of quality to. The following LD Systems® products won in their respective disciplines: CURV 500®, portable array systems category; Maui 5, portable column PA systems category; VIBZ series, audio mixer category; the Gravity® brand also won an award in the microphone stands category.
Adam Hall Group CEO Alexander Pietschmann: "Innovative design should give the product a voice and reflect its quality and functionality. We are pleased that the jury also sees it like this."
Our winners in the iF design app
Our outstanding products can be viewed in the iF Design app from 26 February, the day of the awards ceremony. The app is a source of inspiration, documentation, showcase and representation of current design. It has been downloaded 50,000 times since it was launched in 2014.
(Download for free in the Apple App Store and Google Play Store)
iF design exhibition in Hamburg
Our award winners will also be present at one of the three temporary exhibitions at the iF design exhibition Hamburg. This permanent exhibition is located right in the heart of the HafenCity – Hamburg's hotspot for design and architecture enthusiasts.
Click here to download the Press Package (Press release in Word format in 4 languages + pictures and logos)!
Product information
http://www.ld-systems.com/en/series/curv-500-series/
http://www.ld-systems.com/en/series/maui-series/maui-5-ultra-portable-column-pa-system-with-mixer/
http://www.ld-systems.com/en/series/vibz-series/
http://www.gravitystands.com/
Information on Adam Hall Group
http://www.adamhall.com/de/Home.html
http://blog.adamhall.com/en/