Press: LD Systems presents its first power amp with an integrated Dante™ interface at the ISE in Amsterdam
The LD Systems® DSP 44 K ProAudio power amp is the first product to highlight the partnership between Adam Hall Group and Audinate, the developer of the Dante™ audio and control network solution. This impressive power amp will be exhibited alongside other new products on the Adam Hall Group stand (7-S190) at the Integrated System Europe (ISE) trade fair from 9 to 12 February in Amsterdam.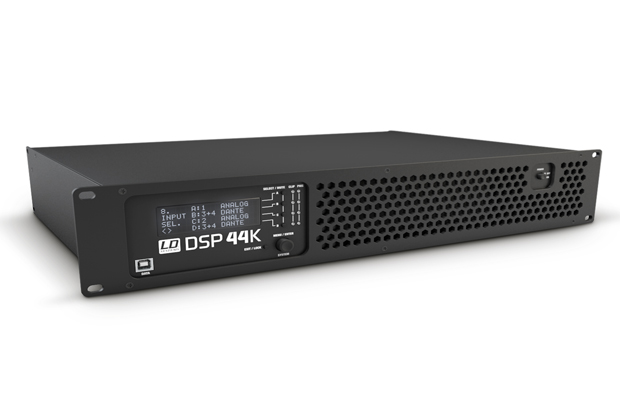 Designed for the professional audio market, the LD Systems® DSP 44 K power amp was developed in cooperation with Ram Audio, whose products are sold in many countries by Adam Hall Group. This new powerhouse features a fully-integrated DANTE™ network, a high-performance DSP and controllability via USB and Ethernet using external control PC software.
The top-of-the-line power amp can be operated as a two or four-channel device. An impressive four kilowatts provide plenty of power reserves as 4 x 1,000 watts at 4 or 2 ohms or 2 x 2,000 watts (bridge mode) at 8 or 4 ohms. Maximum operational reliability is also guaranteed at 2 ohms. Comprehensive safety features permanently protect the power amps and the system, even in tough situations. FIR/IIR filtering, EQs and crossovers, as well as delay functions, are all part of the overall technology.
In designing the LD Systems® DSP 44 K, the developers focussed on making it optimally integrable, including when complex requirements exist in relation to the audio and control technology. An extensive preset library is available for LD Systems® speakers. This not only optimally protects the premium speaker systems, but also ensures optimum adjustment in line with room acoustics and premium functionality.
Tom Mikus, Adam Hall Group Global Integrated Systems Director:
"With the LD Systems® DSP 44 K, Adam Hall Group once again opens a new chapter in audio technology. We have already reached a far broader customer base in the expert professional sector with other models, including the award-winning CURV500® series. The partnership with DANTE™ also helps us develop products and solutions for the demanding professional market that are not only increasingly intuitive to use but also more complex."
Click here to download the Press Package (Press release in Word format in 4 languages + pictures and logos)!
Further information can be found online at:
http://www.ld-systems.com/en/home/
http://www.adamhall.com/de/Home.html
http://blog.adamhall.com/en/