Press: Adam Hall Group at ISE Amsterdam, Booth 7-S190
The Integrated Systems Europe (ISE) exhibition will open its doors in Amsterdam between 9th and 12th February. Professional AV system integrators, professional rental companies and electronic integration professionals who work in commercial and residential buildings will visit the ISE, held once a year in the Netherlands, to learn about new products and trends. Adam Hall Group will present its innovations and highlights in audio and lighting equipment at its 72 square metre booth 7-S190.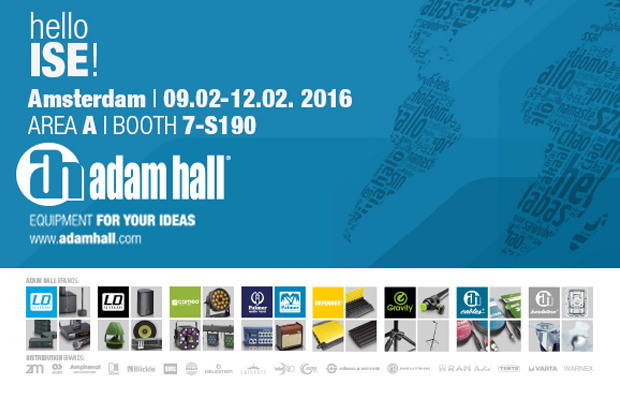 Products and accessories will be on display from across the LD Systems®, Palmer® Pro, Cameo®, Defender®, Ram Audio® brands, as well as the brand-new, modern Adam Hall Group brand of stands, Gravity®.
A special highlight in the brand-new CURV 500® series (LD Systems®) is the CURV 500® AV set, which will particularly appeal to ISE visitor target groups due to its flexible expansion options. In addition to winning the "Media Audio Gear of the Year 2015" prize, the CURV 500® series has also recently won the "German Design Award 2016".
Further draws to the audio area will include products by LD Systems®, such as the Maui 5 built-in and wall-mounted speakers in the Contractor® series, and the AM 8 matrix mixer or zone mixer for permanent installations.
The central demo area will give visitors the opportunity to watch demonstrations. This is where visitors will have the opportunity to obtain first-hand information on the qualities and special characteristics of the audio products.
This year ISE visitors will also once again have the chance to experience innovative LED lighting products from the Cameo® brand portfolio in the professional lighting equipment category. Special attention should be drawn to the new Cameo® Kling® products, which, thanks to their flicker-free display, are not only suited to TV and video, but which also make very special effects and lighting installations possible.
Tom Mikus, Global Integrated Systems Director: "The ISE is one of the most important events for Adam Hall Group for the professional integration of sound, light and control technology. We are looking forward to intensive dialogues with our customers and planners, but also to being able to present our innovative solutions to a highly professional audience. With our recently created Integrated Systems Division, we are optimally prepared for the tasks ahead and for providing even better support options."
The Adam Hall Group team is looking forward to welcoming many visitors to booth 7-S190 and will be happy to provide help and advice to those who visit.
Click here to download the Press Package (Press release in Word format in 4 languages + pictures and logos)!
Information about the exhibited brands
http://www.ld-systems.com/en/home/
http://www.gravitystands.com/
http://www.palmer-germany.com/pro/en.htm
http://www.adamhall.com/en/RAM_Audio.htm
http://www.adamhall.com/en/Cable_Protectors.html
http://www.cameolight.com/en/home/
Information on Adam Hall Group
http://www.adamhall.com/de/Home.html
http://blog.adamhall.com/en/