Press: Tube sound without tubes – Palmer Macht 402 Stereo Power Amplifier now available
The Palmer MACHT 402 is a powerful 19″ stereo power amplifier that has been designed specifically for use with guitars. It provides 200 watts of power per channel (4 ohms) and 400 watts bridged (8 ohms) and works with virtually any guitar cabinet. This high-performance unit with class D design for guitar preamps is suitable for small amplifiers, modellers and even effects pedals.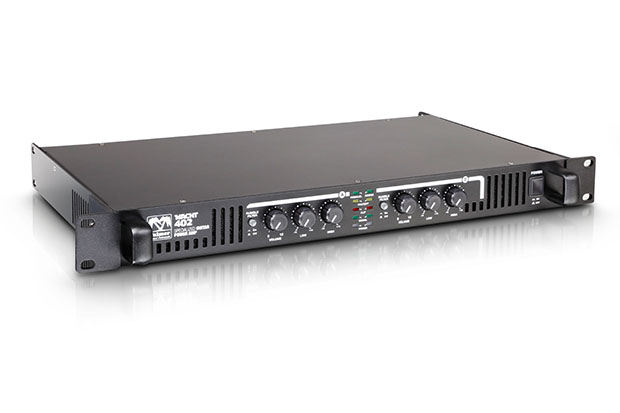 In its development, great emphasis was placed on an effective equalizer circuit. It is specially designed for use with electric guitars. The Hi and Low rotary encoders allow for far-reaching sound variations and adjustment of numerous guitar sounds. So the real feel of a tube amplifier is immediately present.
The input sensitivity can be adjusted with a three-way switch (0.68 V / 1.4 V / 1.2 V). Therefore, even conventional floor pedals can be used to control the unit. Locking XLR inputs with balanced or symmetrical 6.3 mm jack inputs are available as input options. Speakers with a minimum total impedance of 4 ohms can be connected via Speakon-compatible output sockets or 6.3 mm jack outputs.
Thanks to switchable rumble filters (Lowcut) at 40 Hz, unnecessary overloading of the speakers with low frequencies can be effectively prevented. A more compact guitar sound without fuzzy bass is also delivered through the filters, especially at high volumes.
Further features of the Palmer Macht 402 are a solid metal housing with highly efficient switching power supply and effective cooling via a low-noise fan. Protection circuits against overvoltage and DC, short circuits and overheating. LED displays for Clip, Protect, Power, Mode (bridge/parallel) and signal provide information on the operating status. Ground loops can be prevented with the ground lift switch and the limiter ensures overload-free music enjoyment.
Additional information is available at:
http://www.palmer-germany.com/mi/en/MACHT-402-19-Stereo-Power-Amp-for-Guitar-PMACHT402.htm
http://blog.adamhall.com/en/2015/11/19/press-excellent-curv-500-series-now-available/