LD Systems Stinger Mix 6 A G2 / Mix 6 G2 – Review by KR home-studio magazine
LD Systems has a comprehensive range of mobile sound systems at competitive prices, with systems ranging from 400 to 2,400 euros, all at an amazing price-to-performance ratio. We tested two medium-height sound systems, and this is our review of the Stinger Mix 6 G2 with additional passive loudspeakers.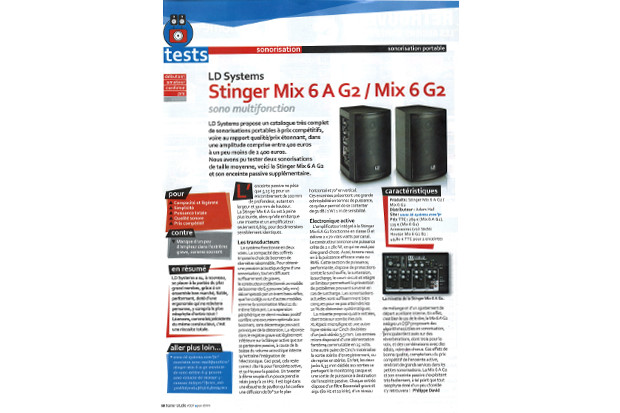 The passive loudspeaker weighs just 5.25 kg and measures 200 mm in width and depth and 320 mm in height. The Stinger Mix 6 A G2 is only a little heavier at 6.8 kg, despite also including both a mixer and an amplifier, and has almost identical measurements.
Baffle
This is a two-way loudspeaker. The compactness of the housing means that only bass speakers that are smaller in diameter can be used. In order to achieve a sound pressure level that is worthy of a sound system and one that produces sufficient bass, the manufacturer has opted for a 6.5 inch woofer (165 mm) with a bass reflex port (as previously seen in other models from the same manufacturer, such as the Maui 11 sound system).
The convex curvature, thanks to the edge mounting, ensures optimal dispersion of the bass speaker, without centring that can lead to interference. The Stinger active speaker's response to low registers is slightly slower than the passive speaker. This is due to the decline in internal acoustic volume caused by the integrated electronics. The following measurements apply: 80 Hz for the active speaker and 50 Hz for the passive speaker. A one-inch tweeter takes the range up to 20 kHz. It is located in a funnel which enables a horizontal dispersion angle of 80° and a vertical dispersion angle of 70°.
Based on their performance, these speakers are incredibly reliable, with a sensitivity level of 91 dB at 1 W at 1 m.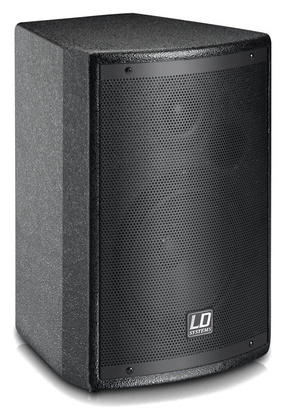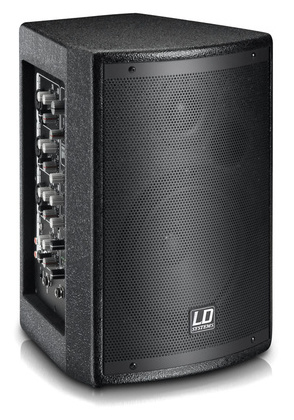 Active electronics
The integrated amplifier in the Stinger Mix 6 A G2 is Class D and has 2 x 70 watts of RMS power per channel.
This component features safeguards against overheating, overvoltage, overloading and short circuiting, as well as a built-in limiter, which prevents problems caused by overloading. The current sound systems have been designed so that they do not exceed 10% systematic distortion.
The mixer has four inputs. Three are a combination of Neutrik XLR/micro-jacks/lines. The fourth is a stereo line RCA connector with a 3.5 mm jack. The mic inputs include a switchable phantom power supply of 15 volts.
Another pair of RCA connectors allows you to start up or resume in stereo. You can connect a pair of headphones or a passive speaker to the two 6.35 mm jack sockets for monitoring purposes. Each input has a shelving filter for treble and bass controls (80 Hz and 12 kHz), level regulation, and a way to mange the internal auxiliary output.
It must also be noted that a DSP is integrated into the Mix 6 A G2, which provides useful sound algorithms, of which the reverb is the most significant, and three of which focus on vocals, as well as combinations with delays, and even a chorus. These high-quality effects, especially given the low price of the active speaker, make sure that the small sound system provides optimal performance. The Mix 6 A G2 and its passive loudspeakers are easy to use and can be easily operated by any newbie who knows a little something about music!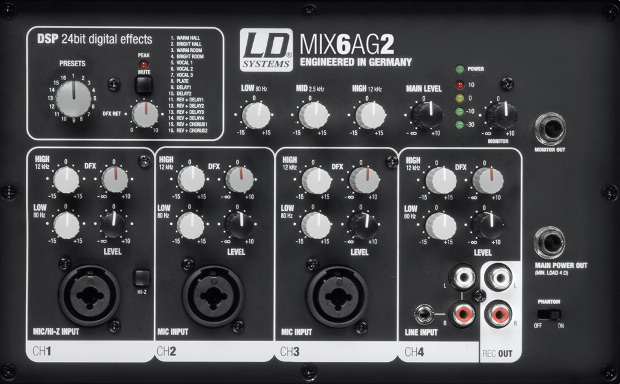 Pros
+ Compact and lightweight
+ user-friendly
+ total output
+ sound quality
+ competitive price
Cons
– Lacking in amplification at extreme depths, which is often the case
Summary
LD Systems has again managed to create a product that will appeal to a broad customer base, thanks to a cheap, reliable, and high-performance system that can be operated by anyone, even by absolute newbies! This product is already a huge success, just like previous models by this manufacturer.
___________________________________________
Source: KR home-studio magazine, France, http://www.kr-homestudio.fr/
Author: Philippe David
Further information about this product can be found at the following link:
http://www.ld-systems.com/en/series/stinger-g2-series/stinger-mix-6-a-g2-6-5-inch-active-pa-speaker-with-integrated-4-channel-mixer/
http://www.ld-systems.com/en/series/stinger-g2-series/stinger-mix-6-g2-6-5-inch-pa-speaker-passive/