Palmer Pedalbay 60 – Pedalboard – Review in Meet Music magazine
The market for affordable and easily transportable pedalboards, and by that we mean a system that is placed on the floor and which can accommodate a certain number of pedals, has previously been dominated by one brand. Palmer have decided it's time for a change! That's why the company is introducing a pedalboard onto the market that is sturdy, inexpensive, and, in particular, one that can be adapted to different needs. Sounds great …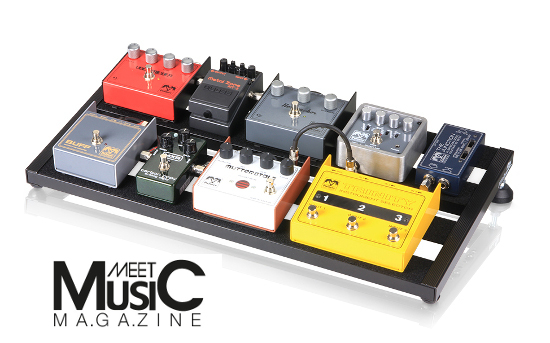 Let's start with the construction quality: this is undeniably excellent. The system comprises of an aluminium frame with underside and adjustable feet. The pedalboard tilt angle can be adjusted to meet user requirements. The Pedalbay 60 is fitted with a Velcro strip (with a "soft" surface) and several Velcro fasteners (with "barbs") so that you can attach the system to your pedals.
The frame of the Pedalbay 60 can hold 10-12 standard format pedals (i.e. classic pedals by Boss and MXR). The various "rails" incorporated into the frame have been installed in accordance with the above standard. The guiding principle employed was "adaptability", which is why the rails can also be installed at different intervals.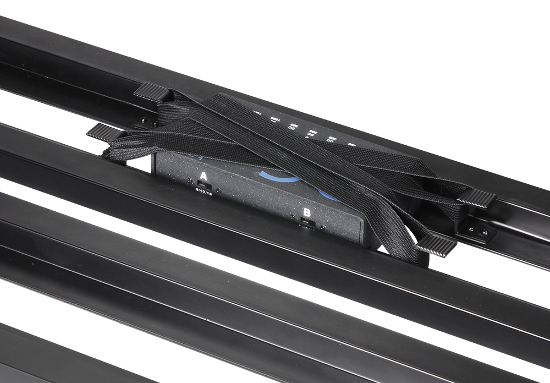 There are several screws included on the underside of the Pedalbay 60, which can be unscrewed and screwed back on in other positions using the Allen key included. However, you probably won't need to do so: the rails have been installed in a manner that you can easily attach all kinds of pedals.
Space for the power supply is also located on the underside of the Pedalbay 60: the space is large enough to accommodate a number of different transformers, which is not something the "other brand" can do, as it focuses on a single manufacturer. The power transformer is attached with two wide rubber bands, which makes it quick and easy to install, regardless of the shape of the transformer.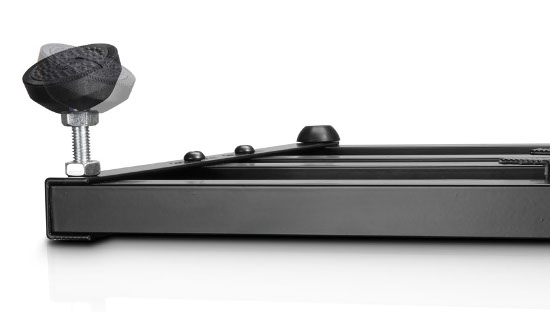 Given the construction quality, the numerous adaptability options, and the potential use of different power transformers, there is only one conclusion: The Palmer Pedalbay 60 is bound to be a classic made from hardened steel, or even "hardened aluminium"! And what's better: you can buy the Pedalbay 60 on the Palmer website for just 119 euros! After a quick scan, it seems that net prices on other websites are mostly under 100 euros. And included in the price as a special bonus is a sturdy carrying case with a shoulder strap, meaning that you can take your brand new pedalboard with you everywhere! All that for this price? Hard to believe …
___________________________________________
Source:  Meet Music magazine, 02/2015
Click on the following link to read further information about this product:
http://www.palmer-germany.com/mi/en/Products/Pedalboards-and-Accessories/PEDALBAY-60-Lightweight-variable-Pedalboard-with-Protective-Softcase-60cm-PPEDALBAY60.htm