Cameo Moonflower HP test report – test report by Delamar.de
Find out from the Cameo Moonflower HP test report why this LED spotlight offers a modern, easy to operate and inexpensive effect light. How does it perform in smaller clubs and concerts? Discover everything about its construction, operation, effects and, of course, light quality.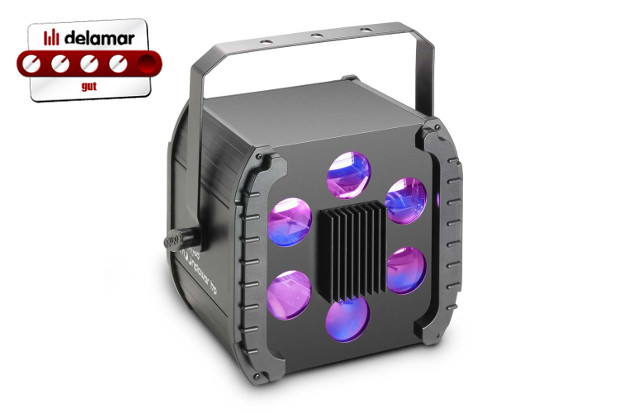 What is it? The Cameo Moonflower HP is an effect spotlight with an integrated 32-watt RGBW LED. From six lenses on the front panel, the light emits up to 150 bundled rays – red, green, blue and white. The space-saturating light has features ranging from alternating colour and rotational effects through to strobe lighting. These can be controlled via a DMX512 and/or in automatic and sound-to-light modes.
Equipment and construction
First impressions when unpacking the compact LED spotlight are: Wow, it's light! They are just 3 kg, so even the smallest of rigging cross bars will cope with the load. Despite their light weight, the black metal housing of the spotlight appears to give it the robustness and stability to cope with the rough and tumble of day-to-day life on the road.
A metal bracket on the top is attached to the two side panels for fixing. The bracket is moveable and can serve as a floor stand for angled positioning – but you need to take care against unintended knocks because the Moonflower HP slips easily due to the the lack of rubberized linings at the appropriate points.
The light generated by the RGBW LED is emitted through six glass lenses arranged in a circle to produce the Derby effect so popular on concert stages and in clubs. Cooling fins are mounted between the lenses. But we can state here that you need not worry at all about overheating – the LED spotlight stayed comfortably cool even after several hours of testing.
The rear panel accommodates the XLR connections for the DMX In and Out (to transmit the DMX signal to other Moonflower HP units), the power supply for Power In and Out, four keys for navigating the menu and a 4-digit LED display.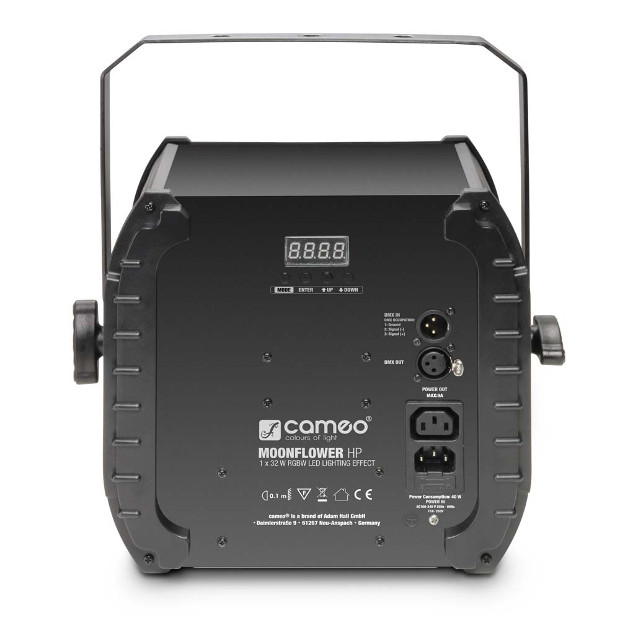 Please note that the DMX connections are supplied only as 3-pin connectors. In practice, the XLR microphone cables are more often used for DMX transmission, but the official DMX512 standard functions with 5-pin XLR connectors, whose wave impedance prevents signal reflections and interference during DMX transmission. Unfortunately, delivery does not include a DMX cable.
Operation:
Operating the Cameo Moonflower HP is very simple. You can select different modes on the unit itself: 2 or 5 channel DMX-operation and the the auto, slave and music modes. To use all the spotlight's features, you need a separate DMX controller or DMX software including a DMX interface.
In automatic mode, different colour and rotational patterns can be played, whose speed you can control via the operating keys. This is ideal, for example, to create mood-making lighting for exhibitions or at the entrances to clubs and discos.
If alternating colours and light-ray movements are to be coordinated with music, you can use the music-mode option. The spotlight then functions via its integrated microphone according to bass frequencies. Microphone sensitivity can be set using the operating keys. This functioned well in the test – the best results were, of course, provided by groove-based music styles with more emphasis on bass and snare drums.
This leaves the slave mode for serially connecting multiple units via DMX cabling. All slave units follow the master to produce a synchronous light show.
Things get really interesting when you are able to access the features and effects individually. A maximum of five DMX channels can be assigned, so a basic DMX controller for under €50 is sufficient. The Moonflower HP can operate in 2 or 5 channel mode. In 2-channel mode, you can only switch between automatic and music, or change their speed and/or sensitivity. In 5-channel mode you can access colours, the rotation of the internal mirror, the strobe, light intensity and the speed of each effect.
Colours & effects in the Cameo Moonflower HP test report:
Let's begin with the colours. Using the installed RGBW LED, you can generate green, blue and white light – either individually, in different combinations or as automatically alternating colours. You can control all of this via a single DMX channel. If you use a programmable DMX controller, you can produce mood-making, time-set alternating colours.
Movement comes into play with DMX channel 2. You use it to control the mirror's rotation so that the individual light rays go in a clockwise or counter clockwise direction at adjustable speeds. By combining alternating colours, it is evident that Cameo have not done things by half for their Moonflower HP. Even at high rotation speeds, the colours retained their outlines. The spotlight also reacted sensitively, linearly and jolt-free to changes in the DMX data.
The strobe is a classic among light effects (especially in discos) which generates flashing light at regular intervals. Essential for high-quality strobe effects is clearly demarcated, high-speed flashing to create the staccato effect of movement through the quick sequencing of individual images. Good if not perfect results could be achieved when compared, not entirely fairly, to dedicated strobes systems.
The general intensity of light (i.e. the brightness of all the effects) is regulated by the fourth DMX channel. The dimmer works in a perfectly clean manner and allows you, as a lighting designer, to both create a linear fade-out as well as precision on/off switching to speech.
Pluses:
+ Easy operation
+ Strong and cleanly alternating colours
+ Low weight
+ Virtually no heat generation
+ Excellent value for money
Minuses:
– Only a 3-pin DMX
– Slips easily on floors
Overview Cameo:
Moonflower HP test report conclusion: "This inexpensive LED effect spotlight impresses with good light performance and low-heat build-up."
Key features:
– LED effect light from the Moonflower series
– Colour spectrum: RGBW
– LED (4 in 1) with 32 watts
– DMX inputs/outputs (XLR)
– DMX modes: 2 or 5 channel
– Automatic and music modes
– Power consumption: 40 W
– Black metal housing
– Convection cooled
– Dimensions: 250 x 240 x 177 mm
– Weight: 3 kg
– Intended for: Organizers of smaller events.
___________________________________________
Source: Delamar.de, 02/2015, Deutschland: http://www.delamar.de/test/cameo-moonflower-hp-testbericht/
Author: Alexander Cevolani
Learn more about Cameo Moonflower here:
http://www.cameolight.com/en/products/led-light-effects/moonflower-hp-32-w-4-in-1-rgbw-highpower-led-effect/