Your friend and helper – Palmer presents practical innovations for Guitar and Studio
For most manufacturers, the Musikmesse in Frankfurt still represents the opportunity to present their latest innovations, even in the Internet age. Therefore, there were also lots of brand new and updated devices on show at the Palmer stand. Robin Henlich from Palmer presented a selection of the main models for us.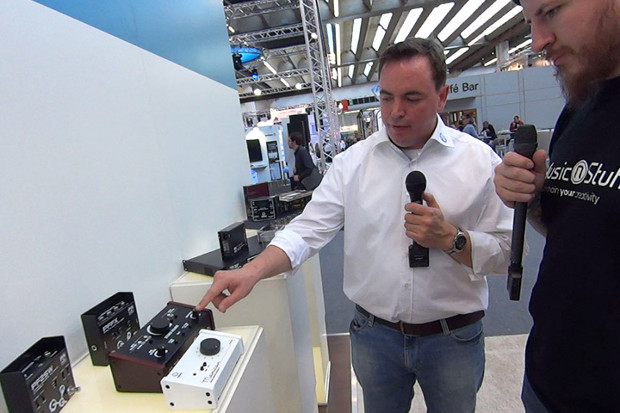 A lot of practical tools for guitar players and recorders could be seen at the Palmer stand at the Musikmesse. For guitarists in need of whopping amplifier power, be it to reinforce their preamp or to turn a little amp into something really loud – there is now the Palmer Macht 402 Poweramp. On only 1U in the 19″ format, this powerhouse offers a grunty 400 watts (or 2 x 200 watts stereo) and makes your guitar cabinet really fire up.
Palmer's pocket amplifier, the Pocket Amp is now available in version MK 2. Here, special attention was paid to making the Preamp more flexible and also to produce really great Clean and Crunch sounds. And that was achieved while greatly reducing background noise. Also, the multiple power supply PWT05 MK 2 will soon be available in a revised version. This convinces especially with higher and more stable output – even in parallel use of all outputs. For this purpose, the housing was adapted to perfectly fit the Palmer pedalboards.
The new foot switches are also very useful. The Palmer PF2SW was optimised to be able to switch two functions to any amp with switch sockets; regardless of how the respective amps operate. In addition, it will be possible to adjust the pedal so that you may activate two functions at the same time with one tap of the foot. The Palmer PFFX, however, is used to provide an effects loop to an amplifier that is without one. So you can switch an effects setup in or out of the signal path with only one tap of the foot.
For home studios and fans of recording, Palmer also has news for you. The external volume controller Monicon is now available as a limited edition in snow white, in time for Prolight+Sound. The proven passive circuit, which does not affect the sound in any way, has been retained. For those who prefer to work with two pairs of speakers, there is now the Palmer Monicon L. It is also equipped with a headphone amp and AUX input, which can be controlled separately; the device also features a PFL function and bright LED displays. The latter requires a power supply; otherwise the controller operates completely passively, just like its little brother.
Enough words for now. Click here for the product video:
_________________________________________
Source: musicnstuff, April 2015, Germany: http://www.musicnstuff.de/guitar-news/article/musikmesse-2015-palmer-stellt-praktische-neuheiten-fuer-gitarre-und-studio-vor.html
For more information on Palmer:
http://www.palmer-germany.com/