Cameo Superfly HP – A review by delamar.de
Derby spotlights provide among the best lighting effects on stage and in nightclubs – the cost-effective Cameo Superfly HP is fresh on the market. Would you like a test review? Well then, read on to find out everything you need to know about the performance of this LED effect light.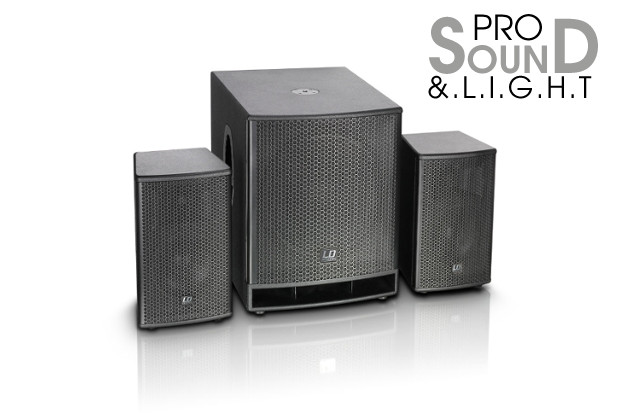 What can you expect?
The Cameo Superfly HP is an LED effect light in the "Derby effect" category. The light is reflected and dispersed by multiple rotating mirrors and lenses, so that light rays are generated throughout the room. Five 10 Watt LEDs in red, green, blue, white and amber (yellow) are provided. Note, however, that you cannot make any individual colour mixing, because these are not RGBWA LEDs, but rather five LEDs in a RGBWA arrangement. The control is done via two or five DMX channels. If that's too complicated for you, you can use the pre-set automatic programs or the Sound-to-Light mode.
Craftsmanship & Equipment
While the Superfly HP has a few small gaps, it is consistently well manufactured and is sufficiently rugged due to its metal housing. Derby effects are always mounted on trusses or poles, to illuminate the stage or dance floor from above with rotating light beams. The universal mounting bracket is fixed on the housing and can be positioned using handy rotary screws; there is also a safety ring. On the back panel, you will find the power in and output, the DMX connections as well as the menu control including the four-digit display: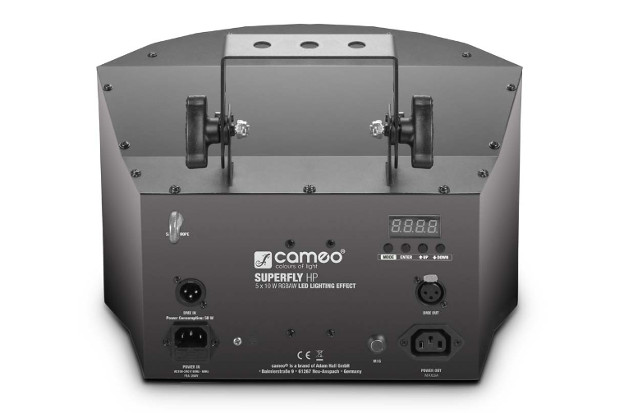 Features & Practice
If the sound control works well or no music coordinated light show is needed, you can usually run Derby effects very efficiently using the automatic modes. Accordingly, there should be a range of pre-programmed shows. The device scores well in this respect, although I would have liked a little more variety.
Of course, those wanting to program their own light show, would choose the 5-channel DMX mode. Here, you can control the colours and a total of 30 colour combinations, the speed of the rotating mirrors and colour changes, the strobe and the brightness of the entire Derby effect. Thus, you can achieve quite a bit – the colour, beam quality and brightness of the Superfly HP are quite convincing. With its five 10 Watt LEDs, it can also assert itself on small to medium-sized stages and dance floors.
Conclusion
In the Cameo Superfly HP Test Review Derby effects have only one task: rotate impressive light beams through space. This can be achieved effortlessly by the Cameo Superfly HP, with good to very good light and colour quality. With the RGBWA arrangement, you also have sufficient colour combinations at your disposal, so as never to endure a dull moment.
The universal mounting bracket is also a potential advantage in everyday event organisation. A handful of additional automatic programs would be desirable. Ultimately, the device compensates a lot for that in terms of value for money, and will be a common feature on many trusses in the future.
Key Features:
– Derby effect
– 5 LEDs of 10 watts each in RGBWA arrangement
– Beam Angle: 150°
– DMX with 2 or 5 channels
– Modes: Automatic, Music, Slave
– Dimensions (without bracket): 360 x 225 x 300 mm
– Weight: 6.1 kg
– Designed for: Equipment providers for small and medium-sized events.
__________________________________________
Source: Delamar.de, Germany, April 2015: http://www.delamar.de/test/cameo-superfly-hp-testbericht/
Author: Alexander Cevolani
Learn everything you need to know about the Cameo Superfly HP:
http://www.cameolight.com/en/products/led-light-effects/superfly-hp-5-x-10-watt-rgbwa-highpower-led-effect/