MAUI 44 by LD Systems – PA column plus subwoofer – Review by soundlightup.com
The high-end MAUI 44 from the MAUI series by LD Systems is a PA system consisting of a subwoofer with integrated signal processing and amplifiers and a PA column made up of two elements, and is now available in stores.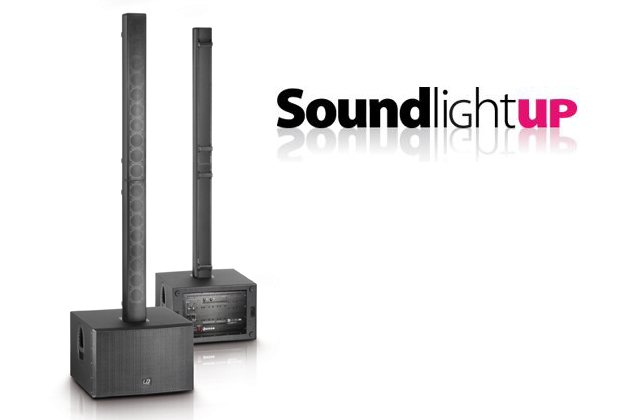 The depths are reproduced via an acoustic bandpass subwoofer, which is equipped with two 12-inch bass speakers with neodymium magnets. There are a total of 16 full-range speakers measuring 3.5 inches each, as well as two Celestion 1-inch tweeters with waveguides that are integrated into the second element.
The column and subwoofer can be wirelessly connected to each other using connector strips that have been developed specifically for this purpose, or by using guide pins, both of which will ensure correct and safe installation of the MAUI 44 system. The aluminium column housing with integrated cooling fins prevents the sound transducer from overheating, as the yoke comes into contact with heat. The subwoofer's built-in amplifier has an effective value of 1,600 W spread over two Hypex UCD 400 modules for the depths and four 200 W modules for the column, providing a peak level of 129 dB SPL (121 dB continuous).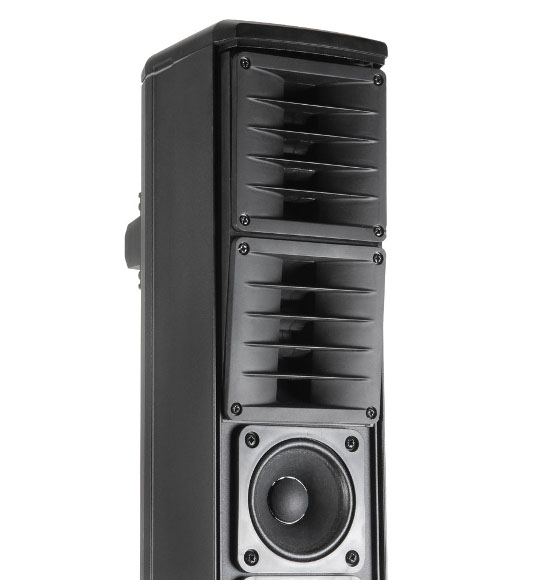 The integrated DSP operates at a frequency of 48 kHz (24-bit A/D and D/A conversion) and is fully responsible for the signal processing: multiband limiter, EQ, crossover, dynamics (compressor), and protective system (against short circuiting, overcurrenting, and overvoltages). The frequency response is between 40 Hz and 20 kHz with a horizontal sound field coverage of 120°.
When the depths need to be amplified, the additional MAUI 44 SE subwoofer can be added to the system, and it can be operated either in slave mode, in which case it will adopt the system settings, or alternatively in autonomous mode.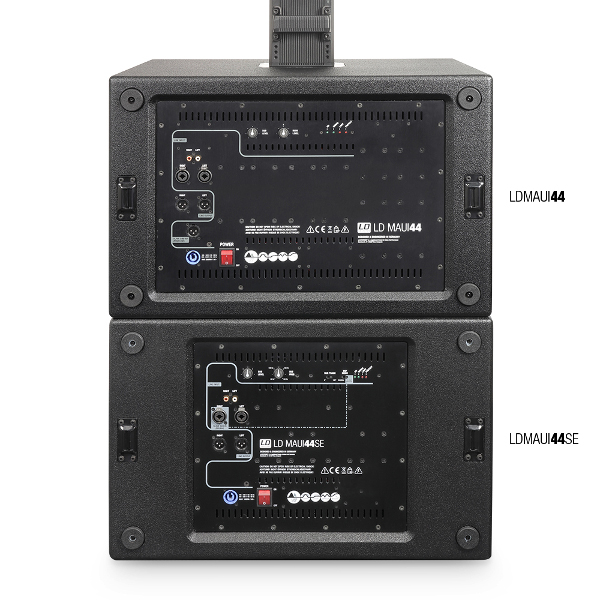 The total height of 2.22 m and weight of 58.4 kg (the subwoofer weighs 40.8 kg and the column weights 17.6 kg) means that the MAUI 44 is easy to transport and assemble, and is ideally suited to being used as a portable sound system for all mobile applications (DJ, musician, AV presentation, etc.), with the PA system being placed either in front or behind. The system can also be used for permanent operation.


A protective case and castor board are also available as accessories. The board is attached securely via butterfly locks on the subwoofer.
A product presentation video is available on YouTube.
Retail price: €1919 excl. VAT
_____________________________________________________
Source: soundlightup.de, November 2014. http://www.soundlightup.com/flash-and-news/le-systeme-maui44-de-ld-systems.html
Click on the following link to read further information about this product:
http://www.ld-systems.com/en/series/maui-series/maui-44-column-pa-system-active/