Cameo Flat Pro Spotix 4 – PAR with 4 RGB LEDs
The Cameo Flat Pro Spotix 4 is a PAR spotlight, whose 4 RGB LEDs have a luminosity of up to 3,800 lux. Flexible DMX control, with various programmes and standalone modes, is a feature of this device, which was presented at the NAMM 2015.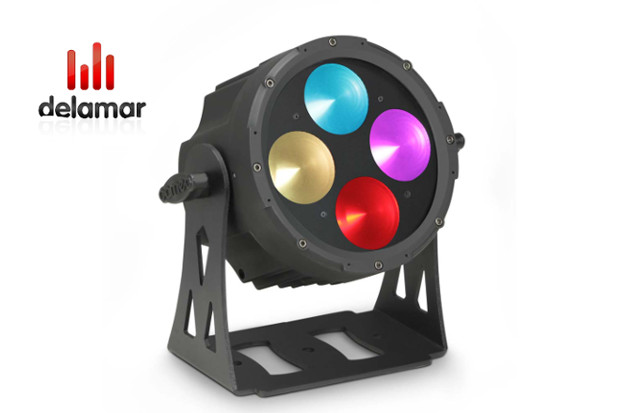 PAR for 3,800 lux: Cameo Flat Pro Spotix 4
The Cameo Flat Pro Spotix 4, a PAR light which is described as compact and flat, joins the RGB mix, and is suitable for professional use. The four 30 W COB LEDs are, according to the manufacturer, long-lasting, and generate seamless colour mixtures with 3,800 lux and a beam angle of 30°. The pixel mapping effect ensures brilliant and spectacular effects. Master, slave or standalone modes are possible. The DMX control occurs via either two, three, four, six or twelve channels, or alternatively, the integrated microphone can be used as a controller. There are plenty of programmes and functions available.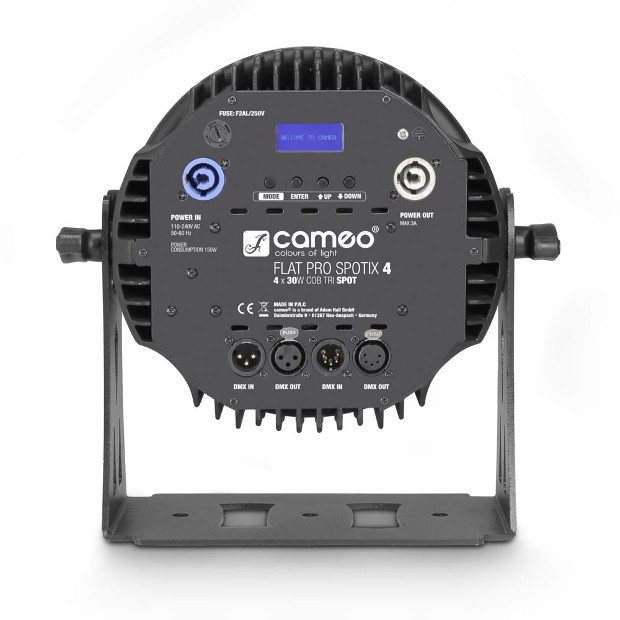 Features:
– PAR spotlight with 4 RGB LEDs
– LED type: COB (30 W)
– Beam angle: 30°
– Luminosity: 3,800 lux @ 1 m
– Frequency of repetition: 3,600 Hz
– DMX input: XLR 3-pin male, XLR 5-pin male
– DMX output: XLR 5-pin female, XLR 3-pin female
– DMX mode: 2 channel, 3 channel 1, 3 channel 2, 4 channel, 6 channel, 12 channel
– DMX functions: Single pixel control, strobe, colour fade, master dimmer, sound control, colour jump
– Standalone modes: Colour fade, colour jump, colour macro, sound control, slave mode, static colour
– Power: Neutrik powerCon (110 V AC – 240 V AC, 50 – 60 Hz) – Power consumption: 150 W
– Black metal housing
– Convection cooling
– Dimensions (without mounting bracket): 230 x 230 x 140 mm
– Power cable (Neutrik powerCON, 1 m), safety plug and mounting bracket included in delivery
This PAR features efficient convection cooling, which operates silently. There are three and five-pin XLR sockets for input and output of the DMX signals, and the powerCON connector from Neutrik serves as the mains connection (110 to 240 volt). An adjustable mounting bracket allows many options for attachment and tilting.
_________________________________________
Source: http://www.delamar.de/musik-equipment/cameo-flat-pro-spotix-4-26510/
Author: Felix Baarß
You can find all the details about the Cameo Spotix 4 here:
http://www.cameolight.com/en/series/flat-pro-series/flat-pro-spotix-4-4-x-30-w-cob-led-tri-colour-spot-par-light-in-black-housing/