Come and visit Palmer at the Musikmesse 2015
The Musikmesse in Frankfurt is acknowledged as the worldwide largest international trade show for musical instruments and scores, music production and marketing. Of course Palmer will be part of it and we are proud to present new highlights from our product range. You will find us in Hall 4.0 / F09 (Palmer MI) and Hall 8.0 / C50 (Palmer AT).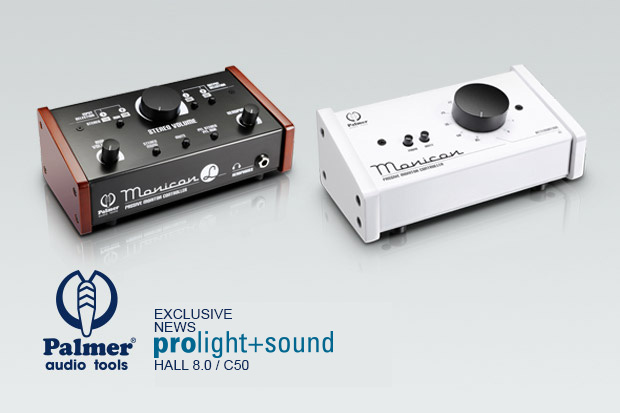 Here is a glimpse of what to expect from Palmer:
Palmer PRO
Snow white and limited – a special limited edition of the Palmer Monicon
The external volume controller Monicon is now available as a limited edition in time for Prolight+Sound. Palmer designed this practical little helper all in white. The proven passive circuit, which does not affect the sound in any way, has been retained.
Volume control with comfort – Palmer Monicon now also available in "L"
For even greater comfort of use, the Palmer Monicon is now also available in a larger version. The Monicon L is also equipped with a headphone amp and AUX input, which can be controlled separately; the device also features a PFL function and bright LED displays.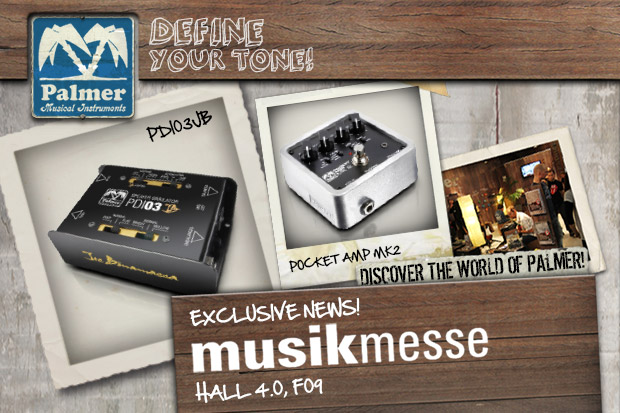 Palmer MI
Fresh from the tuning workshop – the Palmer Pocket Amp MK 2
The versatile Palmer Pocket Amp is now available in an optimised MK2 version. With new high performance operational amplifiers and modified switching functions, the Pocket Amp MK2 offers extremely realistic amp sounds from classic to modern with virtually no background noise.
Guitar sound "right in your face" – Palmer presents the Joe Bonamassa Signature Speaker Simulator PDI 03
As a 12 year old boy, Joe Bonamassa stood on stage and played the opening for B.B. King. Countless concerts later and with 16 albums under his belt, the former guitar wunderkind is hailed today as "the new King of Blues". For years, Joe has been using the legendary 19″ speaker simulator PDI 03 from Palmer. We will present this Signature version at the Musikmesse 2015, which is tailor-made for this exceptional guitarist.
_________________________________________
Also, you'll get the opportunity to take part in a prize draw at the Palmer stand. Every evening there will be a live draw for participants to win a Palmer PDI03JB.
We look forward to sharing the excitement with you at the Musikmesse in Frankfurt.
For more information on Musikmesse:
http://musik.messefrankfurt.com/frankfurt/de/besucher/messeprofil.html
For more information on Palmer:
http://www.palmer-germany.com/