Come and visit Cameo Light at Prolight+Sound 2015
Like almost no other trade show, Prolight+Sound provides a comprehensive overview of all products and services in the events industry. This year's Prolight+Sound will take place from 15.04 – 18.04 at the Frankfurt exhibition grounds. We are very pleased this year, for the first time, to have our own stand in Hall 8.0 / D46, where we will present the innovative products and highlights from Cameo.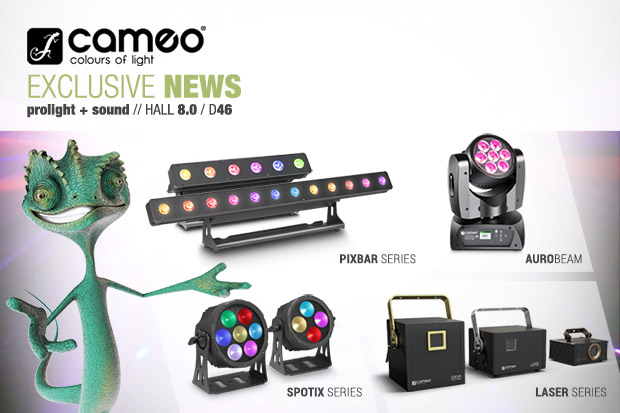 Here is a glimpse of what to expect from Cameo Light:
Harmonious and effective – the new Flat Pro Spotix by Cameo® with COB technology and Single Pixel Control
Under the name "Spotix", two new professional lights in the FLAT PRO series featuring COB LEDs and Single Pixel Control provide harmonious colour transitions and spectacular light effects. Likewise, the two new Flat PRO FLOOD IP65 models, with a beam angle of 120 degrees, are a perfect addition to the existing range, and leave nothing to be desired when it comes to compact outdoor floodlights.
Do or do not. Three new Laser Series Cameo®
Under the motto "do or do not…there is no try" Cameo presents for the first time three laser series. 11 new lasers, aptly named Ioda, Luke and Wookie, with power ratings of up to 1,000 mW, and equipped with very high quality, and for some, completely dust-resistant aluminium housings provide up to 16 million colour shades for spectacular projections.
Unlimited mobility at the speed of light – the AuroBeam 150 Unlimited Moving Head from Cameo®
The Cameo Aurobeam 150 is a new, highly agile unlimited rotation moving head with 16-bit resolution, a 3,600 Hz refresh rate and Single Pixel Control, which is endlessly moved on its horizontal and vertical axes by two high speed motors.
Extensive Coverage – the new PixBar Series from Cameo®
With the PixBar Pro Series, Cameo introduces 7 new professional LED BARS, that are RDM compatible, have a refresh rate of 3,000 Hz, and are suitable for use in video and TV applications since they are completely flicker-free. In addition to Single Pixel Control, 4 adjustable dimmer curves and colour temperature correction, the LED bars feature Neutrik powerCON mains sockets and frost filters for uniform, glare-free light.
_________________________________________
Also, you'll get the opportunity to take part in a prize draw. With a little luck, you will win a weekend with a BMW i8 or i3 and one of our exciting product highlights or a €500 Adam Hall voucher.
We look forward to sharing the excitement with you at Prolight+Sound 2015.
For more information on Prolight+Sound: http://pls.messefrankfurt.com/frankfurt/de/besucher/willkommen.html
For more information on Cameo Light:
http://www.cameolight.com/en/home/