Come and visit Adam Hall at Prolight+Sound 2015
Once again, Adam Hall will be at Prolight+Sound in Frankfurt, the largest international trade show worldwide for technologies and services related to events, installation and production. The trade show will take place from 15.04. – 18.04.2015 and you'll find us in Hall 8 / C50. We are proud to present numerous innovations from Adam Hall at this show.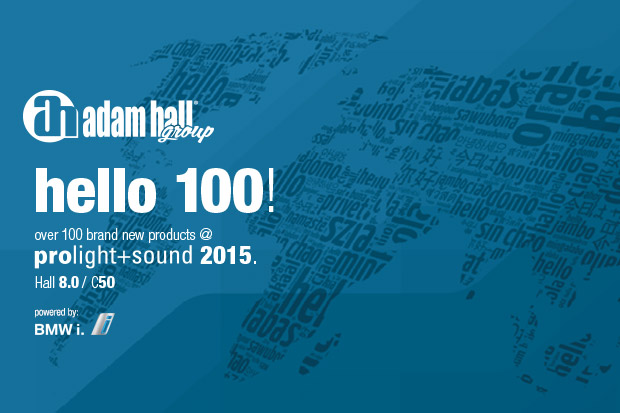 Here is a glimpse of what to expect: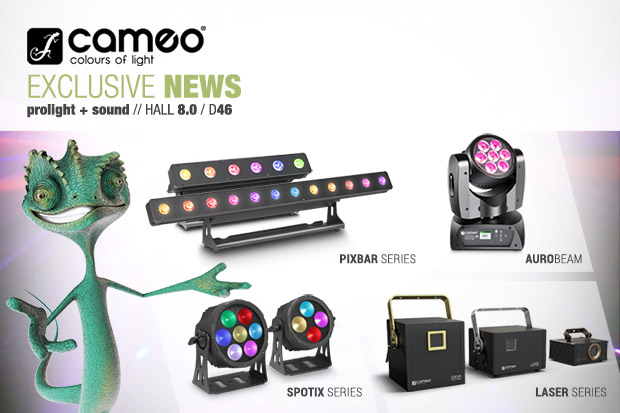 Cameo
Harmonious and effective – the new Flat Pro Spotix by Cameo® with COB technology and Single Pixel Control
Under the name "Spotix", two new professional lights in the FLAT PRO series featuring COB LEDs and Single Pixel Control provide harmonious colour transitions and spectacular light effects. Likewise, the two new Flat PRO FLOOD IP65 models, with a beam angle of 120 degrees, are a perfect addition to the existing range, and leave nothing to be desired when it comes to compact outdoor floodlights.
Do or do not. Three new Laser Series Cameo®
Under the motto "do or do not…there is no try" Cameo presents for the first time three laser series. 11 new lasers, aptly named Ioda, Luke and Wookie, with power ratings of up to 1,000 mW, and equipped with very high quality, and for some, completely dust-resistant aluminium housings provide up to 16 million colour shades for spectacular projections.
Unlimited mobility at the speed of light – the AuroBeam 150 Unlimited Moving Head from Cameo®
The Cameo Aurobeam 150 is a new, highly agile unlimited rotation moving head with 16-bit resolution, a 3,600 Hz refresh rate and Single Pixel Control, which is endlessly moved on its horizontal and vertical axes by two high speed motors.
Extensive Coverage – the new PixBar Series from Cameo®
With the PixBar Pro Series, Cameo introduces 7 new professional LED BARS, that are RDM compatible, have a refresh rate of 3,000 Hz, and are suitable for use in video and TV applications since they are completely flicker-free. In addition to Single Pixel Control, 4 adjustable dimmer curves and colour temperature correction, the LED bars feature Neutrik powerCON mains sockets and frost filters for uniform, glare-free light.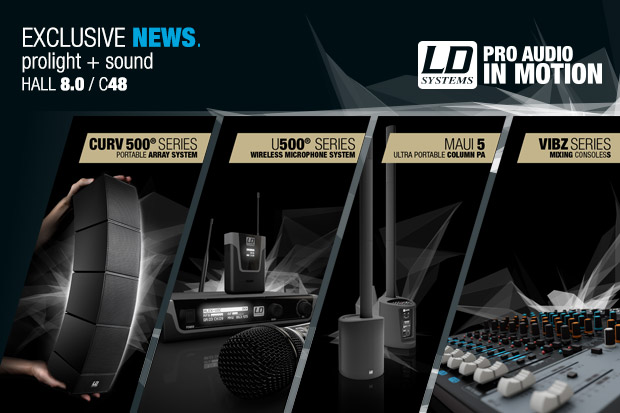 LD Systems
Array reinvented – the CURV 500® Array from LD Systems®
After three years of intensive development, LD Systems presents the CURV 500®, the world's most compact active Curved Array.
In spite of its small dimensions, it harnesses the WaveAhead® Line Array sound technology to create a homogeneous high-definition sound pattern across the whole room.
Furthermore, the LD Systems SmartLink® adapter makes the system absolutely flexible, scalable, and wireless. The subwoofer control unit of the CURV 500® array has an integrated 4-channel DFX mixer with Bluetooth® wireless connectivity and controls up to 8 CURV 500® satellites at the same time. With its unusual and extraordinary design, the utmost importance has been placed on usability and highest value. Through the exclusive use of aluminium and wood, a very special Look & Feel has been achieved.
Send a strong signal. The new U500® wireless microphones from LD Systems®
The HF systems of the U500® Series from LD Systems convince through their technology and attractive appearance. They work with a transmitting power of up to 50 mW in the free duplex gap and are professionally equipped with automatic channel search, one-touch frequency synchronisation and high-contrast OLED displays.
The Right Mix of Features – the new VIBZ mixer series from LD Systems®
In the VIBZ series, LD system offers 4 new mixers with practical features and a professional sound. The features include high quality microphone preamps, a precise 3-band EQ, a compressor with comfortable 1-button controller and 24-bit effects.
A featherweight in the Maui® series – the MAUI® 5 is one of the world's lightest column PA systems
The ultra compact MAUI 5 system boasts all the advantages of the MAUI family from LD Systems: far-reaching and wide sound dispersion, wireless structure and excellent portability. Due to its extreme resistance to feedback, and featuring an integrated 3-channel mixer and LECC signal processing, this Junior combines both active PA and monitor system in one, while fitting comfortably on any car seat.
Invisible Audio – the Contractor® Series installation speakers from LD Systems®
Black, white, ultra flat, frameless: the speakers from the LD Systems Contractor series provide discreet, elegant installation solutions. All models are designed for safe installation in ceilings and walls and as assembly speakers; they are also available as 100 V versions to accommodate ELA systems.
The ideal front passengers – Road Buddy 6 and 10 with Bluetooth and wireless radio system
Equipped with on-board FM radio receivers and Bluetooth players, the two battery powered Road Buddies from LD Systems are fully wireless solutions for mobile music and voice transmission. Integrated class-D power amplifiers, 6″or 10″ woofers and a 1″pressure driver provide a powerful sound, and the Road Buddies are equipped with all necessary connections for wired devices. Wireless microphone or headset, and an infrared remote control are included.
Automatic, digital and versatile – the LD Systems® AM 8 Matrix mixer
Network capability, remote control and monitoring of critical functions, and extensive connection options make the automatic 8 x 2 Matrix mixer AM 8 from LD Systems a versatile professional audio device. The software of the mixer includes configuration and control options such as compressor, EQ, phantom power, and the switching matrix; on the device, encoders allow for an intuitive manual setting.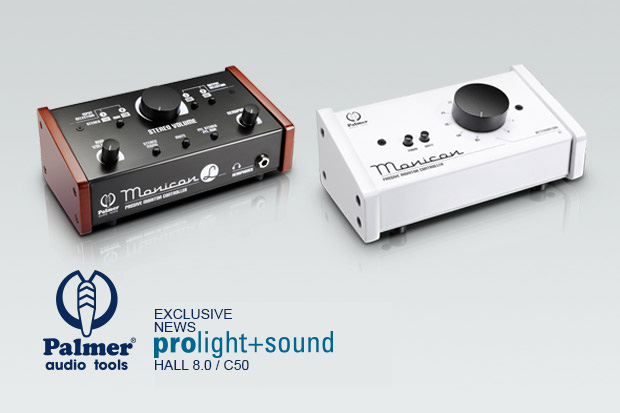 Palmer PRO
Snow white and limited – a special limited edition of the Palmer Monicon
The external volume controller Monicon is now available as a limited edition in time for Prolight+Sound. Palmer designed this practical little helper all in white. The proven passive circuit, which does not affect the sound in any way, has been retained.
Volume control with comfort – Palmer Monicon now also available in "L"
For even greater comfort of use, the Palmer Monicon is now also available in a larger version. The Monicon L is also equipped with a headphone amp and AUX input, which can be controlled separately; the device also features a PFL function and bright LED displays.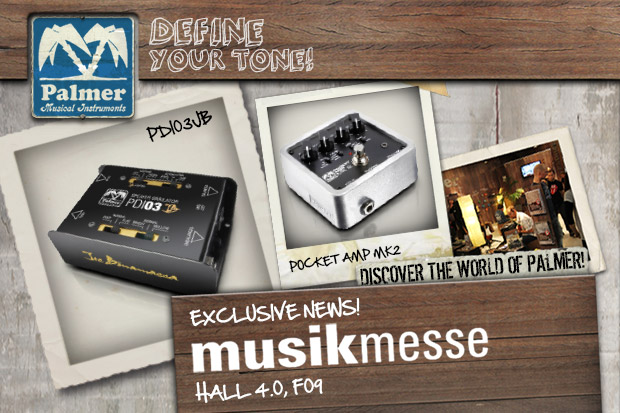 Palmer MI
Fresh from the tuning workshop – the Palmer Pocket Amp MK 2
The versatile Palmer Pocket Amp is now available in an optimised MK2 version. With new high performance operational amplifiers and modified switching functions, the Pocket Amp MK2 offers extremely realistic amp sounds from classic to modern with virtually no background noise.
Guitar sound "right in your face" – Palmer presents the Joe Bonamassa Signature Speaker Simulator PDI 03
As a 12 year old boy, Joe Bonamassa stood on stage and played the opening for B.B. King. Countless concerts later and with 16 albums under his belt, the former guitar wunderkind is hailed today as "the new King of Blues". For years, Joe has been using the legendary 19″ speaker simulator PDI 03 from Palmer. We will present this Signature version at the Musikmesse 2015, which is tailor-made for this exceptional guitarist.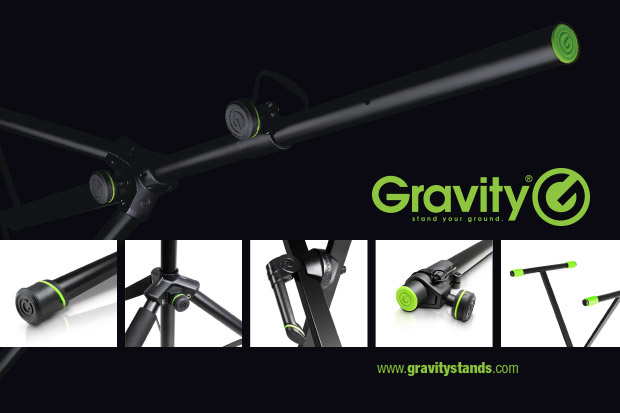 Gravity
Design meets Quality – The new premium stands from Gravity®
Gravity® is the new, modern brand of stands from Adam Hall. After 2 years of intensive development with users and top designers, a sophisticated core range of music stands and accessories has been developed.
Through many innovations, such as a personalised marking concept and the consistent focus on design, the Gravity brand reinvents the accessories image, which is often perceived as dry as dust.
The technical development is focused on the choice of materials and rugged construction. The combination of higher strength of materials, high quality, twice molded ABS plastic and zinc die-cast joints provides for a superb accuracy and absolute professional quality.
Gravity® – stand your ground, the new Premium stand brand from Adam Hall, will be available at selected retailers from August 2015.
_________________________________________
Also, you'll get the opportunity to take part in a prize draw. With a little luck, you will win a weekend with a BMW i8 or i3 and one of our exciting product highlights or a €500 Adam Hall voucher.
We look forward to sharing the excitement with you at Prolight+Sound 2015.
For more information on Prolight+Sound: http://pls.messefrankfurt.com/frankfurt/en/besucher/willkommen.html
For more information about Adam Hall and our brands:
http://www.adamhall.com/
http://www.ld-systems.com/en/home/
http://www.cameolight.com/en/home/
http://www.palmer-germany.com/