LD Systems Dave 8 Roadie – test report by the magazine Tastenwelt
With the Dave 8 Roadie, LD Systems offers an ideal tool for small gigs. The components are extraordinary: a band-pass subwoofer and connected satellite speakers in D'Appolito configuration.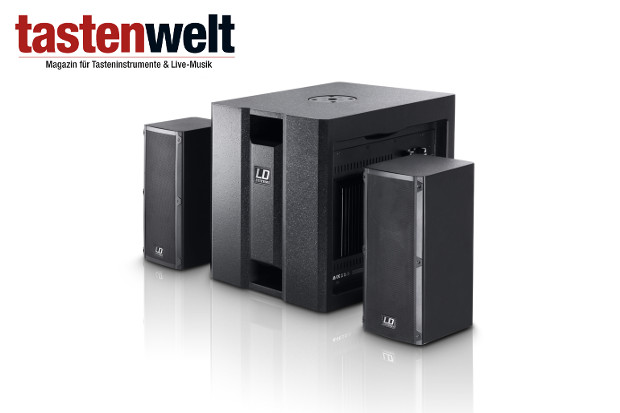 Musicians are well-equipped for small gigs with the Dave 8 Roadie mini PA from LD Systems. The system fits comfortably into the boot of a small car. But the particular draw is that you can often use this system without needing a mixer as the device has several inputs and the simplest mixing functions.
Features
Stereo input number three offers two combo sockets and two cinch sockets. This makes it possible to receive any signal. Input two is sensitive enough for a dynamic microphone, which can be connected here directly. A 100 Hz high-pass filter is always active here. Even wireless microphone receivers like to generate a microphone level. Singing keyboard players could be equipped in this way.
There is also channel one, which either accepts an MP3 player or similar as pre-gig and intermission music in stereo via the mini-jack or can be switched to a Hi-Z jack socket. This makes it possible to connect a guitar, for example. The mini PA can therefore be used for both a musical duo with a singer and pre-gig music even without a mixer.
The device does not use the approach of a sound controller; there is only one main level control and one level control for the subwoofer. This alone suffices for a bass/treble balance. Aside from the selector switch for choosing between the Hi-Z jack and 3.5 mm stereo input (channel one), a phase reverse switch for the subwoofer, the on/off switch and the level control for each channel, the PA has no further operating elements. In terms of connections, there are also two Speakon outputs for the satellite speakers and one cold device port. There is no line output.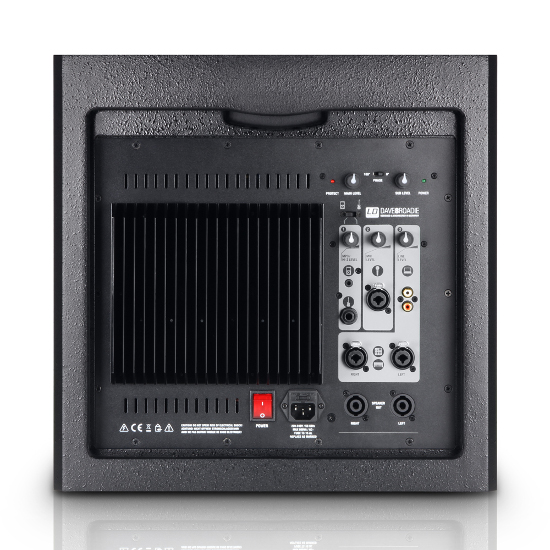 Concept
The speaker's concept is unusual – it uses connected satellite speakers. These are better than the bass reflex speakers commonly used for sound systems in terms of both linearity and dispersion. Bass reflex speakers use a Helmholtz resonator to amplify the bass range, which is then mainly transmitted phase distorted. The connected speakers are cleaner in this regard. However, their bass and effectiveness are also far weaker. It's for this reason that connected speakers tend to be used as studio monitors or hi-fi speakers.
The satellite speakers are constructed in D'Appolito configuration. This speaker developer's name is given to speaker set-ups where two bass/mid speakers of the same size surround a tweeter. The benefit of this configuration is that the trebles and mids are positioned identically, which provides particularly clear orientation. The vertical dispersion angle is also slightly lower. This reduces ceiling reflections.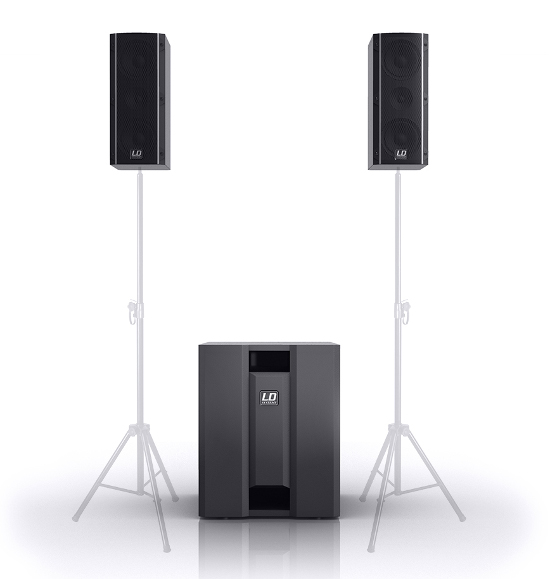 Technology
The LD Systems Dave 8 PA's satellites are equipped with two four-inch speakers and a silk dome tweeter. The speakers are each supplied by a power amp with a nominal output of 100 watts. In the 'Roadie' versions, the satellites have protective metal grilles.
The subwoofer has a band-pass design with an 8-inch driver. Its power amp nominal output is 150 watts. The transmission frequencies of the active crossover are not specified but are very high for such a small system. Without a subwoofer, the bass playback of the high/mid speaker would be relatively weak. It's in the frequency area of between 80 and 200 Hz that the bass speaker really shows what it's made of. It never gives the impression that any bass is lacking.
The mid-range playback in compact PA systems of this size is usually somewhat weaker than here. However, the overall sound is still harmonious as the PA was not designed for extreme sound pressures but for pleasant bass and silky treble presented at a reasonable volume in small rooms. And it's in precisely this situation that a certain loudness effect with a focus on bass and treble rather than forceful mids is desired anyway.
The PA offers just that with flying colours. The satellites have three mounting holes, rubberised feet and a small 16 mm stand flange for lightweight stands. Not all households have these of course, but that is why accessory packs are offered in the form of the LD Dave 8 Set 1 with a back and a castor board and the LD Dave 8 Set 2 with two stands, two Speakon cables and a stand bag. The satellites can also be attached to a wall with the optionally available SUWMB10B wall bracket. Incidentally, the subwoofer also has a stand flange on the top. All handles and aspects of workmanship are exemplary.


Practical test
The LD Systems Dave 8 Roadie passed the practical test for small gigs in a café. The set-up involved a singer at a digital piano plus pre-gig music. No tone control was needed for the digital piano as this was available on the instrument itself – although it was not actually required. As higher requirements had to be met for the vocals, both a condenser microphone and an external voice processor from T.C. Electronic were used. This had a compressor, reverb and EQ technology.
At a private party, the PA acted as a canned playback system for a dance floor. This too is possible with mini PAs, it just depends on the size of the room. However, the transition to destructive distortion occurs quicker than with a typical sound system optimised for efficiency with rigidly hung drivers in bass reflex speakers and tweeter horns. As long as the settings are correctly balanced though, the Dave 8 Roadie creates a finer sound. In a further test, the PA was used as a monitor on the stage. A major benefit here is that you can position the satellite speakers at ear height. This works optimally and takes up little space.
Summary
The LD Systems Dave 8 Roadie is suitable for small gigs in situations where there is little space available for either transportation or set-up. The compact PA system is also perfect for small dance floors at family parties that you are booked for as a DJ and entertainer. The sound is impressively warm and refined.
Evaluation
LD Systems Dave 8 Roadie: active mini PA
+ light weight
+ compact dimensions
+ good sound properties
+ multiple inputs
+ expedient features with mixing function
+ useful accessory sets
_____________________________________________
Source: Tastenwelt magazine 2/2014, Germany: http://www.tastenwelt.de/test_ld_systems_dave8_roadie.0.html
Full information about the Dave 8 Roadie can be found at:
http://www.ld-systems.com/en/series/dave-8-series/dave-8-roadie-portable-8-inch-active-multimedia-system-with-3-channel-mixer/