Cameo CLPFLAT1RGB10IR: LED lights for small events – Product review by delamar.de
The Cameo CLPFLAT1RGB10IR is a silent PAR light with RGB LEDs that can be controlled by remote control. The flat light from Cameo Light, based in Neu Anspach, Germany, wants to score points with a discreet integration and effective lighting of smaller events.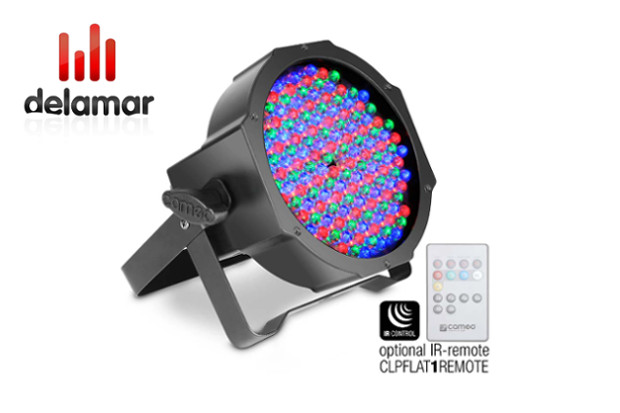 PAR: Cameo CLPFLAT1RGB10IR for small parties, events, demonstrations etc.: With the CLPFLAT1RGB10IR, Cameo introduces a slim PAR LED light equipped with 144 bright 10 mm LEDs, according to the manufacturer. It allows for lively and rich RGB colour mixes with 5,400 lux, and a 14° beam angle. Thanks to the convection cooling, the device operates silently. It can also be controlled by using an optional infrared remote control. Four DMX control modes are available, although you can potter around with the integrated programmes and the practical option of music-driven operation regardless of control protocols. You can use this PAR can as a master, slave or stand-alone (Standalone).
Features
– Type: Flat PAR
– Colour Spectrum: RGB
– LEDs: 10 mm, 48 x red, green and blue each
– Light Intensity (1 m): 5,400 lux
– Beam Angle: 14°
– DMX Input: XLR 3-pin
– DMX Output: XLR 3-pin
– DMX Modes: 2-channel, 3-channel -1, 3-channel -2, 6-channel,
– 6 DMX modes
– 6 standalone modes
– Dimensions (without bracket): 180 x 175 x 115 mm
The IEC power connectors allow you to connect up to ten lights in series. The adjustable double bracket allows numerous possibilities for setup and installation. Furthermore, the Cameo CLPFLAT1RGB10IR is very energy efficient, with a 15 Watt power consumption.

Cameo CLPFLAT1RGB10IR: Price & availability
Cameo CLPFLAT1RGB10IR from Cameo Light is available at a recommended price of € 78 in German retail stores. For a set of four units, the RRP is € 327. The remote control with the part number CLPFLAT1REMOTE is exclusively available for purchase as a separate accessory for the recommended price of € 15. All prices incl. VAT
_______________________________________________
Source: Delamar.de, 8/2014, Germany: http://www.delamar.de/musik-equipment/cameo-clpflat1rgb10ir-25105/
Author: Felix Baarß
Complete product information on the Cameo CLPFLAT1RGB10IR is available here:
http://www.cameolight.com/en/products/led-flat-par-cans/flat-par-can-rgb-10-ir-144-x-10-mm-flat-led-rgb-par-spot-light-in-black-housing-with-ir-remote-control-capability/