Audac Mero Speakers – Designed To Blend In
Designed to blend in 'with any interior', Audac's new Mero loudspeaker range comprises three models of visually unobtrusive in-wall speakers: the Mero2, Mero5 and Mero6. The units extend just 3.2mm from the wall hand have been designed for installation into multi-zone systems in lounges, bars, boutiques and offices.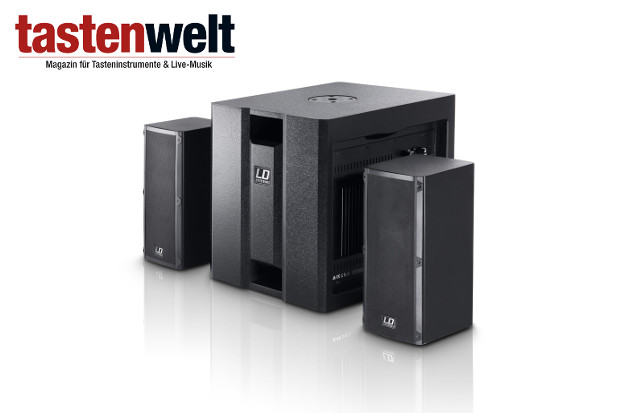 The units feature an aluminium cone woofer driver (2,5- or 6-inch dependant on model) with a 1-inch dome tweeter. The tweeter is rotatable, allowing operators to tweak its directivity, while the units also contain a phase-plug to align the dispersion characteristics of multiple installed units. The loudspeaker connection is made using Gold-Con technology connectors and the models are mounted using a quick-fix mechanism.
The Belgian manufacturer has also released a new series of compact, passive bass reflex cabinets called Baso. Constructed from plywood, they have been designed to be as compact as possible without sacrificing performance.
The series currently includes 10-,12- and 15-inch models. The Baso10 has a maximum power rating of 450W from its four layer wound 1.5-inch voice coil. This results in a reported sensiticity of 96dB with continuous sound pressure reproduction up to 120dB. The frequency response ranges from 54Hz to 1.2kHz, extending down to 38Hz at -10dB.
The Baso12 features a 12-inch woofer with 4-inch voice coil, and a maximum power handling of 1,000W. Continuous sound pressure has been increases to 125dB over the 10-inch model, and the frequency response ranges from 40Hz to 300Hz, extending down to 35Hz at -10dB.
The biggest of the three models is the Baso15, which houses a 15-inch woofer with a 4-inch voice coil. With a maximum power handling of 1,400W, the unit can produce a continuous SPL of 127dB with a frequency resoponse ranging from 38Hz to 300Hz, extending down to 34Hz at -10dB.
Connections for all three of the new models are made using two Speakon compatible connectors located in a recessed connector dish, allowing link-through to other cabinets.
______________________
Source: Pro Audio Middle East, Nov-Dez, 2014: Adam Hall – http://www.proaudio-central.com/
Click here for more information about these products:
http://www.adamhall.com/de/Audac_MERO_2_-_Einbaulautsprecher_20_W___8_Ohm.htm
http://www.adamhall.com/de/Audac_MERO_5_-_Einbaulautsprecher_100_W___8_Ohm.html
http://www.adamhall.com/de/Audac_MERO_6_-_Einbaulautsprecher_120_W___8_Ohm.html
http://www.adamhall.com/de/Audac_Subwoofer.htm