Press: Adam Hall presents its new installation speakers – the Contractor® Series from LD Systems
LD Systems now launches a new set of installation speakers on the market for fixed audio systems, which place high demands on sound quality and speech intelligibility. The models of the Contractor® Series convince not only through their wide dispersion pattern, extended frequency range and reliable operation, they also provide an aesthetic architectural solution combined with a discreet appearance.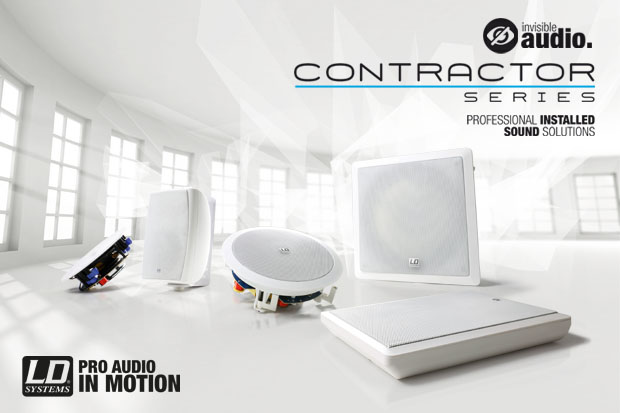 The professional two-way speakers in this series are fitted with woofers ranging from 4″ to 6.5″ in diameter and achieve a sound pressure level of 90 dB at 1 W / 1 m with a power capacity of 60 watts of continuous power. They are also available in 100 V versions and are therefore ideal building blocks for ELA systems.
In addition to wall-mounted models in white or black, including an extremely flat, 37 mm deep model, the LD Systems Contractor® Series focuses on recessed speakers for ceilings and walls. These are only available in white and can be quickly and safely mounted using integrated swivels. As a particularly elegant solution, the Series includes frameless recessed speakers, allowing for a particularly discreet, almost flush wall installation.
For an extension of the bass level, the speaker series includes an in-wall subwoofer with 10″ chassis and 150 watts continuous power, providing an astonishing bass pressure down to 40 Hz, despite its small dimensions. A weatherproof, 8 Ohm and 100 Volt outdoor speaker with IP56 rating completes the series.
With their uniform appearance, the speakers of the Contractor® Series from LD Systems can be combined and are designed for a wide scope of applications, providing a discreet sound in hotels, restaurants, bars, lounges, training and conference rooms, shopping centres and even at home.
Click here for more information:
http://www.ld-systems.com/en/series/contractor-serie/
Click here to download the Press Package (Press release in Word format in 4 languages + pictures and logos)!