Cameo Flat Pro Par Can 18 – Would you like a little more? – Product review by Soundcheck.de
LED spotlights are becoming increasingly powerful. The Flat Pro Par Can 18 by Cameo impressively proves this. But the power of its 18×10 watt LEDs are not the only thing that impresses.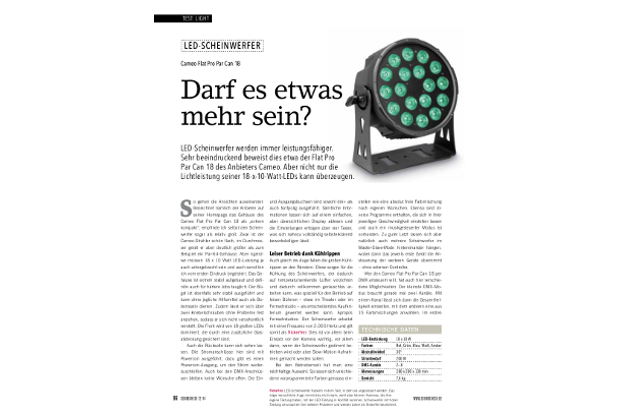 This is where opinions diverge:
While the provider's homepage labels the casing of the Cameo Flat Pro Par Can 18 as "extremely compact", I myself find the spotlight to be relatively large. While the Cameo spotlight is nicely flat, its diameter is, however, quite a bit larger than, for example, the Par 64 casing. But, after all, the 18 x 10 watt LED power has to be accommodated somewhere, and apart from this, the first impression is good.
The casing is extremely robust, and definitely also suitable for more demanding jobs. The frame is also very robust, and also serves as a floor stand without any additional help. As well as this, it can be easily tightened with two tommy screws so that it doesn't accidentally shift. The front is dominated by 18 large LEDs, which are secured with an additional glass cover.
The back is also not bad. The power connection there uses powerCON connectors as adaptors via the powerCON outlet. The DMX connections also leave nothing to be desired: the input and output sockets are both three and five pin. All the information can be read on a simple, clear display, and the settings are managed via four almost completely self-explanatory buttons.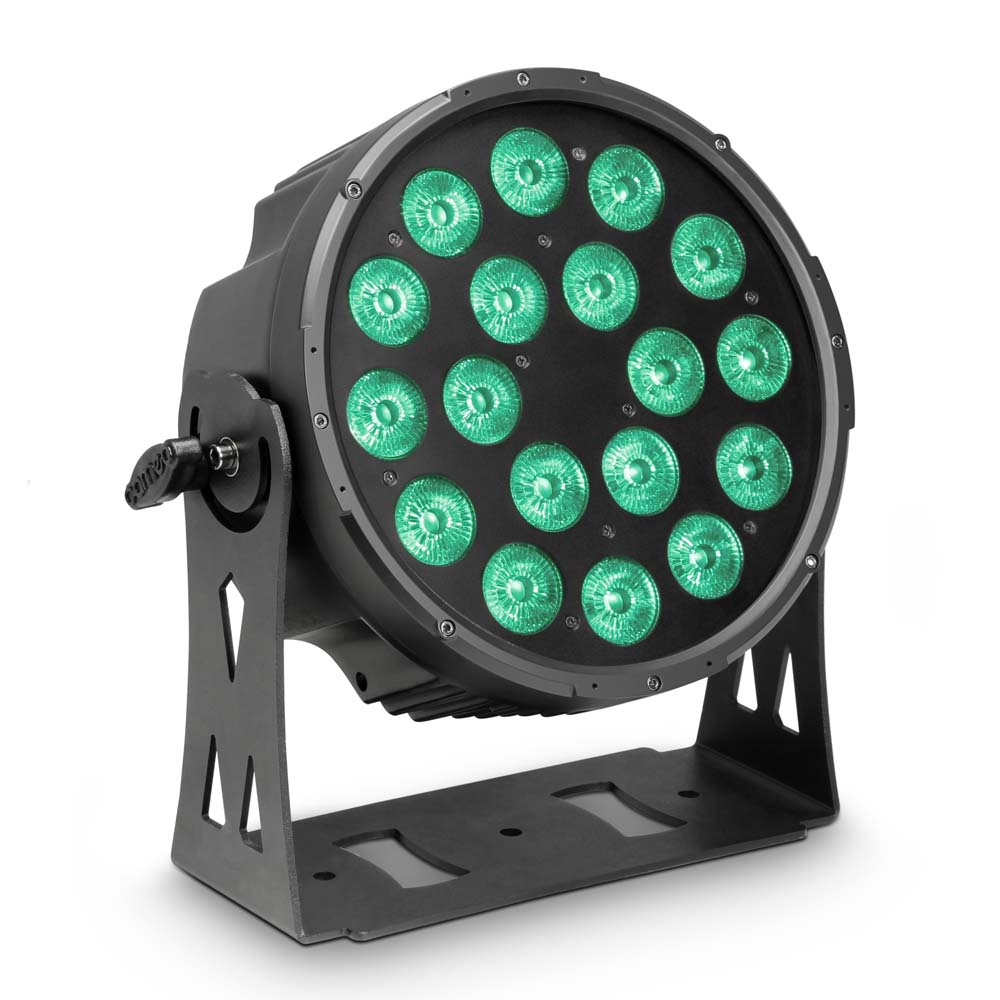 Quiet operation thanks to cooling fins
The large cooling fins on the edges immediately catch your eye. They ensure cooling of the spotlight, which means it doesn't need fans to lower the temperature and can therefore operate silently. This can be a decisive purchase criteria, especially for use on quiet stages – such as in theatres or television studios.
On the topic of television studios: The spotlight works at a frequency of 3,000 Hertz, and is therefore flicker-free. This is particularly important in front of the camera, when the spotlight is used in dimmer mode, or when slow motion sequences are being recorded.
There is a wide selection of operation modes. This means that various pre-programmed colours can be used, or colour mixtures can be freely created as required. There is also a range of programs with adjustable speeds, plus also a music-controlled mode. Last but not least, multiple spotlights can, of course, be connected together in master-slave mode, where the first device assumes control of the other devices – without an external controller.
There are also various options for controlling the Cameo Flat Pro Par Can 18 with DMX. The smallest DMX mode needs only two channels. One channel lets the overall brightness be adjusted, the other can select from 15 colour mixtures. The first three-channel mode allows activation of the stroboscope. It also allows you to define if and how fast the spotlight should flash. The second three-channel mode allows control of the red, green and blue colour components; white and amber are excluded in this mode.
Complete control over all five colours is available in the five-channel mode. In the eight-channel mode, there is the option to call up the pre-programmed colours as well as all the colour parameters. It also allows control of the brightness and the strobe mode. Nothing is left to be desired.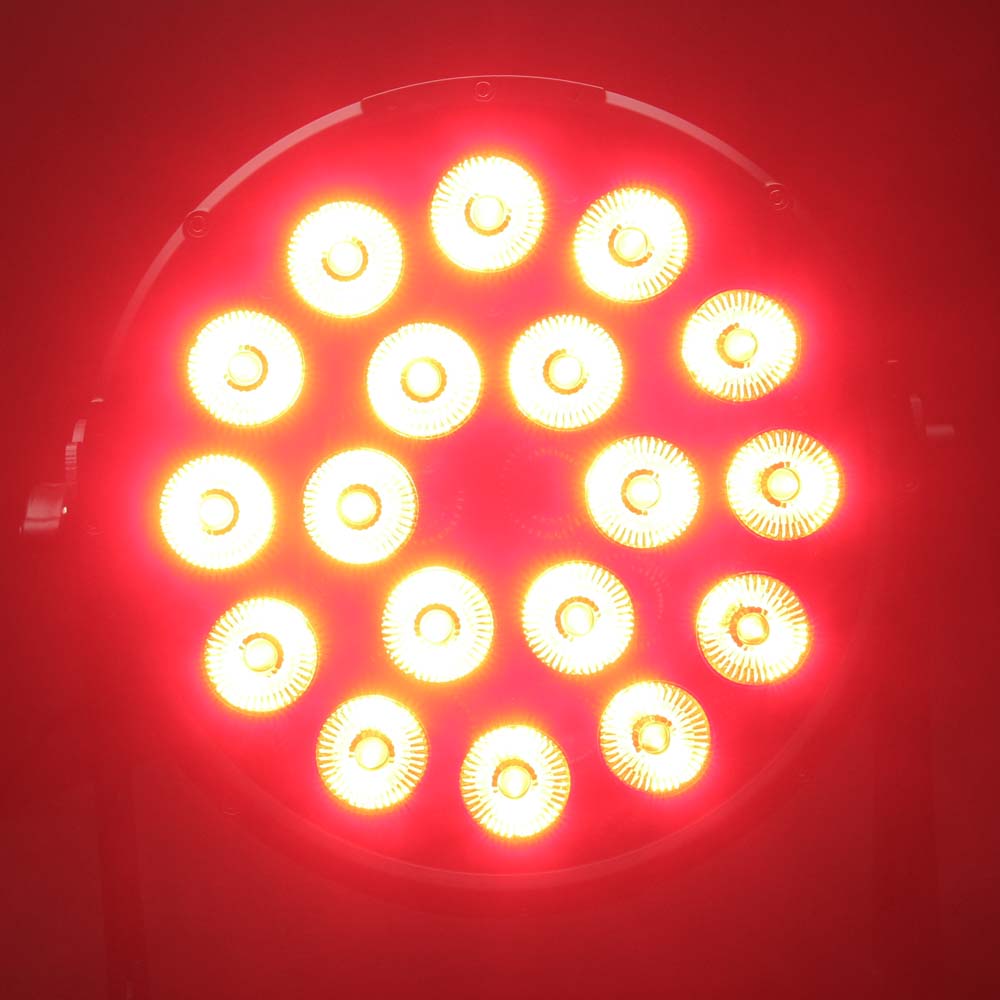 Bright lights and rich colours
We make it a reality. The spotlight is ready after a short reset. The brightness immediately impresses. All the colours are incredibly rich and bright; even amber, which is often a little weak on many devices, is very strong.
The dimming is also very good. However – as with most other LED spotlights – the dimming is not completely smooth, but in this case the small gradations are only visible, if at all, when the light is dimmed extremely slowly. Much more important is that the brightness doesn't break off at the lowest point. Many spotlights simply stop at a brightness of 5%, and then fall straight to 0%, which is definitely not the case with this spotlight.
The mixed colours are also impressive. Even critical colours such as orange, pastels or various white tones can be generated very well. One criticism of the colour mixtures is that the beams are not even. This is especially visible when blue is mixed with red or green. In this case, blue has a markedly wider beam, so that you have a nice pink or turquoise edged with a blue ring.
Where is the Cameo spotlight best used? Firstly, naturally anywhere that proper brightness and a wide range of colours are needed. With its absolutely silent operation and lack of flickering, the Cameo spotlight is also well-suited to television studios and theatres. And if you look at its performance compared to its relatively cheap price, then it is also a good alternative for bands or even solo entertainers!
Oh, and if this spotlight is a little too big, there are also two smaller versions with seven or twelve LEDs, and weatherproof versions are also available.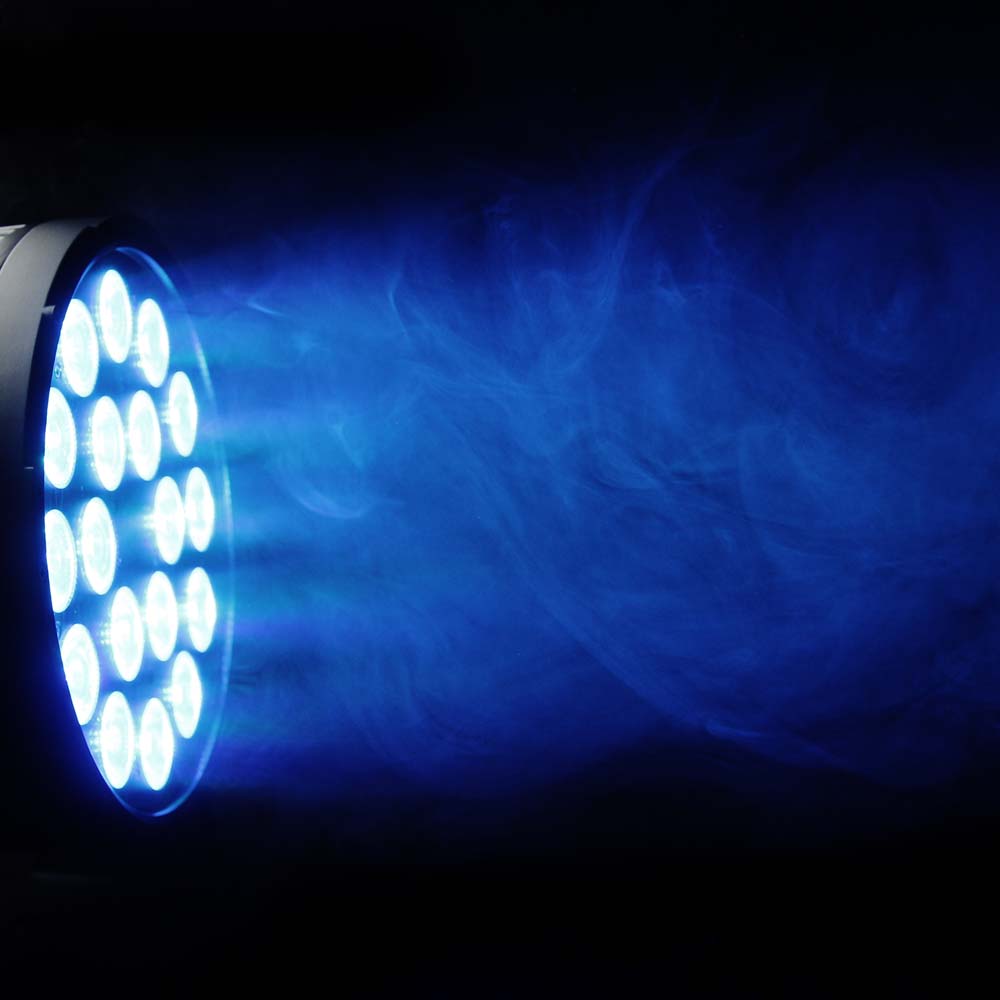 Technical data
– LED capacity 18 x 10 W
– Colours red, green, blue, white, amber
– Beam angle 30°
– Power 200 W
– DMX channels 2-8
– Dimensions 280 x 280 x 130 mm
– Weight 7.4 kg
At a glance
– Cameo Flat Pro Par Can 18
– Sales Adam Hall, www.adamhall.com
– Price (RRP) €498
Rating:
+ Very good workmanship
+ Good brightness
+ Rich colours
+ Excellent price-performance ratio
– Colours have differing coverage
Source: Soundcheck, Germany 10/2014 http://soundcheck.de/
Author: Erik Schröder
More information about the product can be found here:
http://www.cameolight.com/en/products/led-flat-par-cans/flat-pro-par-can-18-18-x-10-w-flat-led-rgbwa-par-light-in-black-housing/