LD Systems Maui 11 Mix – uncomplicated and roadworthy – Product review by delamar.de
For small parties or your own gig: In our LD Systems Maui 11 Mix report, you'll find out what this portable PA system has to offer, particularly for smaller events and what you can expect for this price.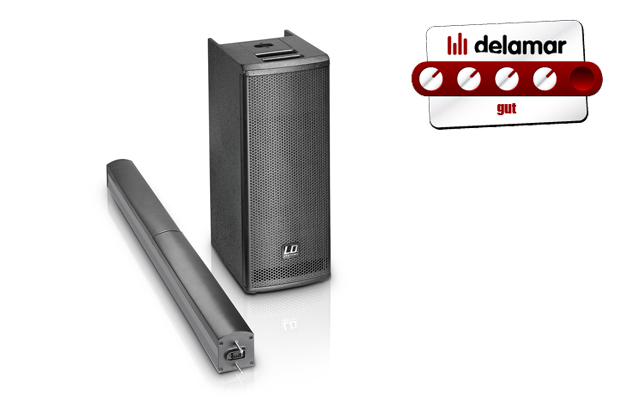 What is it?
Although this idea is not unique, it is still quite novel to provide a compact and mobile PA system with an array column. The LD Systems Maui 11 Mix, made in Germany, extends this range with yet another variant. It is the little sister of the Maui 28 Mix from the same house, and built to be even more compact, easier to use and more affordable, without having to compromise on sound and performance. Let's hear that in more detail.
The street price currently stands at € 599.
Structure
The mobile PA system tested here comes as a two-parter. A 1.3-metre aluminium column is inserted into a 17 kg subwoofer housing of rugged 15 mm thick plywood, in which, in addition to the chassis, the power amplifier as well as the DSP responsible for all control functions are also integrated. This alone weighs 6.6 kg.
This PA system is easy to transport, very rugged with sturdy front grilles and is up and running in less than a minute, even for non-event technicians. However, with over 23 kg, this is not exactly a featherweight and since you cannot take the column apart, you could face problems trying to fit it in a small car.
About the assembly: Simply plug the column with the stable steel pins into the flange provided (overall height 1.95 m), connect the cable for the power supply and off you go!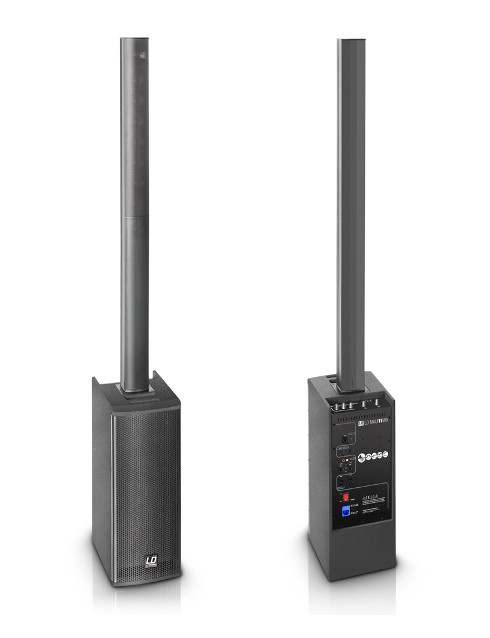 Chassis
Before pressing the On button, let us have a look at the features of the mini-PA and its performance.. The subwoofer is equipped with two 6.5-inch chassis with ferrite magnets. They use a frequency range from 50 to 180 Hz.
The connected array column is equipped with eight midrange speakers and a tweeter, the lower part of the column is therefore left empty – in terms of structure, it is only meant to provide the necessary distance between the components. The lower four 3-inch speakers cover a range between 180 Hz and 1500 Hz. The next four even go up to 7000 Hz. Finally, at the top of the column, we have the specialist tweeter: a 1-inch driver covers the frequencies from 7000 to 20,000 Hz.
Amplifier
Together, all of the drivers of the Maui 11 Mix generate the specified continuous sound pressure of 114 dB, which is very decent. The required energy is provided by a three-way digital amplifier, producing 200 watts RMS for the subwoofer and 70 watts RMS each for the mids and tweeter. Judging from the performance data, the mini-PA provides a high degree of efficiency.
DSP Controller
The proper volume allocation for the individual frequency ranges, the control of the crossover and EQ, compressor and limiter functions are handled by a digital 24-bit sound processor with a sampling rate of 48 Hz. This also provides the protection functions in case of overload.
This little marvel is primarily intended to ensure that the Maui 11 Mix consistently provides the optimal power supply to the built-in chassis and offers distortion-free sound across the entire frequency band. The special arrangement and the differentiated control of the drivers in the column allows to achieve an especially balanced dispersion of the sound over a wide area.
The average horizontal dispersion angle is an impressive 120 degrees.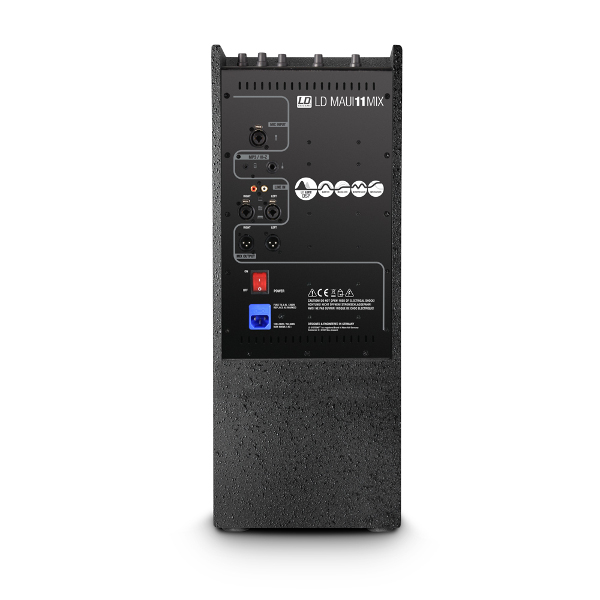 Mixer
For all these occasions, the clearly designed mixer unit on the back of the subwoofer provides abundant inputs, all of which are equipped with a volume controller for the mix. The first channel is equipped with an XLR/combo jack with a microphone input (no phantom power).
A second channel provides a 3.5 mm and a 6.3 mm jack socket for MP3 player and guitars, which can both be conveniently occupied at the same time. Finally, there is a third channel with the classic line-in stereo input with a 2 x XLR/combo jack or optional 2 x RCA sockets. All three channels are combined in the sum over a master volume controller (Main Level).
Two XLR/combo jacks are provided as outputs. This is where the mix signal of the three channels is available, regardless of the main level. This makes it possible to share the once mixed signal directly with another LD Systems Maui 11 Mix and thus conveniently expand the system in a modular way. Of course, the output signal can be used for other purposes, e.g. for recordings.
Sound
The three-channel mixing unit is integrated into the subwoofer housing. The manufacturer is so confident in the sound management of its mini-PA system that you can indeed find a lot of controllers, but none to tweak the sound itself. A manual EQ is simply not provided. What can be regulated, however, is the volume balance between the subwoofer and array column. Thus, you can at least make rough manual setting adjustments for using the device as a small live PA, as disco system or for the speaker at an event, for example.
Important to know: this PA sums stereo signals internally to a mono sound. As a single device, it works just like a normal active speaker. It is therefore unfortunately not possible to create a stereo surround sound with a single system. Therefore, you can forget about a spatial experience of phantom sound or the playback of a stereo effect from a keyboard. Optionally, you can extend the setup by a further Maui 11, which is cheaper still without a mixer.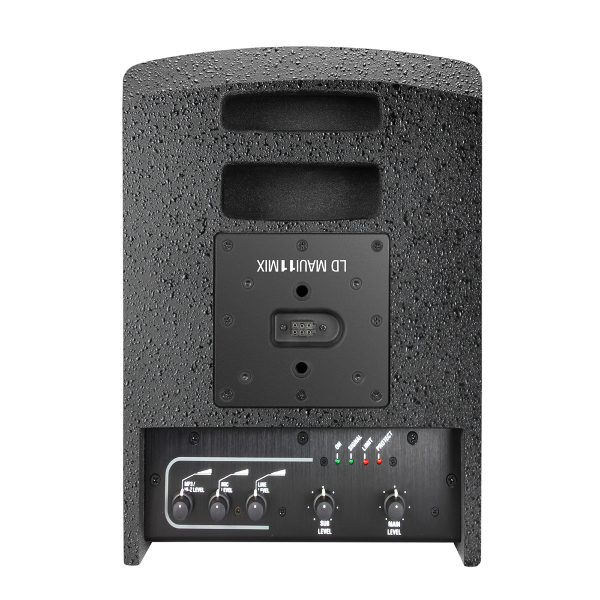 Listening
The LD Systems Maui 11 Mix is quickly connected to a computer. We put it to the test using ripe wav files and explore the dynamics with fat hiphop beats. I am pleasantly surprised. The chassis willingly goes along with it and a balanced sound from subwoofer and array is easily found.
Although the subwoofer is not quite so deep, the sound is still great. I don't miss the EQ so far. However, we are also in quite a neutral space of approx. 100 m² in size, which offers very few unwanted reflections or unpleasant oscillating material. If this wasn't the case, unfortunately there would be very few ways to counteract this. As powerful as it might be, the DSP cannot provide the appropriate response in any case.
In a garage, for example, we simply could not tame the high mids. And if we connect the microphone to a small MC system, we are able to regulate the volume but unfortunately cannot do anything about the timbre of the voice. With other instruments, it would not be any different.
This is a shame, because a compact PA is precisely designed to be used in different locations with different instruments and players. The manufacturer could have provided some presets in the DSP, at least.
Sound
Under good spatial conditions, the Maui 11 Mix provides a nice, well dispersed and homogeneous sound. This in itself is very positive. If you are too close to the system, however, the sound starts to become somewhat blurred. Depending on the height of the listener, either the treble is quite intrusive or high-mid then becomes dominant.
Only from about five metres in distance to the system, does it provide the cylindrical compact sound dispersion for the listener, as intended by the manufacturer. Then, it is really very transparent and balanced.
This means that you should always pay attention to the setup of the PA in the event room in order to use all its benefits. What is also very good, is the power capacity of the system. The upper limit is the only time when the sound tends to be strenuous, otherwise, the DSP does a very clean and stable job.
So much is clear: the Maui 11 Mix can provide real pressure while always keeping its composure.
Pros:
+ Fast setup, even for amateurs
+ Precise DSP
+ Easy to use
+ Practical mixer unit
+ Roadworthy craftsmanship
+ Homogeneous sound
Cons:
– No manual EQ
– No presets
Conclusion for the review of the LD Systems Maui 11 Mix
The LD Systems Maui 11 Mix made in Neu-Anspach (Germany) is a visually stylish mini-PA, which does not make any technical demands on its operators. It should be highlighted as a very positive point, that it is up and running in a jiffy. Through the integrated mixing unit, it is very versatile and can be daisy-chained with other systems (with or without mixer).
This mini-PA provides a solid performance and is certainly adaptable to many applications with its room-filling sound. Properly placed, it will surprise you with finely drawn mids and powerful bass.
It is particularly suitable for small party events (about 150 people) and for easy use during live performances for smaller bands – which is where you want to play immediately without the hassle of lengthy set-ups. Thanks to the integrated mixing unit, it also makes a good figure for presentations at conferences.
The price of € 699 (RRP) or € 599 (street price) is reasonable and I therefore decide to award the LD Systems Maui 11 Mix Review four out of five possible points. A good choice.
At a glance
"With a fair price and its homogeneous and well-dispersed sound, this compact PA system is especially suited to smaller party events as well as to the sound of smaller gigs."
Key Features:
Active column PA 3-way class D amplifier Frequency Response of 50 to 20,000 Hz Dispersion Angle 120° horizontal SPL 114 dB max DSP: 48 kHz, 24 bit EQ, limiter, compressor three-channel mixer unit weight of 23.6 kg Dimensions Subwoofer: 256 x 650 x 355 mm Dimensions Array Column: 94 x 1.300 x 95 mm
What applications: Smaller events up to 150 people as well as conferences and lectures.
Price: € 599.00 RRP: € 699.00
________________________________________________
Source: Delamar.de, July 2014: http://www.delamar.de/test/ld-systems-maui-11-mix-testbericht/ Author: Max von Behring
Click here for more information about this product:
http://www.ld-systems.com/en/series/maui-series/maui-11-mix-compact-column-pa-system-active-with-integrated-3-channel-mixer/