Adam Hall Group – a complete range from a single source for all your audio installation needs
Located in Neu-Anspach (Hesse) near Frankfurt am Main, Adam Hall Group is a global player in the ProAVM – MI industry (audio, video, multimedia and musical instruments), and is represented in 96 countries worldwide.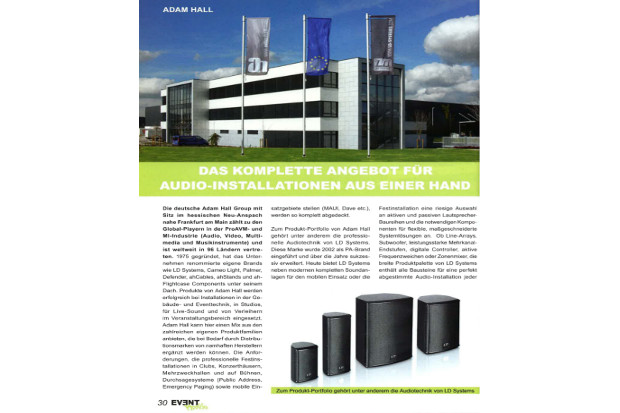 Founded in 1975, the company has its own renowned brands under one roof such as: LD Systems, Cameo Light, Palmer, Defender, ahCables, ahStands and ahFlightcase Components. Products from Adam Hall are successfully used for installations in building and event technology, in studios, for live sound and by hire companies in the event industry. Adam Hall can offer numerous products from their own lines, which can be supplemented as required by distributed brands from well-known manufacturers. The requirements for professional fixed installations in clubs, concert halls, multi-purpose halls and stages, announcement systems (public address, emergency paging) as well as mobile applications (MAUI, Dave, etc.), are thus completely covered.
The product portfolio of Adam Hall comprises, among other things, the professional audio technology of LD Systems. This brand was introduced in 2002 as a PA brand and gradually expanded over the years. Today, LD Systems offers complete modern sound systems for mobile use or fixed installation with a huge selection of active and passive speaker series and the necessary components for flexible, customised solutions.
Whether line arrays, subwoofers, high performance multi-channel power amplifiers, digital controllers, active frequency crossovers or zone mixers, the wide range of products from LD Systems contains all the necessary building blocks for a perfectly matched audio installation of any size, which can also be controlled by software.
An aesthetic design ensures a successful integration in a variety of environments – in discos, conference rooms, theatres, churches, food and retail outlets. The speakers and subwoofers of the SAT G2 series, available as active and passive versions in black or white, are a classic and widely used installation product.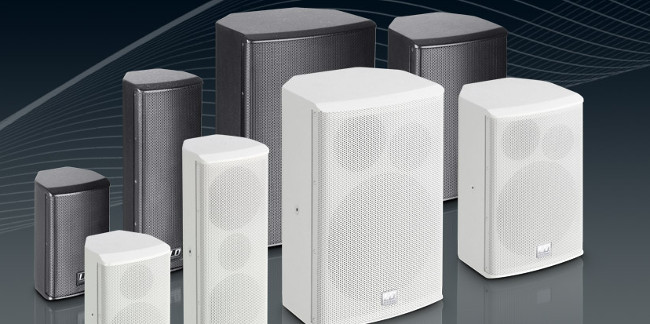 For uncompromising professional requirements, the active Touring-Class speakers of the DDQ series, available in 10″, 12″ and 15″ fullrange versions, are recommended. They are driven by two Hypex UCD power amplifier modules with highly efficient switching power supply and are equipped with powerful FaitalPRO neodymium woofers and BMS drivers.
The speakers "made in Germany" are characterised by horizontal symmetry, vibrant dynamics and with a RMS value up to 1400 Watt. Its major advantage lies in digital signal processing through the specially programmed 24-bit Sharc processor with 48 kHz resolution, which controls all system and protection functions. An integrated limiter, with a millisecond look-ahead time, ensures a distortion-free reproduction even at high volume levels.
If the PA requires massive, deep bass with high impulse fidelity, such as in nightclubs, the subwoofers of the DDQ series are the perfect complement. Thus, the full range systems are powered by Hypex UCD power amplifiers and are also controlled by DSP. Also, presets allow a cardioid configuration for two or three subwoofers, whose controlled directivity and high front-to-back ratio expose the area outside the PA to significantly lower volumes.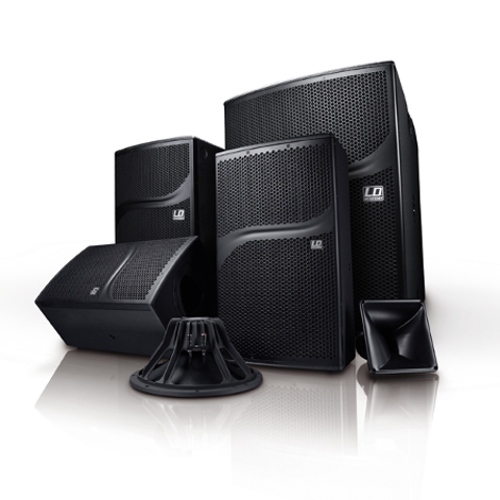 In addition to the products of LD Systems, Adam Hall distributes sophisticated installation technology from Belgium under the Audac brand, which boasts an attractive pricing. The range includes complete system solutions as well as essential components such as measuring instruments, paging microphones or transformers for PA systems in 100, 70 and 50 Volt technology and an extensive selection of functional and practical accessories.
Source: Event Rookie, November 2014 http://eventrookie.de/
For more information about the brands, visit:
http://www.adamhall.com/
http://www.cameolight.com/en/home/
http://www.palmer-germany.com/
http://www.defender-protects.com/1-1-home.html
http://www.adamhall.com/en/Audac_Installation_Equipment.htm
http://www.ld-systems.com/en/home/
For more information about the products visit:
http://www.ld-systems.com/en/series/ddq-series/
http://www.ld-systems.com/en/series/sat-g2-series/